Reduce Toxins in Your Daily Life- Use Natural Products for Hair and Body
Do you avoid chemical additives in food? What about chemicals absorbed through the skin? Choose natural soaps and shampoos to reduce toxins in your body.
We Ingest and Absorb Too Many Chemicals
Most of us know that our foods and beverages are loaded with preservatives and other chemical additives that are not good for the body.  Ingestion is not the only way we expose our bodies to harmful chemicals.  We seem to ignore the toxic potential of shampoos, soaps, and lotions.  Can the body absorb harmful chemicals through the skin?  Of course it can! 
I'm afraid our world is pretty far beyond the possibility of our bodies being free of added chemicals.  We can however try to minimize chemicals in our daily lives to decrease the toxic load on our bodies.  All natural soaps, shampoos, and skin care products are available, and relatively inexpensive.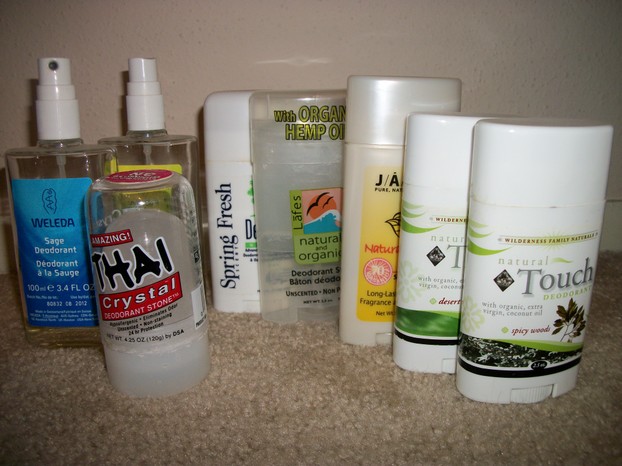 Natural Deodorants by Weleda, Jason, Wilderness Family, and Thai Deodorants
Eliminate Aluminum Chlorohydrate
I haven't used antiperspirant in several years now.  The active ingredient of antiperspirants is aluminum chlorohydrate, which is suspected of playing a role in several health problems.  Some scientists think there may be a link between breast cancer and aluminum chlorohydrate.  Others fear the ingredient may be linked to Alzheimer's.  Still other scientists suggest aluminum chlorohydrate is safe because a link has not been proven. 
I say "not proven" means simply that.  We have not yet proven a link.  That is a far cry from "safe".  Since I have a strong family history of Alzheimer's, I'm not taking the chance.  I use Thai Crystal deodorant stick.  Himalayan salt crystal is very similar. 
I run the crystal under a thin stream of water, then apply like a roll-on.  Thai Crystal lasts a really long time.  I have had mine for a year, and there is still plenty left. 
Everyone's body chemistry is different.  You may find your favorite is different.  Generally speaking, you are going to be looking for deodorant, not antiperspirant.  Wilderness Family Naturals makes a line of stick deodorants made with coconut oil.  Tom's of Maine also makes a line of natural deodorants.  Both come in a variety of scents.  I have tried many natural deodorant products, but Thai Crystal has worked best for me.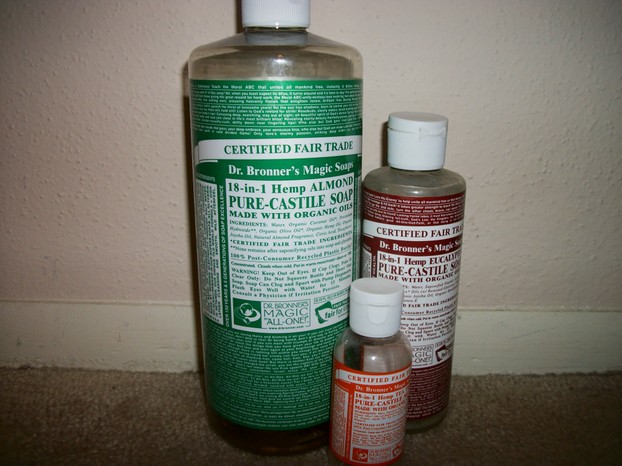 Castile Soaps
Use Natural Soaps
My favorite natural soap is Dr. Bronner's Castile Soap.  At our house we usually buy the 32 oz bottles, and sometimes even 64 oz, because you can use it for so many different things.  Castile can be used as a laundry detergent, dishwasher detergent (when combined with other ingredients), and natural insecticide. 
I like the almond scent best, and my brother likes the peppermint.  We've also bought eucalyptus, tea tree, citrus, and lavender scents.  It also comes in rose and unscented.  I use castile in the shower for my body wash, as well as for shampooing my hair. 
I also use castile in my foaming soap dispenser for handwashing.  Dilute it one part soap and nine to ten parts water. 
I have also used coconut oil bar soaps from Wilderness Family Naturals.  I like their Pure & Natural, and their Oatmeal.  The Oatmeal soap has real oatmeal, and is rough, making it a good exfoliant.  They have other bars including Lemon, Lavender, and Goldenseal-Plantain. 
Natural Shampoo & Conditioner
Use Natural Shampoos
I have been using Dr. Bonner's Castile soap for washing my hair for probably a year or more now.  It leaves my hair relatively tangle-free. 
I recently discovered natural products from Dr. Mercola.  I decided to mix it up a bit, and am now using Mercola shampoo and conditioner.  Now that my hair is a little longer and starting to tangle more, I need a conditioner.  I have been pleased with the Dr. Mercola products so far.  The shampoo does not lather like typical shampoo, but it still gets the job done.  It's been good to use a little conditioner again.  These products make my hair incredibly soft.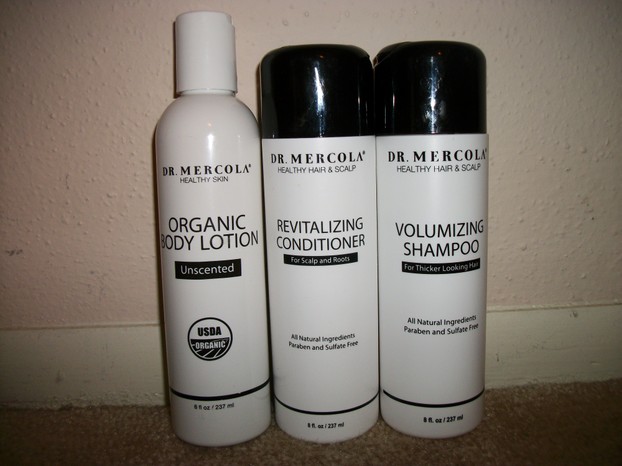 Dr. Mercola Shampoo, Conditioner, & Body Lotion
All Natural Body Lotions
Obviously I have chosen to use natural soaps and shampoos.  You could argue that the impact of chemicals in these products is minimized because the products are rinsed off.  You could not make such an argument for skin cream, so the use of an all natural product is even more important. 
I recently discovered Dr. Merola's Organic Body Lotion.  I like that it is unscented.  Actually it seems to have a faint citrus scent until it is absorbed and dries.  It is non-greasy, which is hugely important to me.  I especially hate it when my hands are greasy. 
I have also used coconut oil natural body butter.  This of course does not have a greaseless feel, at least not to the hands.  It soaks into the body pretty well, but I usually wash it off my hands when I'm done applying it.  Can't help myself. 
Do You Try to Use Natural Products?
---
Disclosure: This page generates income for authors based on affiliate relationships with our partners, including Amazon, Google and others.