SAD Disorder
by AJ
SAD Disorder or, to give it the proper name Seasonal Affective Disorder, is a type of winter depression.
What is SAD Disorder?
Seasonal Affective Disorder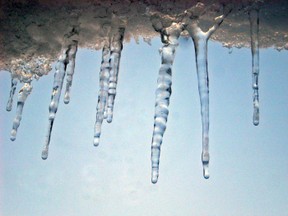 It was in 1984 that Seasonal Affective Disorder was first formally described and named at the USA's National Institute of Mental Health by psychiatrist and scientist Norman E. Rosenthal and his colleagues.
In the USA it is estimated that the incidence of SAD in the adult population varies depending on climate. For example it is believed that 1.4% are affected in Florida, increasing to 9.7% in New Hampshire.
In the UK about 1 in 100 people suffer from SAD, which is roughly 2 million. Across Northern Europe, the figure is believed to be around 12 million but the figures are considerably less in Southern Europe - again the warmer climate is a significant factor.
I suffer from SAD during the winter months. My home office is west facing, so the sun does not come around to that part of the house until the afternoons, making it particularly gloomy in the winter.
So I use a SAD Light Box, which simulates daylight, to help me through the darker, sunless days.
Image: Icicles © AJ and Family at Zazzle
SAD Symptoms
The symptoms of Seasonal Affective Disorder can vary
SAD symptoms generally vary from person to person and are similar to those experienced in other forms of depression. However, it is likely that SAD sufferers will report that they have more energy and are a lot happier in the spring and summer.

Other symptoms can include: lethargy; a low mood for much of the day; eating and sleeping more than usual; craving carbohydrates, which can lead to weight gain; anxiety;irritability; mood swings; loss of libido.

SAD Light Box
My Light Box helps me cope with SAD in the winter months
NatureBright SunTouch Plus Light and Ion Therapy Lamp

Advanced reflectors High Density Negative Ionization Effective bandwidth: 60% Clinically demonstrated. EMF protected UL, CUL, CE Safety listed No harmful UV. 30 day money back ...

NatureBright

Uplift Technologies DL930 Day-Light 10,000 Lux SAD (Seasonal Affective Disorder) Lamp

Day-Lights are specially designed bright light therapy lamps recommended by doctors as the first line treatment for Seasonal Affective Disorder (SAD), or the winter blues. ...

Uplift Technologies

Verilux HappyLite Deluxe Sunshine Simulator

Although our lives, health and well-being are dependent upon the sun, most of us do not get enough sunshine every day. Bright light is used for alleviating symptoms associated ...

Verilux

Philips BriteLITE 6

Sleep Better. Wake Refreshed. Have More Energy. Improve Your Mood. 10,000 Lux Light Therapy. Your Body Clock Affects Your Sleep, Mood, and Energy. Your "body clock" is the ...

Philips

Caribbean Sun Box Light Therapy SAD Sunbox - Filters 100% of the UV rays

All of the Caribbean Sun Boxes work on all voltages world-wide with no voltage adapter needed The Caribbean Sun Box is small and fits on any desk or counter-top,yet delivers ...

SunBox
Treatment for SAD Disorder
SAD Help
Some SAD sufferers are treated with anti-depressants, but many people use self help methods to alleviate the effects of Seasonal Affective Disorder.
Out door exercise can help SAD, particularly when the sun is shining but also ensure your diet includes foods containing the B vitamins thiamin and niacin, folate, selenium and oily fish, which is a quality source of Omega-3 - often called "mood foods."
Other action you can take to help SAD is to decorate your home in light colours; postpone any energetic projects until the summer; try not to get stressed (or allow others to stress you!); learn relaxation techniques, such as Yoga and above all else remember to allow yourself some "ME Time".

However, I have found that what helps me the most is to use a Light Box. My home office, where I work for much of the day, is West facing so in the winter it can get quite gloomy.
---
Disclosure: This page generates income for authors based on affiliate relationships with our partners, including Amazon, Google and others.