Why You Should Spay And Neuter Your Dog
by ravenko
If you've never had a litter of puppies and are thinking it would be a great thing to do, you might want to read my story first.
Our Female Puppy Karma
We got Karma at the age of 12 weeks old, we had rescued her from an abusive home...I'm not sure if she was better off with us after what was going to happen here...You see we already had one Presa Canario and Orca being a male wasn't neutered at the time, he was still a baby himself...Lets jump ahead a few months to make a long story a bit shorter...
Four Months Later
I had made a vet appointment to get Orca neutered, it was two weeks away, and as far as we could tell it was still to early for Karma to come into heat, I wanted to get this done to avoid any unwanted events from happening...We have a large chain link fence around our house on an acre of property so when we leave for work in the mornings we always put both dogs outside for the day until we got back home...Are you guessing what happens next – bet you are...I came home from work one day to find my two dogs engaged in what we would call creating life, yes they were glued together in a matter of speaking, trying to keep my story with a clean way of explaining...I called my vet right away to see what I could do, he then informed me it was to late, once the gluing part happens it's 99% likely we'll be having puppies – ya for me, there's an experience I had no interest in having...Two weeks later we took Orca for his neutering appointment at the same time I had the vet check Karma out, I had no idea if she was or wasn't and didn't even know how to tell...The vet checked her over and then said "Karma is going to have puppies"...I just stood there staring at him, not knowing what to say, then all of a sudden I said "lucky me", I'm kidding it wasn't lucky me, it was the worse nightmare ever and I don't recommend it to anyone who doesn't have the experience...
We were not prepared for what happened next...
The Puppies Are Born
Karma went into labor Nov 25th, 2008 at only ten months old, I still couldn't believe it was happening...The first puppy was born with no problems at all so we thought, it was a little male, his little eyes were open so he seemed okay...The second puppy started on it's way, once it was born we quickly realized it wasn't breathing, I tried gently blowing in it's tiny little face, I tried rubbing it's little chest, nothing I couldn't get it to breath...I removed it's tiny little lifeless body from the dog bed and wrapped it in a towel...The third puppy started to emerge and like the second puppy it too didn't survive...I called the vet at this point and he said "bring her in right away", so we loaded up karma and puppy number one and rushed to the vet...I was so glad that puppy number four didn't make her appearance until we were at the vet, she too was born lifeless...The vet took her and hooked her up to oxygen, he rubbed her little chest and blew in her face, the vet worked on her for just over a hour trying to keep her from passing away...As this was going on Karma had puppy number five, she was born with no problems at all, the vet assistant took her cleaned her up and gave her a clean bill of health just like puppy number one...Puppy number six was on his way, he came out with a the personality of a trouble maker right from the start and as healthy as he could possibly be...We left Karma and the four little puppies at the vet for the night so that they could keep an eye on puppy number four (Heaven I Named Her)... In the end Karma had given birth to four living puppies, two males and two females...I don't know the sex of the two who were born deceased, I really didn't want to know that...
Now we'll embark on the journey of watching the puppies grow, and see how the puppies all found loving homes, plus how the two little male puppies are still in contact with us and how they've grown up to be beautiful dogs.
Heaven (Born Puppy #4)
We gave this little girl the name "Heaven" because she was the first puppy to be born at the vets, and after working on her lifeless tiny little body for over an hour the vet was able to save her life...She was a survivor of a miracle...Heaven left us when she was twelve weeks old, she went to a nice young couple in Ladner, BC and was going to accompany her new mother to work everyday at the (yup you guessed it) a pet store...
Sissy (Born Puppy #5)
Sissy was with us right up to Valentines Day 2009 when a young couple from Delta,BC wanted to give her a home...Sissy was very outgoing and mischievous she was always looking for ways to find trouble...We have no idea how the girl's are doing now, we lost contact with both of them...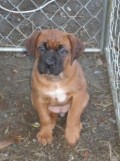 Heaven 4 Months Old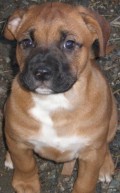 Sissy 4 Months Old
Nitro (Born Puppy #6)
Nitro was the last puppy born, and the first puppy to leave us...Nitro went to a family in Kelowna, BC at the age of eight weeks old...The couple that took Nitro made a six hour drive in the winter over the mountain pass to pick him up...He still goes by the name Nitro and we're able to see regular updates of him on Facebook, further down there's updates, so keep reading...
Nitro's Update
Nitro has turned into one good looking dog, he still lives in Kelowna, BC with his family...Recently Nitro had an accident and broke one of his front legs...He was in a cast for almost two months, but I've heard things are going great and he's now back to walking on it...I receive updated photos regularly from Nitro's mom and she says he's spoiled rotten...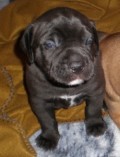 Nitro 4 Weeks Old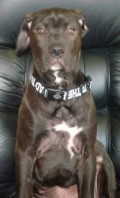 Nitro 2011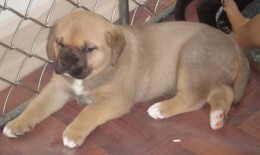 Legend 6 weeks Old
Legend (Born Puppy #1)
Legend was the first puppy born, we had decided to keep him when he was about six weeks old...He had a great personality, and beautiful colorings, he was just an all around sweetheart...
Everything Happens For A Reason
If you remember we were keeping Legend, but as it turned out the very same day (Valentines Day) that Sissy went to her new home... A young couple from Kelowna, BC called wanting to know if they could take Sissy...So we talked it over amongst ourselves and decided we would let them have Legend...A few months after they got Legend (now called Roman) the husband was killed in a car accident, leaving the young bride alone with only her dog as a companion, we had made the right decision in allowing them to have Legend - Aka: Roman...Up until just recently I was still in contact with her on Facebook, this picture is the most recent update I have of Legend - now known as "Roman"..

Watch Presa Canario Puppies
Do You Think People Should Spay And Neuter Their Dogs?
Important Thing To Remember
Let me end with saying that if you don't have the experience with having litters, I don't recommend it, this was the worst experience in my life...I had to watch life slip away from two tiny little helpless bodies, it just broke my heart...It is a lot of work, especially when you have to start the weaning process...Not to mention trying to find homes for the surviving puppies, I wanted to make sure they all had great non-abusive homes where they would only know nothing but love...In the end I had all the puppies until they were almost 5 months old except Nitro who found his home at the age of 8 weeks old...I know that the boys have great lives, but I often wonder if the girls are living in a happy and non abusive home...Having litters are best left up to the people who know what their doing, and if you think you can make money doing it - think again!!!
Visit My Dogs Here
Learn more about the father and mother dog
---
Disclosure: This page generates income for authors based on affiliate relationships with our partners, including Amazon, Google and others.