10 Home Organization Ideas for 2012
by Tracey
Give your home a modern make-over with these great home organization ideas.
10 Great Home Organization Ideas for 2012
Make your home a place your family feels good about
Your children are growing up and becoming more independent by the day, and it's time for some home organization to make them feel okay about bringing friends home to hang out. Make your home a place your family feels good about.
Make activity zones in your living room, each with its own seating area. Use home organization ideas such as a dining area in one corner, a reading nook overlooking the garden, a desk against a wall and a sofa facing the TV.
Double up! Using a sofa as a sleeper couch is old; what's new is doing it the other way round – using a single bed with huge cushions as a daybed or sofa, and when guests stay over it turns quickly into a bed. A bed with a slide-out is even better and you get two for the space of one.
Use modular furniture. Swop the standard sofa for modular furniture such as cube chairs, which fit together in home organization to make a two-seater or move around handily for films and TV games.
Use your garage. Fit PVC roll-on flooring in your garage and other outdoor areas – it installs in minutes without glue, protects concrete and is easy to keep clean. It turns the garage into a great space for a children's clown party or a teen's disco
Stash unused stuff on ceiling storage racks in the garage. Some home organization options for garages include storing winter tires, summer patio furniture, camping gear and other items off the garage floor.
Go modular in the bedroom. Turn your kid's room into a bed-sitter with furniture such as a loft bed with a desk, sofa and bookshelves at the bottom.
Get a kitchen island. The most versatile workspace ever, the freestanding kitchen island on castors can be used as an outdoor serving counter or a cooking demo.
Convert your kitchen into a relaxing space your family will enjoy with great home organization and focused lighting. Turn the spotlight on your cooking with over-counter spots and under-counter recessed lights.
Give your family the gift of being always online with a house-wide broadband connection that lets them watch movies, play games, check email and surf the web anywhere in the home.
Pigeon holes are making a comeback, especially for home offices, as a place where you can store all your office items in the space of a single wall. Keep 'em neat and tidy for the organized look.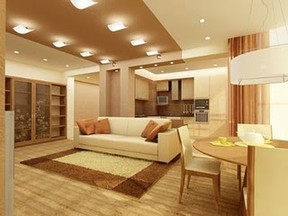 Image source: http://2.bp.blogspot.com/-tn3d1CwYdT8/TbaBbLRwcYI/AAAAAAAAC4Q/fOgpOECPuhw/s320/furnishing-living-room1.jpg
10 Home Organization Ideas for 2012
Give your home a makeover with these great ideas
---
Disclosure: This page generates income for authors based on affiliate relationships with our partners, including Amazon, Google and others.