About Karen
by karenbarr
Find out more about Karen :)
My early history
Like all good biographies, this one starts with the past :)
I was born in 1973 in a little town in England called Tunbridge Wells. I was the first grandchild to my Mum's parents and they spoiled me rotten! I spent a lot of time with them on the farm where they worked, which is probably where I got my love of nature.
As I grew up I excelled at reading and writing and was far ahead of my classmates in that area. I read books voraciously, including under the bedcovers with a torch when I was supposed to be sleeping! 
Unfortunately as a teenager I endured sexual abuse by an immediate family member which went on daily for nearly two years. Back in the day, nobody really spoke about sexual abuse or rape and there was no information or help available for victims. Things are certainly much better these days and support and help is far more readily available.
As any abuse/rape survivors can attest, you can survive the attacks, but they have a lifelong effect. Through my teens and early twenties, I suffered severe depression and I abused drugs and alcohol quite severely. I was lucky not to be left with long-term health problems because of this.
My favourite books
St. Lucy's Home for Girls Raised by Wolves (Vintage Contemporaries)

A San Francisco Chronicle, Los Angeles Times, and Chicago Tribune Best Book of the YearIn these ten glittering stories, debut author Karen Russell takes us to the ghostly and ...

$13.79 $9.6
Postmortem (Kay Scarpetta Mysteries)

With this novel, bestselling author Patricia Cornwell created one of crime fiction's most compelling heroines: gutsy medical examiner Kay Scarpetta. Cornwell's gift for ...

Only $0.96
The Absolute Sandman, Vol. 1

THE SANDMAN, written by New York Times bestselling author Neil Gaiman, was the most acclaimed comic book title of the 1990s. A rich blend of modern myth and dark fantasy in ...

$75.72 $58.0
I, Robot

The three laws of Robotics:1) A robot may not injure a human being or, through inaction, allow a human being to come to harm2) A robot must obey orders givein to it by human ...

$10.92 $5.25
The Child in Time

Stephen Lewis, a successful writer of children's books, is confronted with the unthinkable: his only child, three-year-old Kate, is snatched from him in a supermarket. In one ...

$13.52 $3.99
The Dark Tower (The Dark Tower, Book 7)

Creating "true narrative magic" (The Washington Post) at every revelatory turn, Stephen King surpasses all expectation in the stunning final volume of his seven-part epic ...

$6.21 $15.57
Marriage and Separation
In 2000, I met my husband-to-be, Patrick, on an online forum for abuse survivors. Pat was also a survivor of child sexual abuse. There was an immediate connection between us and when we met face to face for the first time, we fell in love almost instantly. 
There were a few practical problems. My home and job were in the South of England. Pat lived in Sheffield, 250 miles away - not an easy commute! Pat was disabled due to spinal injuries that he'd received about 10 years before, and was a single dad with a five year old son.
We didn't let any of that put us off - I moved in within three months, leaving my job and family behind. Pat's son was dear to me from the start and he began to call my "Mum" within a few months. Although Pat and I tried for a child, I was unable to conceive. To this day, that little boy is still my son, and he always will be :)
We were married on October 12th, 2002 and the marriage lasted until Patrick died very suddenly in 2009. We had separated in 2006 and Pat had moved to Cardiff, in Wales.
The thing of which I am most proud during this time was the work that Pat and I did on our website for abuse and rape survivors, Safe Haven. We helped hundreds of people on the very active forum that we moderated, and we know that people are alive today who would otherwise not have been, without our help.
My favourite films and TV
Today
As of today, I work in a call centre in the resource planning function (this means I make sure that there are enough people at the right times to answer the customers' calls and have the right skills to deal with their queries.)
However, my ambition is to be able to stop working outside the home and earn a living as a freelance web designer and SEO consultant, and also build up passive income streams through my websites (although as anyone who has attempted this can tell you, "passive" income is usually anything but!)
There are a number of reasons for wanting to do this: my son is still having emotional problems after his father's death, and it would be great to be on hand more often; I currently have a 90-120 minute drive every day to work and it's draining; I enjoy travel and I'd like the freedom to do more of it.
But most of all - I've been working for other people in a variety of jobs since I was 16. I've worked my butt off for one company after another, and one thing I've learned is that in the corporate world, hard work rarely gets rewarded - your job is still just as vulnerable the minute the company gets into difficulties, or even just sees an opportunity to squeeze more profit. If I'm going to work hard, I'd like to ultimately make more money as a result of doing so. If I work for myself, then I'm accountable to myself!
I want to do more of this!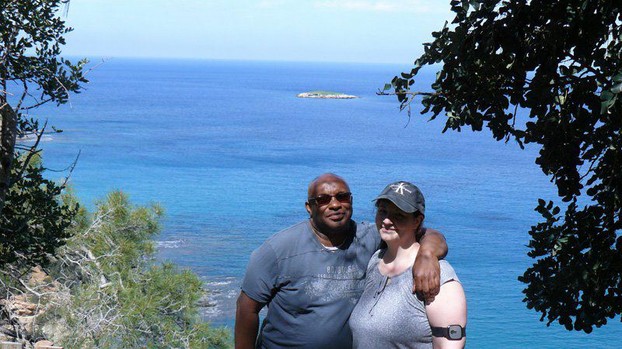 Me and my partner, Cyprus, 2011
---
Disclosure: This page generates income for authors based on affiliate relationships with our partners, including Amazon, Google and others.