ABS Vs Non ABS Cars - Which Car has Shorter Braking Distance?
by soni2006
ABS cars have shorter braking distance than non ABS cars. This is a helpful car safety technology that saves lives.
ABS (anti-lock braking system) cars have sensors. As soon as the sensors sense that the wheels are about to get locked, the motor releases the brake pressure. Even when you are continuing to apply brakes, the sensor system applies and releases the brakes several times after sensing wheel lock. As a result, your steering wheel remains free and you can steer away your car from another vehicle. Also, as the wheels are free and getting fresh brake pressure many times per second, it increases the brake force and the vehicle stops in a short span of time. This is the reason why ABS cars have shorter braking distance than non ABS cars.
In a non ABS car, the wheels get locked as soon as you press the brakes. As the wheels get locked, the tire starts skidding, either in straight movement or in any other direction. As a result, the steering wheel gets locked preventing you to steer away from the object in front of your car. Also, the car keeps skidding and ends up banging into another car or object.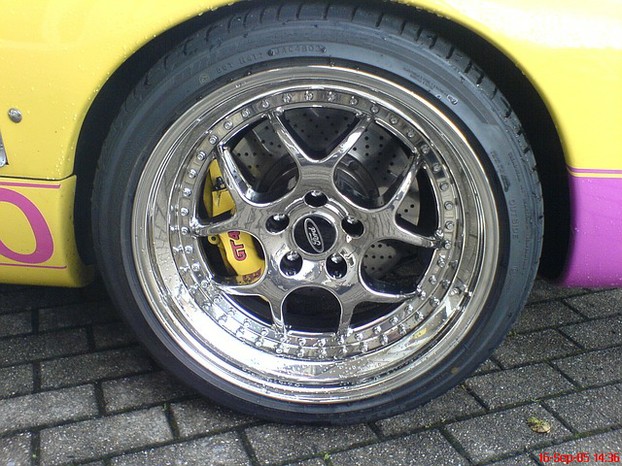 Pixabay Tire Picture
The braking distance effect or ABS effect works even better in water, mud, snow, sand, and other slippery conditions. The difference in braking distance between a non ABS car and an ABS car is not too much on a dry road, but even if it is just 1 to 2 meters short, it can be a lifesaver. Most upcoming cars are coming with ABS (anti-lock braking system) and EBD (Electronic Brakeforce Distribution) which is an even better car safety technology.
ABS shortens the braking distance giving you the opportunity to steer away your car from another car or object. In this way, you can avoid severe road accidents. Because the wheels do not get locked, the stopping distance reduces considerably. According to data logged by some automotive companies doing research on ABS, it has been found that on dry roads, an ABS car stops around 1 to 3 meter shorter than a non ABS car. This gap further increases if the ground is slippery or muddy. ABS cars perform even better in slippery and muddy conditions. ABS cars do not lose their position and you can easily control them without going straight and hitting another vehicle or object.
In a nutshell, ABS cars have shorter braking distance than non ABS cars. Anti-lock braking system helps in stopping safe, remaining stable, and also avoiding collision where stopping to a dead halt is not possible in a given amount of time. The 1 or 2 meter shorter braking distance may not sound much but in a critical situation where the object is not far away from you, that 1 meter short stopping distance can mean life or death for you. So ABS is an important car safety feature. Non ABS cars have higher braking distances and are more prone to collisions.
ABS vs No ABS - ABS Saves Lives But It Is Not Flawless
Watch this very important video, find the difference between ABS and Non ABS cars, and decide
---
Disclosure: This page generates income for authors based on affiliate relationships with our partners, including Amazon, Google and others.