Amazing Beauty Added to the Electronic Cigarette
Customizing your electronic cigarette with vinyl ecig skins will give you that added enjoyment.
Uniqueness and Style from Wonderful Skins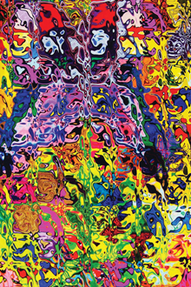 To the left is an example of a multicolored skin with all the colors of the rainbow and more. Imagine wrapping this around your ecig and receiving many wonderful comments on how dazzling it looks. The sky is the limit on the different designs that are available for skins.
A Skin For Every Mood or Personality
Decorative electronic cigarette skins have earned immense popularity and at the same time, making them style statements. As stylish as ever, the choices available in these skins can match your clothing, personality and your interests. The brightly colored and patterned add-on has become a fashion accessory now. From a monotone appearance you can get one transformed into a dazzling piece of art.

People are seen flaunting these ecig's with a lot of attitude. For many, the skins are popular options because of the multicolored designs and vivid patterns that spark the imagination. You can get them customized also with names and colors that are really bold and beautiful. Lettering colored in white and red and hearts can be an incredible looking skin.

Making a statement with a new skin

Depending upon your choice you can have ecig skins in animal print that look truly exotic such as a starfish or penguin. In this category you can also consider Butterflies or zebra stripes in many color variations. Designs with circles and squares or intense looking flowers are also available. There are many beautiful prints and elegant looking patterns for women too.

Designs with the seven colored rainbow bands that are blended and stripes that look very elegant and smart can be chosen to ensure they match almost everything you wear. There are even electronic cigarette skins that support some special worthy causes in the world. If you are a lover of nature then delicate daisies in purple and fall leaves in bright colors would be delightful. Depending on the mood, the guys too can select many different camouflage designs. A skin with barbed wire or a sinister skull goes well with the guys who are really tough.
Beautiful Skins from one of several websites on the internet
Personalizing And Customizing
Love and Heart themes can be really cute vinyl skins that would be pleasing to women . Classy men can stay rustic at heart by selecting a skin in carbon fiber or the black and gray combo that is eternal and elegant. Most skins are resistant to fading and are 3M vinyl, which is highly durable. All that needs to be done is to get the backing peeled off after which it can be applied directly on the ecig. In just a few seconds it gets firmly fixed. In some cases the vinyl is removable, which means it will not leave sticky glue behind when you decide to take it off.
Manufacturers now understand and exclusively cater to the needs of electronic cigarette users and create skins in varying sizes and lengths. These skins available in the market are created to fit any brand. For ensuring an appropriate fit, in many options all that you need to do is trim the skin with scissors. Decorative skins are an interesting and fun way of getting almost any kind of outfit accessorized. Besides this these skins are not at all expensive so everyone can afford them. If you are looking for quality and durability, the different kinds of designs are available for viewing and comparison shopping online. Just do a google search for 'ecig skins' or 'electronic cigarette skins' and you will find a few websites that sell this product.

Check out popular choices

Some of the popular choices currently are the professional prints in high quality glossy finish, smooth, UV proof coating, waterproof, and they come in different sizes, lengths and designs. Each electronic cigarette brand is different and hence each ecig skin needs to be chosen accordingly. This type of adornment is in great demand and preferred over a plain dull look.
---
Disclosure: This page generates income for authors based on affiliate relationships with our partners, including Amazon, Google and others.