Angry Birds Knock On Wood
Angry Birds has moved from the virtual world to the real world with Angry Birds Knock On Wood, and it's just as fun as the original!
Angry Birds
Angry Birds Comes To The Real World
One of the most popular apps for phones is the game, Angry Birds. Millions have downloaded it, and play it often. Angry Birds Knock On Wood brings the virtual game to the real world. It's a game designed for tabletop play for ages 5 and up. Most important though...It's truly a load of fun! If you're looking for a game to bring the family or friends together, this is it.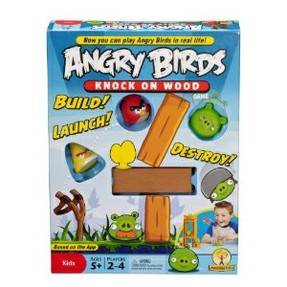 Where to Order Angry Birds Knock On Wood
Angry Birds: Knock On Wood Game

Build, launch and destroy with an exciting skill-and-action game based on the best-selling phone app. Game features three Angry Birds, green pigs, one slingshot-style ...

Only $64.95
How To Play The Game
The Premise
The game's story is that evil pigs have stolen the birds' eggs, and the birds are naturally quite angry. They are determined to get their eggs back, but there is a problem. The pigs want to keep the eggs. They want to keep them so badly that they have built "castles" in which they hope to keep their treasured eggs away from the angry birds. The birds are outraged, and have built a slingshot to shoot themselves at these "castles" in order to knock them down and get their eggs back. If you were a bird and your eggs had been stolen, what lengths would you go to get them back? 
How To Play 2
The Play
To begin the game, cards are drawn which direct players on how to construct a "castle." The cards are known as "mission" cards and they have detailed plans for the construction of ever more complex castles. After one player or team has built their castle, the other player or team uses the launcher to fire birds at it in order to knock it down. 
As play continues, players go through 4 levels of complexity in their castle plans. The first three levels are directed, however, the fourth level is up to the player to design their own castles. This is known as the "freestyle" level.
When the game was being tested, building the castles was found to be quite entertaining. Another facet found to be quite fun by the testers was trying out the launcher from different distances.
What You Get
The game comes with 3 birds and 4 pigs. In addition, there are a variety of simulated wood pieces with which the so-called "castles" are constructed. And, of course, the mission cards so you know what to build and how to build it. I should warn parents at this point that some of the pieces are small and can be a choking hazard, so keep that in mind if you have small children. 
Warning: Angry Birds Knock On Wood is Addictive
This game seems at first like a pleasant way to spend some time with family and friends, but be warned. It can become addictive. I say this with tongue planted firmly in cheek. But it is a great way for families and friends to spens some quality time together.
---
Disclosure: This page generates income for authors based on affiliate relationships with our partners, including Amazon, Google and others.