Best Hawaiian Island for Honeymoon
by love_hawaii
Hawaii is a great honeymoon spot, but picking an island to vacation on can be a hard decision. These tips will help you decide on which island is best for you!
Honeymoon in Hawaii
So much thought goes into what island may be best for your honeymoon, but the reality is that as long as you're headed somewhere in Hawaii, you'll have the time of your life.  Hawaii is an amazing place that won't disappoint no matter which island you end up choosing.
I'm going to be giving some general guidelines on which Hawaiian island may be best for you, but don't stress too much on making the decision of which island you'll be travelling too.  For a seven to ten day vacation, there's plenty to do on each island.  You should spend the majority of your time planning activities on the island of your choice and not on which island is the ideal vacation spot. 
With that being said, I'm going to give tips on four of the Hawaiian islands:  The Big Island aka Hawaii, Maui, Oahu, and Kauai.  Let's begin!
Honeymoon on the Big Island
The Big Island, also known as Hawaii, is an island best suited for a longer vacation.  Because it lives up to its name (it really is big), the Big Island has a wide array of activities and travel time between these activities is a little greater than the other islands.
If you want to see an active volcano, the Big Island needs to be your choice as it has the only active one in the entire state.  Volcano National Park is where you'll be headed here and you should set aside at least one full day (if not two) to explore everything the park has to offer.  The park is a short drive from Hilo, but the majority of flights into the Big Island come into Kona, which is much further away.  You'll spend a good portion of a day just getting to the volcano area from Kona so don't plan on a quick excursion.
While the volcano park area is the greatest attraction on the island, there is plenty of other activities to try as well.  Snorkeling is plentiful on the west side of the island and there are many unique hiking opportunities around the entire island.
If you're an active couple and have a good week or so for your honeymoon, the Big Island makes a great choice for your destination.  With so many options for activities, you won't find yourself sitting around here.
Honeymoon on Kauai
If you're looking to get away from it all and spend time in a quiet, slow pace environment, the island of Kauai would be a perfect fit.  Known as the Garden Island, Kauai is the smallest of the four islands I'm covering here.  The vegetation on this island is amazing and when in season, the colors are amazing.
Kauai presents ample beaches to snorkel and relax on.  Hanalei Bay is always high on the list for best beach in the world and there's good reason for it.  It's a surreal area that will leave you wanting to return to on an annual basis.  This island also has a number of great hiking trails if you want to be active and explore the island.  The Kalalau Trail on the north side of the island is a tremendous, but difficult trail that gives awesome views of the Na Pali coast.
Speaking of the Na Pali coast, a cruise to this part of the island is a must-do while on the island of Kauai.  There is no access to this side of the island other than hiking or by the sea and you won't soon forget the views that Na Pali brings.  A cruise to Na Pali may also bring you sights of whales, depending on the time of year.  Dolphins are also a regular site during a Na Pali coast cruise.
Kauai is a wonderful option for honeymooners, and considering the atmosphere of the island, it would probably be my choice for an upcoming honeymoon.
Honeymoon on Oahu
If you're on a tight budget, but still want to experience the magic of Hawaii, the island of Oahu makes for a good choice.  It's the island with the largest city, Honolulu, in the state and the population here is much greater than that of the other islands.  Because of this, prices for flights and other ammenities can be a bit cheaper.  The one downfall is that the island is not as intimate as the vast number of people take away from the Hawaiian spirit a bit.
Don't let this take away from the positives of the island though as there is plenty to do on the island for many vacations over.  Of course, there is the Pearl Harbor exhibit that is a must see if you'll be vacationing on the island of Oahu.  Though crowded on a daily basis, it's worth planning a day around visiting the memorial.
Waikiki is also a popular destination for tourists coming to this island.  With it's white sand, it's one of the most famous beaches in the world and probably the one that comes to mind when you think of Hawaiian beaches.  It's a crowded, touristy place though so don't expect to have the beach to yourself.
Night life is around every corner on Oahu so if this is important to you, this is a good choice for an island to visit.  Kauai and the Big Island are a little quieter at night in comparison and might be a bit boring to you if the night life is what you're after.
If you can get away from the big city, the island has plenty of places to explore that give a more tradition Hawaiian feeling.  I would recommend doing this as you'll miss out on what Hawaii is about by just staying in Honolulu.
Honeymoon on Maui
Maui is a popular choice amongst vacationers in Hawaii because it has an excellent blend of touristy type activities along with the more tradition Hawaiian activies (snorkeling, hiking, exploring in general).  It also boasts some of the nicest hotel/resort accomodations in the state of Hawaii.  Because of this, it makes for an excellent honeymoon getaway.
The Road to Hana is often at the top of things to do when on Maui.  It's a day long trip that will allow you to explore many of the top beaches and parks on the island.  Waianapanapa State Park and Ho'okipa Beach are two of the popular stops along the way.  While the actual travel time to Hana and back may not be all that long, it's stop like these that turn the venture in to a day long trip.
Iao Valley State Park is also another popular destination amongst travellers on the island.  Hiking here is tremendous and you'll be rewarded with great views of the island if you decide to do so.  The park makes for a good trip to the western side of the island.
Of course, there is plenty to do around the resort areas as well.  Luaus are a popular activity for all vacationers and Maui has some of the best.  A luau is a must do no matter which island you are on as the tradition Hawaiian dance and food are a sight to see (and taste!).
Waterfalls Galore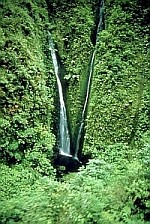 Maui Waterfalls
---
Disclosure: This page generates income for authors based on affiliate relationships with our partners, including Amazon, Google and others.