Best Keyword Research Software
by Natasha
Read this review of the best keyword research software I have used till date. Find it better than the likes of Market Samuari and Micro Niche Finder......
Keyword Research is Vital To Your Online Success
Keyword research is the first and most important step that will determine your online success. Whether you want to make money online or build an audience, keyword research is very essential. But unfortunately, it is also one of the most ignored aspect of online writing.  Writers and marketers spend a great deal of time promoting their article but what they don't realize is that without proper keyword research all the promotion won't do much good.  It is no use promoting an article which you may never rank for.
Steps to Effective Keyword Research
To check the number of searches being performed for the particular keyword.  You don't want to write about topics which no one is searching for.  
To check the potential income of the keywords. You should know how much advertisers are willing to pay for the particular keyword or if there are enough products to promote with the page you are writing on that keyword.
Check the competition.  This is the most crucial part.  You should write on topics that you can rank for in the top 3 google search engine results.  So check the competition and determine if you can beat it.
Why Should You Use Keyword Research Software
 Manually doing keyword research is
boring
repetitive
Very time consuming
Results are not accurate most of the time
You miss out on many a important details
You soon start hating KEYWORD RESEARCH.
Best Keyword Research Software - Longtailpro
I have tried and tested most of the popular paid keyword research software in the market.  Be it Market Samurai, Micro Niche Finder, Traffic Travis or IBP.  I have used them all.  They are good but lack in one or two important features.  Some are slow, some are not as detailed and so on.  But recently I purchased Longtailpro and honestly speaking it is the best keyword research software I have used till date.  It is simply amazing.  
I saw the announcement for Longtailpro at The Keyword Academy (Very good site for beginners in online money making), saw the demo video of the software and was thoroughly impressed.  I even subscribed to the site so that when the software is available for sale (It was in beta then), I will be informed.  I purchased the software as soon as it got out and I am so glad that I did.  This software has really made keyword research fun for me and has helped in increasing my online income.  

Find Profitable Keywords
Benefits and Advantages of LongTailPro
The main advantages of LongTailPro are:
Generate thousands of potential keywords with seed keywords
Research multiple keywords at the same time.
It checks domain name availability (Exact match and hyphenated)  at the same time
Filter keywords according to your criteria
Gives in-depth detail about the competition
Very easy to use and understand interface
It is comparatively inexpensive if you look at other keyword research software.  Longtailpro only cost $97 which is a one time fee  while the other keyword research software are well above $100 or are monthly subscription based.
Well, you don't have to believe my words, just see for yourself.  Check out this demo video from the official site.
See LongTailPro in Action
My Testimonial Featured on the Official Homepage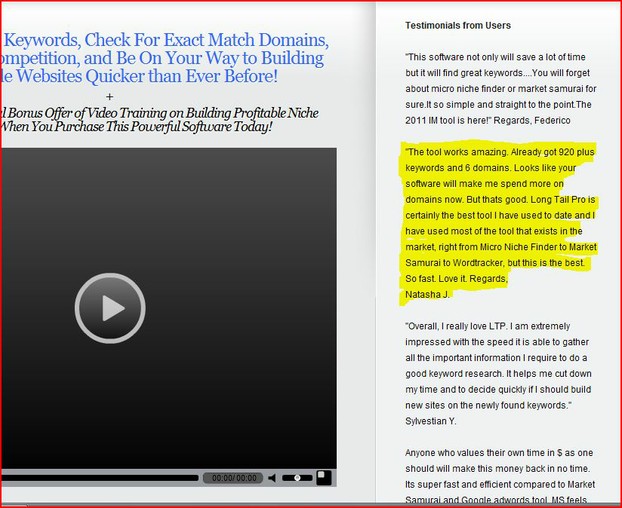 Longtailpro - My Testimonial
Final Summary
Longtailpro is a great piece of keyword research software made by a successful niche website market Spencer Haws.  He is very respectable guy and you can get in touch with for any queries you have at his personal blog - Niche Pursuits.
And yea, I am not hyping this tool at all, you can just check for yourself.  This tool is highly recommended for those who want to find good keywords in a fun and easy way.
---
Disclosure: This page generates income for authors based on affiliate relationships with our partners, including Amazon, Google and others.