Best Outdoor Fire Pits
by jan998
Here we will be looking into finding the perfect outdoor fire pit. Narrowing down your options and locating the best deals on outdoor fire pit tables and campfire rings.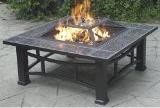 Square Fire Pit
The Perfect Outdoor Fire Pit
Here we will be looking into finding the perfect outdoor fire pit. Narrowing down your options and locating the best deals on outdoor fire pit tables and campfire rings.
Knowing which outdoor fire pit to choose is all about taste. Your design ethic and views on the style of outdoor space you want will determine which type of fire pit is best for you.
But there is more to the process than just looks. You could go for propane or a wood burning option. A rustic fire pit ring or a formal fire pit table. Materials are endless too. Chimineas look good in a traditional setting whilst an ultra modern copper fire tub could smarten up any modern patio.
Here we will have a look at some of the most widely available and popular outdoor fire pit options.
Key to finding the best fire pit for your backyard is to consider exactly what you want from it.
Will it be a place to sit and relax near to?
Will it be the focus of energetic parties and dancing?
Will it simply be somewhere to cook out of doors?
Do you want the fire pit to be a permanent feature or something easy to dismantle and store away in the garage?
Do you want to take it on vacation, or trips to the beach?
All these points will help you decide whether a simple campfire ring or formal patio fire pit table is the best option.
Fire Pit Tables
Probably the most popular option in suburbia at least are formal fire pit tables.  These raise the flames up off the ground, and contain them safely inside a sturdy fire bowl held up on a solid base.
Most commonly produced in cast aluminum and copper they come in a myriad of styles to suit all tastes.  Many come with ornate wrought iron stands and may be bought alongside entire ranges of co-ordinating garden furniture. 
There are a few things to think about when choosing fire pit tables though...
The larger the bowl the easier the fire will be to light and to keep lit.  Allowing space for larger logs will mean you have to monitor the fire a lot less during the evening.
If you do not plan on using the fire bowl that often think about one that comes with a cover such as theStrathwood Fire Pit as that allows you to use it as a proper table when not burning wood.
The lower to the ground, the more sturdy the table and the less chance of any 'wobble'.  But similarly the higher the likelihood of scorching the surface below.  If placing on a deck do be sure to place a heatproof pad underneath.
You will need a spark screen if there are children, pets or trees in the vicinity of your fire pit table.   Most good models come with one as standard but you can buy them as additional accessories too.  Be sure to purchase one that is easy to put on and remove.  There are some pretty designs that fold out very cleverly but you might find them a little frustrating when you simply want to add another log to the fire quickly.
A rain-cover is a must unless you are lucky enough to live somewhere very dry, or organised enough to put the table indoors when not in use.  A bowl full of soggy ashes will quickly corrode most metals so it is important to keep the rain off.  Plus if you use a cover it means you can store logs for your next fire in the table itself.
When choosing fire pit tables it pays to invest as much as you can.  Now, I'm not talking thousands of dollars here, but really if you plan on using the fire pit very often you will need to spend a few hundred.  There are some cheap models for under $100 but the metal tends to be thin and really not that practical.  In fact if you do not have the funds to invest properly in such a thing it might be far better to choose a campfire ring, as even the cheapest priced versions have little that can really go wrong with them and are extremely easy to use.
Top Fire Pit Tables for Sale
Outdoor Fire Pits - Fire Tubs & Bowls
If a table is a little too formal for you why not try something a little different.  Something like a squat, modern copper fire pit, the CobraCo Copper Fire Pits, or Sojoe Fire Pits. Personally I find these far more user friendly than the popular fire pit tables.
Top reasons why fire pit bowls are better than fire pit tables:
For one thing they are all far more stable with a lower center of gravity. This is particularly important if you have large clumsy dogs (or husbands!), or children running around.
Secondly they tend to offer much more room to build up a more long lasting fire that needs less work to keep it going.
Several, such as the Sojoe versions have cut out designs around the outside. Now this makes for a very pretty fire, with dancing animals or stars and moons for example. But it also has a really practical purpose, allowing oxygen right into the heart of the fire so you get a lot more heat, and really that's the name of the game after all.
They are just a little bit more interesting, with some really cool minimalist designs available and great rustic options too.
If you choose wisely you can get a handrail incorporated around the top. Now in theory this is to help you move your fire pit bowl, but in practice it makes a rather fabulous foot rest!
There is greater scope for some serious home campfire cooking as the tubs tend to be larger, and many come with grills.
Again, you don't want to scrimp too much with an outdoor fire pit. But with more basic and substantial designs, even the cheaper models seem less flimsy than the equivalent fire pit table.
 CampFire Rings
If you want to spend less money but still enjoy al-fresco eating and traditional fayre around a campfire, a simple camp-fire ring might be just the thing.  Here's why I would choose CampFire Rings:
These are really just a way of making an old fashioned 'on the ground' campfire safer and more attractive.  By enclosing a space that is dedicated to the fire you stop the campfire 'creeping', which is a common problem that results in much larger areas of scorched earth than you anticipated.
It also means that people and animals are not going to inadvertently walk over still hot ashes once the fire is out.
They are really cheap!
Totally portable.  Oh yes in theory all these outdoor fire pits are portable, but which one would you truly be happy to pop into the trunk of your car on a regular basis?
Can be as simple or pretty as you like.
Easy to rig up (or buy a matching) cooking spit, poles for Dutch Ovens and so on.  If you want to cook regularly on your campfire, a simple ring on the ground is by far the most obvious choice.
For $50 you can get something sturdy, easy to assemble and above all easy to pack away to keep your outdoor campfire safe and secure.  
Best Priced Campfire Rings
CobraCo Evening Sky Campfire Ring FRSTAR369

Entertain family and friends at home or on vacation with this great CobraCo® Evening Sky Campfire Ring! The Evening Sky Campfire Ring is a great item to take with you when you g...

Only $46.30
Campfire Ring & Grill (EA)

A combination grill and fire ring.Coil grip handles allow easy movement of the sliding grill for heat control and fire building.The non-removable grill is made of 1/2" round bar...

Only $219.99
Landmann 28312 28-Inch Big Sky Steel Fire Ring, Black

28312 Size: 7. 5" H x 28" W Features: -unique & stylish cutouts on fire ring. -Lightweight & easy to transport. -Ideal for keeping campfires contained. -Sturdy steel constructio...

$27.67 $25.62
Best Outdoor Fire Pit
Another thing that is crucial to remember, is that as much as we love our gas BBQs for producing corden bleu cuisine in the garden, nothing, I repeat nothing, beats a burger in a bun toasted over wood.  If you haven't tried it please do.  Don't waste your fabulous new outdoor fire pit by merely keeping warm around it.  At the very least there should be marshmallows on the go!
Now, whether you want an ultra modern, formal item or a simple rustic steel campfire ring there is one thing that is really rather important...
The Best Outdoor Fire Pits are for burning wood!  Forget propane, that is not a fire, merely an ornament for the garden (yes a pretty one, but still not the same).
Or Build Your Own Fire Pit
---
Disclosure: This page generates income for authors based on affiliate relationships with our partners, including Amazon, Google and others.