Create a Farmhouse Kitchen
by MaryeAudet
Love the cozy look of a farmhouse kitchen? It is easy to recreate on almost any budget.
Whether you had a grandmother or aunt that had a cozy farmhouse kitchen, or you just created one in your mind, a vintage farmhouse style kitchen evokes a feeling of comfort and belonging. It is symbolic of a more relaxed lifestyle, family meals, and comfort food.
This style of kitchen works well in homes today. It is a low maintenence choice, and one that can stand up to the frentic activity of even large families. A board game can be played at the table while cookies are being whipped up at the counter. The farmhouse kitchen invites family and friends to linger, to talk, and to relax.
Every farmhouse kitchen, no matter how unique they are, needs some basic elements to carry off the look. Here are some kitchen ideas to inspire you.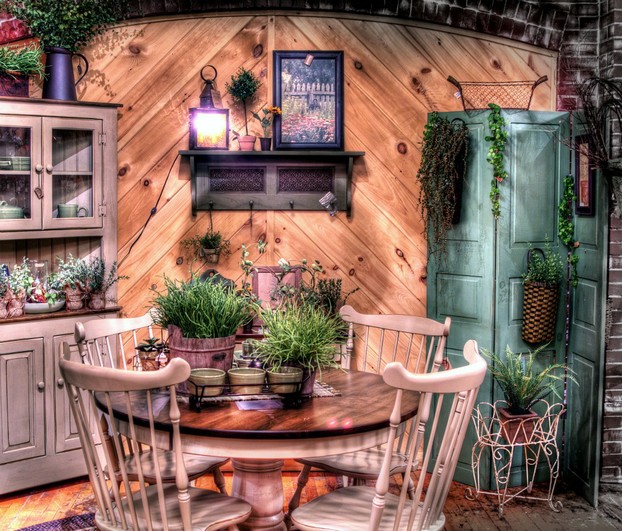 Color Schemes
While real farmhouse kitchens were likely to be white most people think of warm, inviting colors and color combinations. Colors that mimic crockery, vintage dishes, or foods work well.
Blue
Cream
Chocolate brown
Red
Yellow
Color Combinations
Blue and white is crisp, cool choice for kitchens. It is eaasy to get a French country look with this combination. Small bursts of a bright color like yellow or red can add interest.
Red and White is another popular combination, and when paired with black can give your kitchen a retro look.
Jadite green and cream is beautiful and relaxing.
Warm spice colors pull in a Mediterranian feel and give your country kitchen an old world ambiance.
Yellow and white are clean and classic. This is an especially good combination if you have a kitchen that doesn't have much natural light.
Painting Techniques
There are a variety of
painting techniques
available that work extremely well in the kitchen to give it the look you want.
Ragging
Sponging
Stenciling
Wallpaper and Border
Wallpaper may not be the best choice for a busy kitchen unless it is made of an easy to clean material. Steam from cooking and frying can cause the paper to become dingy looking very quickly. However, wallpaper border works well to brighten up the room, pull the colors together, and add interest.
Countertops and Backsplashes
Countertops and backsplashes are important elements in your kitchen, both as surfaces and decor. They should be easy to clean, interesting, and pull the whole look together.
Countertop choices include:
Bamboo
Copper
Granite or marble
Laminate
Solid surface
Stainless steel
Tile
These products vary greatly in price and your choice should be based on affordability and intended use as well as the total look.
Backsplashes
You can use other materials with the backsplash. The surface does not need to be smooth and won't recieve the wear and tear that a countertop will so you have a few more choices.
Beadboard is a classic farmhouse kitchen look that is also inexpensive. Be sure to paint or stain the wood and then seal it carefully.
Brick veneer creates an Old World look and works especially well with warm spice tones.
Chalkboard paint  may not be authentic but it is an easy backsplash that won't cost much to create. Use magnetic paint underneath and you will be able to stick your recipes and notes right to your backsplash.
Mirrors aren't exclusively a farmhouse look but they will add light and space in case your ktichen is small.
Tile  comes in numerous shapes and colors so you can get the exact look you want whether it is Victorian farmhouse or more of an Arts and Crafts look. You can even make it environmentally friendly by using recycled glass tiles.
Tin ceiling tiles make an interesting, textured backsplash that can create a Victorian look.
Flooring
There are a lot of different choices for floors. You should decide on your flooring based on the look you want, your budget, and the type of wear it will recieve.
Plank wood floors are always appropriate for the country kitchen. The are warm and beautiful but can be difficult to clean.
Marmoleum is much like the lineoleum of Grandmother's time and it is an eco-friendly choice.
Tile floors can work well and are easy to clean but they can become slippery when they get wet.
Vinyl wears well, in inexpensive and easy to clean. You can buy it in vintage patterns to give you more of a farmhouse look. Try to get one that mimics stone or other natural material.
A rug here and there can add color and sound reduction. Braided and hooked rugs work especially well for this look.
Cabinets
Very few of today's cooks could get away with teh simple Hoosier cabinet that was the mainstay of the farmhouse kitchen of yesteryear. However, the same look can be achieved by carefully choosing cabinetry.
Consider buying pieced that look like stand alone furniture or, rather than buying a stock cabinet choose a china cabinet from the thrift shop and paint it to compliment your kitchen.
Painted cabinetry works very well in farmhouse kitchens. Choose hammered iron hardware or other types that will give you the look you want. Glass and porcelain knobs complete the farmhouse style.
Finishing Touches
Most country kitchens would not be complete without a large wooden table for eating, game playing, and the preparation of food. You can choose an authentic antique or one that looks like and antique; both will give the authentic look you want.
Choose either long benches on either side or a variety of vintage chairs from the thrift shop. For continuity paint them all the same color.
Curtains work well, as do venetian blinds but if you live away from the crowd you may just want to put a valance up at the window and be done with it.
Old advertsiing posters, vintage dishes, or antique calendars are perfect additons to the wall and will add color and interest.
Choose a Vintage Poster for Color and Style
Make It Yours
Creating the kitchen of your dreams cannot happen by copying something someone else has done. At some point you need to step out and create the vision you have of what your farmhouse kitchen should look like.
Rome wasn't built in a day and neither was the perfect kitchen. Take your time and choose items you love to make it a kitchen you and your family will love.
You might also like
Create A Steampunk Kitchen
Showcasing online products for starting the steampunk look in the kitchen. Yo...
Yonanas Review
Yonanas is a frozen dessert maker that touts the ability to create an ice cre...
---
Disclosure: This page generates income for authors based on affiliate relationships with our partners, including Amazon, Google and others.