Desktop Video Conferencing solutions
Desktop Video conferencing or Tabletop video conferencing refers to a modern form of video communication where conferencing equipment is stationed on a desk or table, enabling user
Revolutionary real-time video communication
with advanced solutions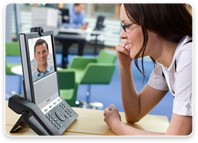 Desktop Video conferencing or Tabletop video conferencing refers to a modern form of video communication where conferencing equipment is stationed on a desk or table, enabling users to connect to a global audience through a simple wireless connection.
Desktop video conferencing solutions empower knowledge worker to be present and share knowledge with dispersed team members, anytime, anywhere.
These Desktop equipments are easier to handle, require less maintenance, and incur no mounting or supporting hardware cost.
Here are few underline benefits of the Tabletop video conferencing equipments and solutions:
Quick response time, no set-up or complex configurations required. Plug and Play video communication solutions connect employees, students, or select audience with the presenter or instructor faster and improve effectiveness of the communication with leveraged instant access, right through the desktop.


Portable and mobile solutions. Desktop video-conferencing equipments are often lightweight and compact. These machines, designed to be stationed on user desk, involve less hardware equipment, cables, and cords for efficient communication.
Flexible Options – Desktop video conferencing or live conferencing solutions include flexible options to make the best of the online meetings, corporate seminars, lectures, and presentations with simple operations. For example Desktop conferencing solutions include Pan, Tilt, and Zoom Cameras for 360 degree capture and broadcast of the live event.


Out-of-the-box Solutions – The out-of-the-box desktop real-time streaming solutions bring unique ready-to-use features for instant communication and collaboration. Users can install and launch complete solution in minutes with the help of accompanied software manual.
Popular Desktop Conferencing solutions
Here is a list of popular desktop conferencing solutions used in corporate organizations and industries worldwide:
AVerMedia AVerComm H100 HD Video Conferencing System
Avermedia Avercomm H100 is a complete video conferencing suite. It includes High definition and high quality audio/video conferencing capabilities, a dedicated 5 Mega Pixels Pan-Tilt-Zoom (PTZ) Camera, quick content sharing through one-click upload, and dual screen mode to facilitate multiple presenters or instructors at a time. The intuitive Avercomm HD H100 video-conferencing solution comes inclusive of different instant communication options and simple to set-up and use.
TANDBERG Centric 1000 MXP
The Tandberg Centric 1000 MXP is a simple and handy video solution. The multipurpose Tandberg video conferencing solution is equipped with a camera to capture clear video streams, a 12.1" LCD screen to display and communicate content,  built-in speakers to conduct vibrant audio conferencing, and a microphone. The complete solution is packaged in an Ultra thin Portable Frame to take less space and optional wall brackets for different environments.
TANDBERG Centric 1700 MXP
Another powerful desktop video conferencing solution, Tandberg Centric 1700 MXP is an all-inclusive video suite. It features exclusive control center for smarter communication in large and medium sized organizations. The compact HD video camera comes incorporated with a wide 20" LCD screen, emphasizing effective presentations. The smart Tandberg desktop video conferencing solution can toggle between a video call and an XGA PC display at any instant during the presentation.
Get best Video Conferencing Systems
by eBay Store
---
Disclosure: This page generates income for authors based on affiliate relationships with our partners, including Amazon, Google and others.