Differences between freeride and downhill bike
by karamela
There is always a great dilemma when it comes to buying a new bike for freeride or downhill. No doubt about it. But let's look at main differences and importance of choosing one.
If you didn't firmly decide what your main riding style is, first ask yourself a simple question: Do you like big rocks, drops or nice flow single tracks?
Don't get me wrong, this bikes can do both, but question will guide you to the right starting point. There is always a great dilemma when it comes to buying a new bike for freeride or downhill. No doubt about it. But let's look at main differences and importance of choosing one.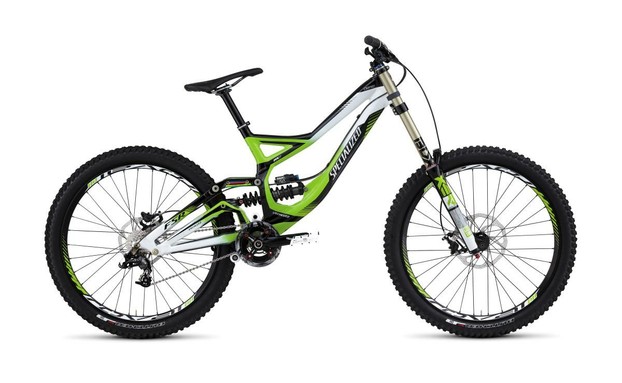 Downhill bike - Specialized Demo 8 2012
Little know facts about bike geometry
Downhill bikes are a little bigger, which in technical term means that frame has more sloped front head angle than freeride bike does. That angle puts wheels more apart from each other... and I'm talking about inches. Not much, but when it comes to handling straight lines that inches comes handy. Freeride bike can be shorter, lighter more versatile and much more manageable around corners.
All today's bikes have centre of gravity much lower than a few years ago. This is important, 'cause this gives you much more control around corners and handling your bike in general. Today there is a flood of 29 inch bikes so called 29er. In general, they are mostly promoted and meant for XC all mountain riding but they are also "virusing" into freestyle world. The main difference between 26er and 29er are not just big wheels, which helps you overriding bumpy tracks and rocks, but also in frame geometry which is lowered. That put's biker more "in-a-bike" position.
And yeah, one more thing... don't fall for color of a bike when buying one if it doesn't fit you.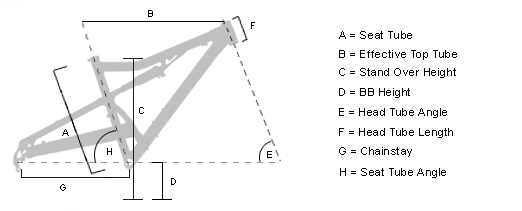 Bike Geometry
Hard tail bikes
Hardtails have many appealing properties. They're simple, reliable and easy to look after. They're also cheaper than similary-equipped full suspension bikes.
While most hardtails are designed for cross-country or trail riding (the short of thing that was just called mountain biking 20 years ago), there are plenty that are specifically designed for dirt jumping, 4x, slopstyle or other heavy-duty aerial pursuits.
And then there are bikes that sit between categories in a niche that doesn't really have a name. We've seen them called all-mountain hardtails or extreme trail bikes, but the first time that we encountered them we dubbed them 'hardcore hardtails' so we're sticking with that. Long forks, slack angles, built for a bit of abuse, but that are also affordable.
Suspension
The biggest difference between FR and DH is suspension or shock absorbers. Downhill bikes have greater rear suspension, about 200-240 mm while freeride has 160-200 mm of travel. The same goes to front suspension. It is essential to spend few more bucks on better suspension system. The price range for freeriding forks is between 400$ and 800$ while you can spend up to 1600$ for World Cup racing class forks. Choose between well known suspension companies like FOX, RockShox or Marzocchi.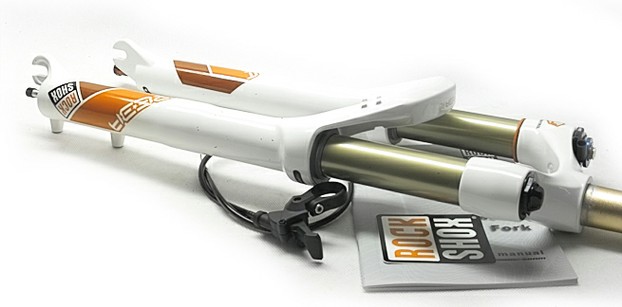 RockShox suspension
Overriding gravity
When we first started biking, we all used to run cantilever rim brakes, which were temperamental to say the least. Despite the pad compound, rim surface and getting the cable angles just right on set-up, a bit of wet weather used to wreak havoc with rim brakes. We still remember that feeling of riding a flat-out downhill in long wet grass, and reaching for the brakes only nothing to happen... Then there was break rub, mud clearance and buckled wheels to contend with!
Modern hydraulic disk breaks are exceptionally powerful, predictable and are everything you want breaks to be! They're easier to maintain too and pad swaps are a chinch. You can't go far wrong these days, and with brands like Shimano, Avid, Formula, Hayes and Gusset all offering great budget breaks and high end options, it's easy to have great braking.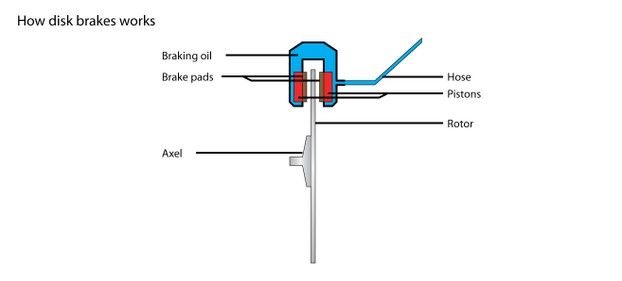 Disk Brakes
Choosing the right breaks will save you many things on your body. Breaks should never ever fail, so disk breaks and rotors are essential for extreme freeride and downhill biking and don't even think about using the "direct pull" cantilever or V-brakes. There are many different products to choose from. The most expensive breaks have 2 pistons on each side. Brake calliper is typically made of one single ceramic matrix composites or carbon peace, while low cost breaks have just one piston and are made of cast iron. More pistons - better. For freeride you can choose smaller 160mm-185mm diameter rotors, and for downhill between 185 and 203mm.
Keep in mind that top of the line breaks use mineral or synthetic oil to move the pads and it can't be mixed. When comparing those two oils, mineral definitely works better, 'cause oil's volume changes less than synthetic under extreme heat produced with braking which in other terms gives you more exact breaking power on long run.
Thank god for hydraulic disk brakes.
Gears, crank sets and other small parts
In this part you'll save some money. While all mountain, cross country and road bikes gives much more attention on gears and crank sets, which is OK for climbing, while for freeride or downhill bike this is not true. Today all bike sellers will push you with adverts on how important gearing up your bike is. Don't fall for it. On this type of bikes you'll not need the best rear gears or crank sets, because gravity will care most of you paddling. I've seen many pro riders riding single speed. Besides, rocks and roots will sooner or later probably tear your rear gears off, and you'll end with more expenses.
Conclusion
Connect the dots and see what's right for you and don't forget to fall in love with your bike. Think of it like you are doing the next step in life - learn to walk again. Ride like a pro as Gee Atherton. This new circled legs will become a part of you and I'm sure you'll have much fun as possible while riding it.
---
Disclosure: This page generates income for authors based on affiliate relationships with our partners, including Amazon, Google and others.