Ebook Reader vs Tablet Computer
by Thamisgith
Ebook readers and tablet computers are very different animals. Which should you choose?
Ebook Reader Or Tablet Computer
Which should you choose?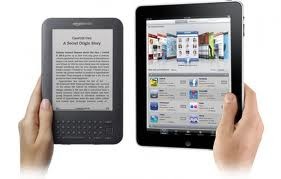 It seems clear that many people don't fully understand the difference between ebook readers and tablet computers - and it's hardly surprising. Both Amazon, with their Kindle reader range, and Barnes and Noble, with their Nook family, have ebook readers and tablet computers being sold under the same family name.
Amazon has the Kindle 4, the Kindle Keyboard, the Kindle Touch and the Kindle DX, all of which are ebook readers, plus the Kindle Fire tablet computer.
Barnes and Noble has the Nook Simple Touch ebook reader plus both the Nook Color and the Nook Tablet tablet computers.
Both ebook readers and tablet computers are fairly new devices on the market. Add the fact that you will often see side by side reviews of ebook readers and tablets - the Amazon Kindle vs the Apple iPad seems to be an ever popular review online - and it's no wonder that many people consider these devices to be the same.
However, they are very different items of personal electronic kit, and it might be well worth your time to become acquainted with the various advantages and disadvantages of each one. Otherwise, you might wind up buying the wrong device and be left with something that doesn't meet your needs - and which cost you a fair bit of money.
Here's a quick comparison to help you decide which is the right device for you
Ebook Readers vs
E-ink technology display.
Monochrome.
Battery life measured in weeks.
Ideal for reading for long periods. No eye strain.
Clunky web browsing at best.
No video facility.
Light and portable (8 ounces is typical).
Relatively cheap (plenty available for less than $ 100)
Tablet Computers
Back-lit LCD display.
Color.
Battery life measured in hours.
Not good for lengthy reading sessions - back-lit screen causes eye strain.
Great for surfing the web.
Good video playback.
Still portable but heavier (e.g. iPad - 24 ounces).
Currently somewhat pricey.
Which Should You Choose?
Go for an ebook reader if:
You intend to read for extended periods of time.
You want a period of weeks between battery charges.
You plan to mainly read books, magazines and newspapers which don't have a lot of graphics.
You don't need to, or have some other way to, browse the web.
You don't want to pay a lot of money for what is, when all's said and done, a secondary gadget.
Consider a tablet computer if:
You are only planning to read for short periods.
You intend to read magazines with lots of color illustrations and pictures.
You will be surfing the web and/or playing video a lot.
You don't mind charging your device daily, or using it when connected to the mains.
You don't mind paying a fairly high price.
Tablet Computers On Amazon
---
Disclosure: This page generates income for authors based on affiliate relationships with our partners, including Amazon, Google and others.