Edward S Curtis Photographs
by bev-owens
Known best for his photography of the American West and Native Americans, Edward S Curtis photographs are treasured by many.
Black and White Photographs Featuring Indigenous Peoples Of North America
Edward S Curtis lived a full life in his 84 years and we can see evidence of that from the photographs of the American West and of the Native American peoples that he took during his lifetime. He was born on February 16, 1868 and by the time he was 17 he had become an apprentice to a photographer.
His first photographic portrait of a Native American was done in 1895 in Washington state. Curtis met and photographed Princess Angeline who was the daughter of Chief Sealth who most of us refer to as Chief Seattle. The photo at the right is of Princess Angeline taken by Edward S Curtis approximately one year before her journey on earth ended.
Around 1900, George Bird Grinnell invited Curtis to come on an expedition that he was planning. He wanted Curtis to photograph the Blackfoot Indians that were living in Montana.
Photographer Edward S Curtis And J P Morgan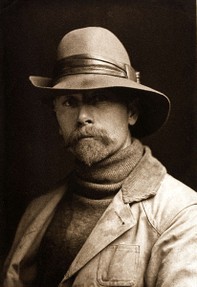 In 1906 J. P. Morgan the banker and financier offered to pay Edward S Curtis $75,000 to produce a series of photographs of Native Americans. Morgan who was known as a serious art collector wanted 20 volumes with at least 1500 photos.
The photo at the left is of Edward Curtis around 1889 before he met and accepted J P Morgan's challenge.
Curtis did not want to just take a bunch of photographs of what he felt was one of the great races of humans. He felt an obligation to document as much of the traditional life and culture as he possibly could. It is believed that he took around 40,000 photos of more than 80 different tribal traditions.
Curtis did not stop at just photography while working on the series commissioned by J. P. Morgan. He also wrote documentation of tribal lore, traditions, and customs of the people in his photographs. He described tradtional types of foods, the types of housing of each tradition, their clothing styles, and much more. He also recorded both the music of the people and of them speaking so that their language would not be lost.
At a time when most North American Natives had been relegated to reservations, Edward Curtis realized that if these pieces of history were not recorded soon, they would be lost to humanity forever.
Photographs Of Mothers And Babies
by Edward Curtis
I particularly like the photographs by Edward Curtis that show women in the role as Mother and the babies of the different Native American peoples that he visited. They appeal to me as a Mother and Grandmother.
One of my favorites is of an Apsaroke Mother and her child. The English mistakenly referred to the Apsaroke as the Crow Indians. The translation of the word that they called themselves became Crow when it really meant "Sparrowhawk" or "Bird People". The Crow or Apsaroke originally lived along the Missouri River in what is now North Dakota.
Another of my very favorite Edward S Curtis photographs is of an Apache baby in a carrier. Geronimo was of the Apache tradition and most non-natives have at least heard of him. The Apache are actually a collective of several cultures that are related by language and tradition. Originally the Apachean peoples lived in areas of eastern Arizona, northwestern Mexico, New Mexico, Texas, and the southern plains. The Navajo are generally excluded from modern reference to the Apache but are related to them and speak one of the Apachean languages. There are also the Jicarilla, Lipan, Mescalero, Chiricahua, Western Apache, and Plains Apache divisions.
Native American Mother And Her Child
photographed by Curtis
Apache Baby Protected By His Special Carrier
Over 80 Tribal Traditions Were Photographed In A Series
Edward S Curtis tried to honor each of them
With something like 40,000 photographs taken by Edward S Curtis and more than 80 tribes represented there are many to choose from if one wants to collect prints of the original photos.
What I love about the photos is that there are both tribal traditions that are familiar to many non-Native people and then there are photographs of tribes that are not as well known.
I mentioned the Jicarilla Apache above as one of the tribal traditions that Curtis photographed. If we look closely at the many photos of the Apache people in general, we can see the detail of the clothing that they wore or an activity that they may be engaged in.
A tribal tradition that I had not been aware of until I obtained a print of a photograph done by Edward S Curtis is the Assiniboine. My curiosity got the better of me and I did some research. The Assiniboine originally inhabited the northern plains of what is now the United States and are one of the divisions of the Sioux Nation. They are the Nakota and some still live in Montana today.
One of many photos of the Apache
Praise And Criticism For Edward S Curtis
and his photography
While many praise the work of Edward S Curtis and his remarkable photographic images of the First Peoples of North America, others offer criticism of the same work.
Many believe that Curtis staged photographs and removed items that were more English out of the photographs and find fault with that technique. Defenders would say that he wanted to record the way of life of a noble people that no longer existed.
As much as I appreciate the photographic work of Edward S Curtis, I do wish that he had shown the already deplorable conditions that the Native American people were being forced to live in. He could have done photos of the "old ways" and then done photos of what life in the early 1900s was really like for the indigenous peoples who had their lands and many of their rights stripped from them in the previous century. Perhaps if he had reported the squalor that he was witnessing, the American people might have become outraged and started to work to change things. Then again, maybe not.
A Selection Of Stories And Photographs Of Edward Curtis
photographer of Native Americans
Often times you can find Edward S Curtis Photographs At Auction
---
Disclosure: This page generates income for authors based on affiliate relationships with our partners, including Amazon, Google and others.