How To Make Rice Heating Pads
by freelance
My page will show you how to cut your costs by making those rice heating pads that are sold in stores and online.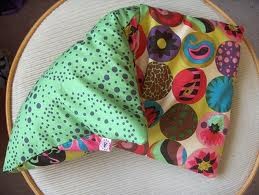 Create One of These
Why?
Here in Reno it gets cold at night. I envision getting into my warm, cozy bed at night, all snuggly and warm. Then, after day dreaming of the aforementioned sentence reality sets in and I`m faced with freezing cold sheets and goosebumps! Unless you have one of those rice filled, microwavable heating pads. Warm it up and put it under your sheets and you`re all set! Warm, cozy sheets just like you envisioned.
Sore muscles? Pop your heating pad into the microwave and put some warming, healing heat onto those overworked muscles. You can also throw them in the freezer if you need cool relief.
Need a gift for someone? These are easy and inexpensive to make.
Use them for warmth for an orphaned or newborn kitten or puppy. They hold the temperature quite well and are easy to make and alot cheaper than buying in the stores. Look below to find out how.
How
Things You Need and How-To`s
What you`ll need:
 Pre-washed, pre-shrunk fabric of your liking, size dependant upon the size of your desired heating pad
Iron
Straight pins
Thread that matches your fabric
Scissors
Ruler or the equivalent for a straight edge
What to do:
 Cut the fabric to the size and shape of your desired heating pad. After I cut the fabric I usually iron it to get out any wrinkles and just to make it look pretty. Pin the fabric together to make a rectangle or other desired shape. Sew the edges  leaving an inch or two open for the filling. After sewing is done, fill the bag with the rice and then sew up the opening. Viola! You have a heating/cooling pad.
You can also use an old tube sock or something you have at home if you don`t have the money or need for fabric.
Filling Options
Rice is a common filler but there are other things you can do as well. Here are some ideas to customize your bag:
Wheat
Feed corn
Buckwheat hulls
Barley
Oatmeal
Beans
Flaxseed
Cherry pits
You can also use herbs and essential oils to scent your bag. If you`re adding an essential oil, it`s a good idea to mix the filler and the oil together and let it sit and "marry" for a couple days. Then just add it to your sewed material. Here are a few ideas:
Dried lavender
Marjoram
Betony
Rose petals
Cloves
Rosemary
Usage Instructions
When you`re ready to use your heating pad, stick it in the microwave for 1-3 minutes depending on the size. It`s a good idea to mix it up before applying since there can be 'hot spots' in it from sitting in the same spot while heating. You can also spritz it with water to prevent over heating and it also releases the scent if you`ve added an herb.
---
Disclosure: This page generates income for authors based on affiliate relationships with our partners, including Amazon, Google and others.