How to Prepare Mediterranean Food Buffet
by annef54
Prepare a Mediterranean Buffet
Prepare a Mediterranean Food Buffet - Tips and Recipes
Easy to prepare recipes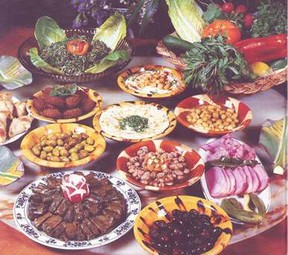 Let's say you are thinking of holding a party during the festive season and you've run out of ideas of what type of food to prepare.

In the past, everytime I prepared a Mediterranean food buffet there were compliments all around and the guests were having great fun in learning about new foods.
So you've decided to hold a Mediterranean food buffet and you really would like to organise a fun night for everyone. Let's start with the shopping list that would feed approximately 10 to 15 people.
The Essentials:
The meat List:
1kg of Chicken Breast
2kg of Lamb Fillet or any Lamb meat that is not too fatty 
1kg of Beef Fillet or Beef strips 
2 kg of minced Beef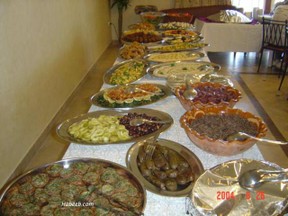 The vegetable list:
tomatoes
lettuce
cucumber
onions
garlic
spring onions (1 bunch)
parsley (2 bunches)
Aubergine or Egglants (2 big ones)
3 Lemons
Mushrooms
2 Capsicums
a few sprigs of peppermint
The Ingredients List:
Bulghur (cracked wheat)
2 cans of chickpeas
1 jar of Tahini (sesame seed oil)
250 grams of Fetta Cheese
250 grams of Haloumi Cheese
Olive Oil
Vegetable Oil
Chili Powder
1 Egg
Packet of wooden Kebab skewers
Lebanese bread
black olives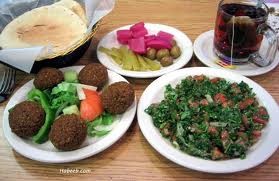 List of foods to prepare:
Chicken Kebabs, Beef Kebabs, Lamb Kebabs, Mince Kebabs, Tabuli, Hummus, Mutabal, Baba Ghanouj, Mezze dish and garlic mayonaise.
Let's start with Chicken Kebabs:
Chop the breast fillet into medium cubes, cut half a capsicum into bite size pieces, chop one onion into cubes, halve the mushrooms. Put all these in a plastic bowl, mix in 4 tbsp of olive oil, 3 tbsp lemon, 3 crushed garlic, salt and ground black pepper. Cover the bowl and put it in the fridge to marinate overnight.
The Lamb and Beef Kebabs are marinated in the same way, except don't put any garlic in it and add a bit of chilli powder, 7 spices, and 1 tbsp tomato paste. Leave in the fridge overnight.
The Lamb mince Kebabs are a bit different. Add 2 cups of parsley, choped onions, little amount of chilli pepper, tomato paste, salt and ground black pepper.
You can cook all the kebabs one hour before the guests arrive. The method is to put the meat pieces on wooden skewer and either cook them on a grill or cook them on the barbeque.
The mince kebab is put around the skewer lengthwise. Just pat the meat with your fingers to stick it to the skewer.
Remember to put the skewers in a bowl of cold water half an hour before skewering the meat. This will stop the skewers from burning during cooking.
Hummus Recipe
Process the chick peas in a food processor. Put it in a bowl, add 1 cup of Tahini paste, 2 crushed garlic , lemon juice and a pinch of salt. If the Hummus is too thick you can add a few tablespoons of water.
Always remember practice makes it perfect and you can always add more lemon juice or garlic if you like the taste of more lemon and garlic.
The method to serve the Hummus is to put it in a deep dish, drizzle a bit of olive oil, sprinkle a bit of chilli powder and put a few chick peas in the middle.
Tip: the processed chick peas can be frozen a few days in advance. 
Next are the Muttabal and Baba Ghanouj Recipes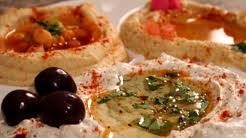 For these two recipes put the eggplants in the oven and bake them for 45 minutes on medium heat.
Next peel the eggplants.
Take one eggplant and chop it into bite size pieces, add chopped onions, chopped parsley, 3 tomatoes, half a lemon juice, 4 tbsp olive oil, salt, pepper and a small pinch of chilli powder and toss it gently. Prepare this dish at last to stop it from being too soggy.
For Muttabal, process the other eggplant in the food processor, add half a lemon juice, 1 small cup of tahini, salt and pepper.
To serve the Muttabal, follow the same instructions for Hummus except for the chickpeas, put chopped parsley instead.
Tabouli
In a bowl place the bulghur (approximately quater cup), chop 4 tomatoes and put it on top and juice of 1 lemon. This process will help in moistening the bulghur.
Next chop the parsley, 3 spring onions, a few sprigs of peppermint. Toss it all together, add a pinch of salt, pinch of chilli powder, pinch of 7 spices (optional) and half a small cup of olive oil.
Here also, you can add more lemon or olive oil according to personal taste.
To serve the Tabouli put it in a platter and decoare the sides with leaves of lettuce. Encourage your guests to fill up half a lettuce leaf with the Tabouli and eat it that way.
Garlic Mayonaise
This Mayonaise is beautiful with the Chicken kebab.
In a food processor put 4 cloves of garlic. one egg and a pinch of salt. Remember to never forget the salt as it will not work out. process all these ingredients for 2 minutes and from the top of the processor start to gently pour vegetable oil into the mixture while it is mixing. Keep on dripping the vegetable oil until the mixture starts to thicken and look like mayonaise.
Mezze Platter
This platter could be passed around before the main meals are served. Put all these ingredients on a platter : sliced Fetta and Haloumi cheese, black olives, mixed pickles and sliced Lebanese bread.
Now the food is ready to serve. Make sure you've got enough sliced Lebanese bread on the table as the guests will need it for the dip style foods Hummus and Muttabal. Maybe you can also play some meditteranean style music in the background and throw a few cushions on the floor to make the ambience more oriental.
This article is a test for me as I'm very new to article and blog writing. But if I get a lot of questions and demand I will add more variety of recipes on this page.

Have fun during this festive season and keep safe!  
---
Disclosure: This page generates income for authors based on affiliate relationships with our partners, including Amazon, Google and others.