How To Roast Your Own Coffee At Home
Nothing beats the smell or taste of fresh roasted coffee. Roasting coffee at home is fast and easy. All you need is an old hot air popcorn popper to start
I have been drinking coffee since the early '80's and I noticed a trend of darker roasted coffee creeping up all over.  It was advertised as "bold" or "strong" tasting.  I have to admit that there is something desirable about perfectly roasted coffee to bring out the best the flavor profile.  As little as I knew about coffee back then, I noticed that coffee that I ordered from the big names like Peets and Starbucks started tasting burnt and bitter rather than bold and flavorful. 
A good friend suggested that I try roasting my own coffee at home.  I thought to myself "Is this guy turning into a coffee nerd?".  He brought some fresh roasted coffee and secretly left it in my mail box at work.  It really smelled good.  The following morning I brewed a cup and noticed right away that this coffee really tasted fresh.
Home Coffee Roasting Basics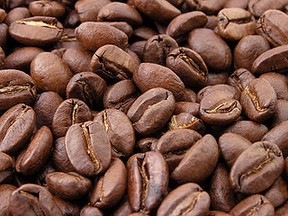 Roasting coffee at home is one of the simplest gourmet task that I've ever done. My good friend suggested that I go to the website Sweet Maria's and check out their tutorials. This site has an amazing amount of knowledge about anything you would ever like to know about coffee. They sell green beans, home coffee roasters, thermometers, single cup coffee makers, etc.

At Sweet Maria's I learned everything I needed to know about converting an old hot-air popper into a cheap home coffee roaster. All you're going to need is a cheap hot-air popper that you can purchase at either a thrift store for a few dollars or 1 at a discount store like Walmart, Target, or Walgreens. My first and most reliable hot air popper is the Toastmaster hot air popper.  I also have 2 vintage Westbend Original Poppery's.  These are very hard to find.  My wife found me 3 at local Thrift stores and one at a garage sale.  They are coveted in the home coffee roaster crowd.  The  Westbend Poppery II is also a great home coffee roaster.  I must own at least a half dozen of these.

Many people use a thermometer to perfect their roast. I use one only as a guide to let me know when the roast begins and ends. Think of the thermometer like the yellow and white lines that separate traffic lanes.  As long as you drive in between the lines, then you are safe.  I like to finish my coffee roast at approximately 425 degrees F on Weber meat thermometer that I stuck down the hole that I cut in the butter dish cover of the hot air popper.  The thermometer is not taking the temperature of the inside of the coffee beans.  An infra red probe would give you a temperature of approximately 450 F.
  I like to hear and smell my coffee beans during the roast. I purchased a small Weber meat thermometer at the local Ace hardware store.
Toastess TCP-713 Hot-Air Popcorn Popper

Ideal for everything from a healthy mid-day snack to a delicious treat during movie night with friends, this hot-air popcorn maker prepares hot, crispy popcorn in minutes. ...

Nesco CR-1010-PRR Coffee Bean Roaster, 800 watt

Home roasting coffee beans provides a simple way to enjoy the aromas and tastes of freshly roasted coffees. Roasted coffee stales very quickly and is dramatially diminished in ...

Fresh Roast SR 300

The Fresh Roast SR 300 coffee roaster is a larger version of the Plus 8. It will roast twice the capacity of the Plus 8 (4 scoops, 120 gm) with a digital time display. The ...

Only $95.0
Home Coffee Roasting Step By Step Guide
Simple Steps To Roasting Your Own Gourmet Coffee Beans
This is really going to be simple.
Load your hot air popper with 1/2 cup of green coffee beans.
Turn coffee roaster on.
Wait and listen to the coffee beans as they roast. When you hear the beans popping and cracking like popcorn, you are well on your way. If you have a good sense of smell take note of how the roasting smells do you. When the coffee beans begin to crack that is an indication that the roasting is starting to happen and it should not smell burned. When the cracking stops, the roasting process is complete.
Some people like to continue on a little longer to get a darker roasting profile because if you stop too soon, the coffee will have a grassy or sour taste. If you proceed too long and go into 2nd crack which is more violent and loud because the sugars and the coffee beans are now burning, you risk the chance of having coffee that tastes burned. You will have to decide what flavor profile that you like best.
After the coffee completes the first crack, immediately dump the hot coffee beans into a stainless steel or aluminum colander and vigorously shake the beans in a circular motion to cool them.
That's it. You're done. Let the coffee sit for approximately 24 hours to age or proof. I am really not sure why the experts do this. They say that the coffee will reach its peak flavor in approximately 24 hours. They probably have done double-blind taste test to come to this conclusion. In my not so humble opinion, if you really want and need your coffee, then let it sit for about 5 min. to cool and grind your coffee as per your usual routine.
Why Does My Coffee Taste Different Than Starbucks
Final Thoughts On Home Coffee Roasting Flavor Profiles
If you are used to a Starbucks coffee flavor profile I'm a have to warn you that at first you were going to think that the coffee taste strange. Your taste buds have been conditioned to burned and commercial roasted coffee flavor.  Mega roasters like Starbucks roast their coffee beans to please the masses.  When coffee beans are over roasted, the final products tends to consistently taste the same even if poor quality beans are used. 
As humans, we tend to like what we are accustomed to. But I can almost guarantee you that after drinking this coffee for a few days you are to start taking notice of the different nuances of various coffee growing regions. If you order a cup of coffee from a micro coffee roaster and drink it blindly, more than likely you will build tell what coffee growing region that it came from. Indonesian coffees have almost a chocolate like taste. Copies that come from the Africa's especially Kenya tend to have a citrus taste to them. Central American coffees have their unique taste. What I'm trying to tell you is that you are going to awaken your taste buds to something so incredible in the world coffee.
---
Disclosure: This page generates income for authors based on affiliate relationships with our partners, including Amazon, Google and others.