Japanese Food in Europe
by alan1975
With the increasing popularity of Japanese food in Europe, this article looks into the differences between traditional Japanese food and what is commercially available.
In recent years, most European countries have seen a huge increase in the number of places offering Japanese food. Sushi in particular has gone from an exotic delicacy to something that is readily available and relatively common. But how close is the food we are getting to the original Japanese concept?
Sushi in Europe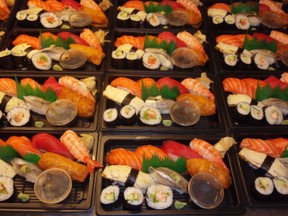 In recent years, sushi has become increasingly popular throughout Europe. Increasingly, people are recognising sushi as a healthy and light alternative. However, there are significant differences between traditional sushi and what is available in most places in Europe. Virtually all the establishments that serve this Japanese delicacy serve, in fact, American style sushi. This type of sushi is quite different from traditional Japanese sushi. The basic principle of traditional sushi is to keep the meal light, healthy, and with a simple taste.  Using ingredients such as fried shrimp, garlic, and so on strays far from traditional preparation.
In fact, it is quite hard to find sushi in most European cities, which adheres to the notion of highlighting the fresh ingredients.  Anyone who has travelled to Japan will know the difference.
Teppanyaki
One of the most exclusive and renowned forms of dining is teppanyaki. Teppanyaki is a big metal plate, which the guests sit around. The chef then prepares the meal in front of the guests, usually with a certain degree of flair.
Surprisingly, considering the explosion in the popularity of sushi, teppanyaki has not taken off nearly to the same degree in most places in Europe, where it also tends to be extremely expensive. While it has achieved a significant degree of popularity in some countries such as the Netherlands, Germany, Belgium, and the UK, in others, such as in the Nordic countries, it remains quite obscure. In Copenhagen, where I live, only two places even offer teppanyaki.
Tuna fish
Another great example is tuna fish. In Japan, the most exclusive and sought after part of the tuna fish is called "Toro". Unlike the lean section, it is marbled and practically dissolves in your mouth. People who have tried it often describe the taste as unforgettable.  
Unfortunately, "Toro" is very hard to find in Europe, and usually one will have to settle for the rare occasions when a fattier piece of tuna is acquired by a local restaurant.
All in all, Japanese food has become quite popular in Europe in the last couple of decades, but I still believe it has a long way to go. Certainly, it seems to be more influenced by the American take on Japanese cooking rather than traditional Japanese cuisine.
---
Disclosure: This page generates income for authors based on affiliate relationships with our partners, including Amazon, Google and others.