Lenovo Laptops Under 500
by brlamc
Looking for Lenovo laptops under 500? This article examines low cost laptops from Lenovo for all your computing needs.
What to Expect in Laptops Under 500.00
Buying a laptop under $500.00 dollars will get you a decent all-round system that will do most tasks with ease. These laptops are generally better suited to on the go business people or students who need an affordable system to do their school assignments on. These laptops will have integrated graphics and aren't recommended for playing games because they are not designed to play game. They will play many older games but don't expect them to play the latest release without some difficulties or not at all. You can add more memory in many models but your stuck with the integrated graphics chip. For office work and general computing laptops under 500.00 are a great deal.
The Lenovo Thinkpad X120E features an 11.6 inch screen and an AMD Fusion single-core  E-240 1.5GHZ processor . The computer has 2GB of DDR3 memory and a 250GB hard drive with a 3 cell lithium-ion battery. The computer features AMD Radeon HD 6310 graphics and comes with the Windows 7 Home Premium operating system. The laptop is very lightweight at only 2.93 pounds and it has wireless Internet as well as a webcam. There's also a 4GB model which has a few extra feature such as a larger 320GB hard drive and a 6-cell battery.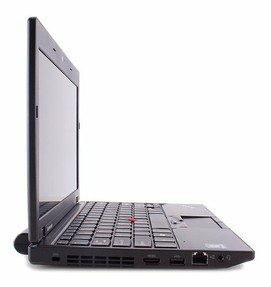 Lenovo ThinkPad X120e Review
This laptop is great for those on the go due to its weight at fewer than three pounds. This makes the laptop a nice choice to take on aircraft for those long flights when you need a computer to work on files. The hard drive is ample enough for most files unless you do image heavy work. This machine isn't a 3D graphics powerhouse so don't expect to play the latest 3D games with it but it should mange older games just fine. The computer has 3 USB ports which makes it easy to hook up your other equipment. You'll probably want to get a wireless mouse or a corded one since the track pads on laptops are usually poor. At only $379.00 this is an excellent basic laptop to go general day to day tasks. It won't excel in any area but the price is right. You might want to consider the 4GB RAM model for your applications since 2GB is minimal at best.
Lenovo G575 43833CU 15.6-Inch Laptop
The Lenovo G575 43833CU 15.6-Inch laptop features an AMD Dual Core-350 processor and Windows 7 Home Premium. The screen is an HD 15.6" 1366x768 resolution. The computer features integrated AMD Radeon HD 6310M graphics and has 3GB of DDR3 memory. The hard drive is a 320GB HDD and the system has wireless Internet and an integrated DVD reader/writer. The system has a card reader and a web camera. The retail price is around $470.00.
Lenovo G575 43833CU Review
This computer is a decent buy with a 320GB hard drive and 3GB of memory. It would be nice if the system had 4GB of RAM since that would allow you to do more with it. The system features face recognition so you can use that as your password if you like but that is just a little bit extra on the unit. The processor is good for everyday tasks and this is an all-round basic laptop for your work. Like most low priced laptops the graphic are integrated so don't expect to play cutting edge games without serious problems or needing low resolution settings.
Additional Lenovo Laptops under 500
---
Disclosure: This page generates income for authors based on affiliate relationships with our partners, including Amazon, Google and others.