Ninja Blender Product Review
by Jimmie
Food processor, blender, chopper, and grinder all in one, the Ninja is a great kitchen tool for smoothies, icy drinks, salad dressings, and more.
A Kitchen Appliance Every Serious Cook Needs
My mother bought me a Ninja Professional Blender set (the exact one pictured below) as a gift. She raved about how handy it is, especially for making icy drinks and smoothies. After using it for a few weeks, I was a total convert. The Ninja is a fantastic kitchen tool!
The Ninja Set
The set comes with the motor attachment, three different mixing containers -- small, medium, and large, plus lids and blades.
I love how it has the three mixing containers because sometimes I may need to use the Ninja for two things in one meal. Or maybe leftover smoothie is in the refrigerator, and I need to blend something else. No problem. With three mixing pitchers, there is always one clean in the cabinet, ready to be used.
Real Power
One huge benefit of the Ninja is that it is seriously powerful. It grinds through ice cubes with no trouble at all. No coffee frappuccinos with hunks of ice. The Ninja blends it smooth so that using a small straw is no problem.
Our favorite is to make frozen lemonades in the summer. Mix these ingredients in the Ninja and blend until smooth. Add sweetener to taste.
Freshly squeezed lemon juice
Sugar (or artificial sweetener)
Ice cubes
Water
Easy Clean Up
The parts are all top rack dishwasher safe. But even if you prefer to hand wash them, they are not too hard to clean. I do recommend rinsing them immediately after use, though. But then again, that is just good dish washing procedure. Dried on food is always harder to clean off. Generally a few swishes in hot soapy water is enough to clean the blades.
Making Smoothies with the Ninja
So Easy a Child Can Do It
Use one of the pouring pitcher bowls to make smoothies. Pop in your ingredients and pulse for a few seconds. Choose from a combination of these ingredients:
fresh or frozen fruit
juice
yogurt
ice cubes
milk
My mother was the one to introduce me to what she calls "mystery punch." It is a beverage made up of a lot of orange juice and all the over ripe fruits from the fruit bowl -- bananas, peaches, strawberries, nectarines, plums, mangoes. Sometimes she dresses it up with a dash of Sprite after pouring in on ice.
She has been known to hide veggies in the mystery punch -- spinach, tomatoes, and carrots. I've never been able to distinguish the flavors of the vegetables. Instead, it just tastes like a fancy mixed fruit punch.
Sneaky Smoothies
And those are the beauties of the Ninja made smoothies or mystery punch -- you don't waste those brown bananas and you can hide healthy fruits and veggies in a delightful drink.
Smoothies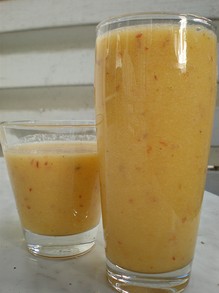 Citrus Smoothie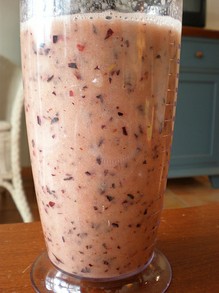 Berry Smoothie
Leftover Smoothie?
Make Popsicles!
It's easy to get carried away with the smoothie, especially if you have a lot of ripe fruit that needs to be used up. No problem. Make delicious and healthy frozen treats with any leftover smoothie. 
Just pour the concoction into popsicle molds to freeze. You know that you are giving your children a truly healthy summer snack, made from real fruit.
Making Salad Dressings With the Ninja
Healthy REAL Food
Forget weird ingredients like xanthan gum and maltodextrin that you find in a bottle of store bought salad dressings.
You can make wholesome salad dressings bursting with flavor for a fraction of the price. Here is a basic dressing that gives you lots of room for experimentation.
Fruit Vinaigrette Dressing
2 heaping teaspoons minced garlic
onion (one green onion stalk or a 2 inch square chunk of white, yellow, or red onion)
1/4 cup vinegar (balsamic or flavored are best) or lemon or lime juice
1/3 cup oil (peanut, olive, or add a dash of walnut or sesame)
honey to taste (start with 2 tablespoons)
1/4 cup fresh fruit such as peaches or strawberries
1 teaspoon prepared mustard
sea salt and freshly ground pepper
Put the ingredients into the small mixing bowl and pulse until smooth. Refrigerate any unused dressing for later.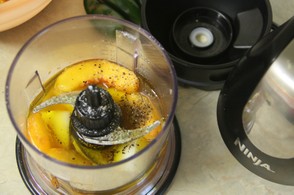 Using Ninja to Make Peach Vinaigrette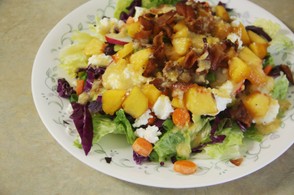 Salad with Peaches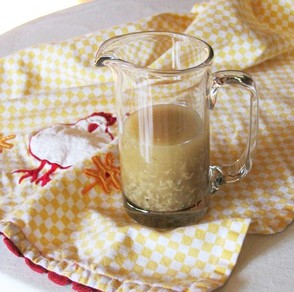 Signature Salad Dressing
Chopping With the Ninja
Forget Crying Over the Onions
I use lots of onion, pepper, and garlic in my kitchen. I love both the flavors and the health benefits that those aromatics provide. When time is short, I pull out my Ninja to do the messy chopping work. It doesn't take long at all -- just a couple of seconds -- to mince onion or pepper. Finely chopped veggies are perfect for people who are a tad picky. If they can't see the veggies they don't like, they usually gobble up the foods.
I love to chop up carrot or zucchini with my Ninja and add that into sauces and casseroles. Added nutrition without any "What's in this?" questions.
Here is a list of different things I've successfully chopped with my Ninja:
mushrooms
onion
garlic
carrot
pepper
walnuts
almonds
zucchini
fresh herbs -- parsely and cilantro, for example
apple
tomato (for puree)
The Ninja is Sold at Amazon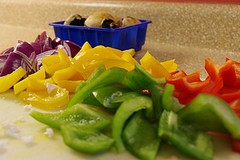 Veggies Ready to Go Into the Ninja
I Use the Ninja for My Fresh Cranberry Salad
Things the Ninja Doesn't Do Well
I haven't found a whole lot that the Ninja doesn't do well, but there are a few.
The Ninja is not a grinder, so it doesn't do well with small, very hard things. Ice is no problem, but these have not been a success in the Ninja:
---
Disclosure: This page generates income for authors based on affiliate relationships with our partners, including Amazon, Google and others.