Paintball. Have you tried it?
by writerman
Some basic paintball info that will get you started. It's a great game for the entire family.
What's it really all about?

It's my hope that you do not base your opinion of paintball from what you see on TV. Almost without exception there is nothing safe or realistic when you see TV characters playing paintball. It's hard for some to believe, but paintball is safer than bowling, golf and even fishing - when it is played with common sense.
Style of play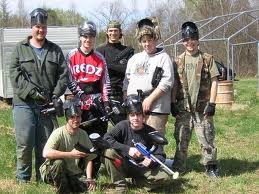 Although much of the gear has a military appearance a majority of players don't take the game that seriously. Sure, there are tournament teams and scenario clubs but that is a different level of play. Most players have their first paintball experience at birthday parties, church youth group outings or corporate gatherings. I don't recommend that you start out in someones backyard. Commercial fields are safer and organized and are set up with the customer in mind. Bigger fields offer a variety of games in the woods as well as on smaller spectator friendly fields.
Is it expensive?
It doesn't have to be. Like any sport it depends on your level of play. Fields charge a "Field Fee" to help pay referee salaries and make field upgrades. If you need gear (mask and gun) there is rental equipment available. Sometimes some paint is included but plan to purchase more as the day goes on. Depending on extras like packs for extra paint, padding for the timid player and the amount of paint you shoot you are looking at $25 to $50 for a good day of fun. If you decide you want your own gear you can get a good starter package for under $200. I don't recommend paying more till you really get a feel for the sport.
But doesn't it hurt?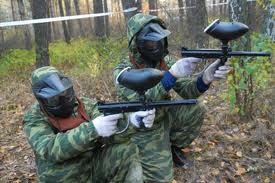 Ummm, well, yes and no. Wear long sleeves. Gloves are good and be sure to cover your neck. A hit on bare skin feels much like the sting of a rubber band. Your mindset will make a difference. If you are involved in the game and have your adrenaline flowing you might find the referee having to tell you you are hit. If you are cowering behind a tree waiting to get hit it will probably sting more. A properly run field will make sure the guns are not shooting to fast (hard) and will not allow players to get closer than 20 feet. Don't play if the field allows "bunkering" or fast rate of fire.
Give it a try.
Try it once. Girls, guys. Young (over 10) and old. You can hang back till you get a feel for the game or you can be right up on the front lines. There's a spot for everyone on the field. Have fun. Play safe.
My other paintball writings...
---
Disclosure: This page generates income for authors based on affiliate relationships with our partners, including Amazon, Google and others.