Reasons to Learn Spanish as a Second Language with How to Guide
by jblack
Discover some of the benefits of being bilingual and learn some good ways to learn Spanish as a second language.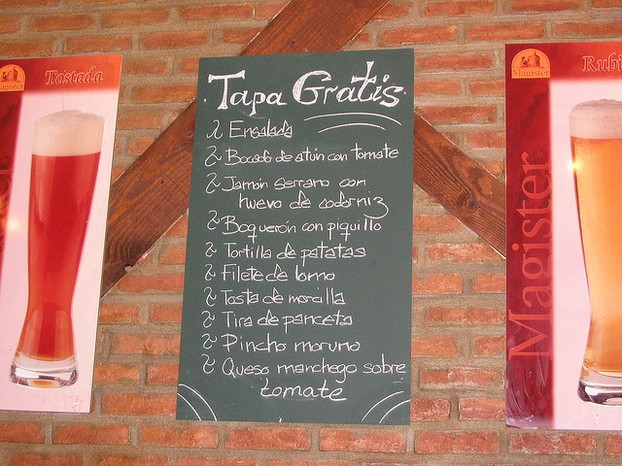 Reading Menus in Spanish is Easier if You Know the Language
By Ruth L (CC BY-ND 2.0) via Flickr
Si habla Español
According to a 2010 New York Times article, only nine percent of Americans speak a foreign language.  In comparison, the article notes that 44 percent of Europeans are bilingual.  Those figures are not particularly surprising.  It is really no big secret to the rest of the world that Americans have never been particularly inclined towards learning other languages.
The U.S. receives many visitors and immigrants each year who have a primary language other than English.  Many Americans hold the rather backward view that those who want to come to America should learn English if they want to visit or live here.  Yet those who embrace such a philosophy are prone to becoming frustrated when they visit a country where English is not the native language and they can't communicate effectively due to language barriers.
There are a number of good reasons to learn a second language.  The very proximity of the U.S. to Mexico makes Spanish perhaps the best language to learn for Americans seeking to become bilingual.  There are a great many methods available that enable people to learn Spanish as a second language.  Learning Spanish is not nearly as difficult as many might believe and resources for learning the language abound.
Good Reasons to Learn the Spanish Language
A vast number of Americans visit Mexico each year, about 10 million, according to U.S. Department of State figures.  In addition, more than 18,000 U.S. companies operate in Mexico which accounts for a lot of business travel to the country.  The State Department also reports that around one million American citizens live in Mexico.
Some Americans relocate to Mexico during the winter months to take advantage of warmer temperatures in tropical areas.  A significant number of American retirees become expatriates by moving to Mexico permanently because their retirement dollars stretch further due to the lower cost of living there.
Doing business in Mexico, vacationing there, and living there is all made easier and more enjoyable for Americans who take the effort to learn Spanish.  Mexico however is simply one of the countries where Spanish is the official language.
As observed by Gerald Erichsen in his article, "10 Facts About the Spanish Language," there are 329 million native Spanish speakers in the world.  There are more people who speak Spanish than English as a first language.  Erichsen also notes that there are 44 countries in the world with 3 million or more native Spanish speakers.  Only Chinese ranks ahead of Spanish as a first language.  The ability to speak and understand both English and Spanish expands exponentially the potential number of people a person can communicate with, share ideas with, and do business with.
There are equally good reasons to know how to speak Spanish right here at home.  There is a large and growing population of native Spanish speakers in the U.S.  According to infoplease.com, in 2008, "35 million U.S. residents spoke Spanish at home" and Spanish speakers represented "12% of the U.S. population."  Being conversant in Spanish enhances cultural understanding between English and Spanish speakers and helps neighbors with different first languages get acquainted.
Ways to Learn to Speak Spanish
There is an almost an infinite list of methods for learning to speak Spanish.  The costs involved in the study of Spanish ranges from free Spanish lessons to Spanish immersion programs abroad that require a substantial investment of both money and time.  Suffice it to say that learning to speak Spanish as a second language is within the reach and budget of anyone.  Everyone has a different learning style so there is no "one size fits all" when it comes to a method to study Spanish that is better than all others.  A few popular ways to learn Spanish language skills include;
learn Spanish online courses,
community college or university Spanish courses,
how to speak Spanish audio tape programs,
computerized interactive Spanish study programs on CD,
conversational Spanish instruction books,
Spanish immersion programs,
one on one tutoring from a Spanish speaker.   
Many Spanish language course websites like Spanish Programs.com offer basic introductory courses free but charge for more complete and advanced lesson programs.
Enrolling in Spanish courses at a local community college or university is one method people use to study Spanish but for many people it isn't the best option.  These types of courses often concentrate on the memorization of long lists of vocabulary words and learning grammar rules before a person ever gets started with the actual business of learning to speak Spanish.
A veritable maze of courses that utilize books, CDs, and audio tapes or some combination thereof exist for people intent on learning how to speak Spanish.  These courses vary a great deal in quality, effectiveness, and price.  Doug Bower, an American expatriate living full-time in central Mexico and author of the book, The Plain Truth about Living in Mexico, recommends unreservedly, Learnables®, as an introductory course.  The interactive course, published by the International Linguistics Corporation, is available on CD-ROM or in book format with audio CDs.  Bower stated that he used that course himself and found it the most painless, natural, and effective way to acquire fluency in Spanish.
Another popular but relatively expensive interactive self-study program to learn the Spanish language is available from Rosetta Stone.  The program is available through the purchase of online access or learning modules can be purchased either individually or as a set for installation on a home PC or MAC.  Topics Entertainment offers a Spanish interactive, self-study program, Instant Immersion Levels 1, 2 & 3, that is similar but simpler than that of Rosetta Stone, and available at a fraction of the cost.
Spanish immersion programs, though they require a greater investment in terms of money and time, represent one of the most effective methods of learning how to speak Spanish.  For those with who want to be speaking Spanish in hurry, these programs may be the best option.
Immersion programs involve stays of a week, two weeks, or longer in a Spanish speaking country where students study the Spanish language and culture for up to 25 hours per week.  These programs can include home stays with a native speaking host family that provides students the chance to practice what they learn and to gain deeper insight into the culture of the host country.  AmeriSpan Study Abroad, a leader in language study abroad schools, offers Spanish immersion programs in Spain, Mexico, Central America, and South America.  Complete details including costs for study abroad programs offered by AmeriSpan can be found by accessing the company website (www.amerispan.com), writing the company at P.O. Box 58129, Philadelphia, PA 19102-8129, or by telephoning toll free from the USA & Canada 1-800-879-6640.
Regardless of how a person chooses to approach language training, learning to speak Spanish as a second language is worth the time, effort, and expense.  It is isn't nearly as difficult to learn another language as some might expect and becoming bi-lingual can open up whole new world views and insights into other cultures.       
 Sources:
Interactive Self-Study Resources
---
Disclosure: This page generates income for authors based on affiliate relationships with our partners, including Amazon, Google and others.