Saint Valentine - Where did Valentines Day originate?
by NeoGnosis
Valentines day, the once a year occasion which we traditionally express our love for sweethearts, friends and family... But how did this all start anyway?
Have you ever stopped to think why we celebrate Valentine's Day? Who was Saint Valentine and how did this unique occasion of love take off? Why February 14?
Read on my friends...
Of course Valentine's Day as is a celebration of love and lovers. The matter of how this yearly event  of lovers showing their feelings toward their sweethearts is not so straight forward however. The passing of time has clouded the truth from us, enabling legend and mythology to thrive.
It has been a source of heated debate for hundreds of years, to this very day.
What is February 14th, 496 AD?
That was the first officially recorded Valentine's Day, declared by Pope Galasius in memory of a 3rd century martyred priest in Rome. 
I will offer one story, or legend if you prefer which seems to be widely accepted.
We shall have to go back to 270 A.D where a man named Valentine was working as a bishop as it where, during the era of the Roman Empire. Claudius II was the Emperor of Rome at the time and felt in his wisdom that unmarried men made better soldiers, so he decided to make it a law that young men could not marry. 
The ban on marriage came as a great shock to the Roman people, although they dared not question the emperor's decision or protest publicly for that matter. It was obviously having an affect on young couples in the region as they gave up all hope of marital unity. However Bishop Valentine believed that marriage was part of God's plan and so continued to perform secret marriages. Valentine was not before long recognised as a friend of lovers and sweethearts in every part of Rome. It was only a matter of time before Claudius came to know of this "friend of lovers," and had him arrested. He was jailed and scheduled to be beheaded.

But this would not deter the Bishop from his faith in God and marriage...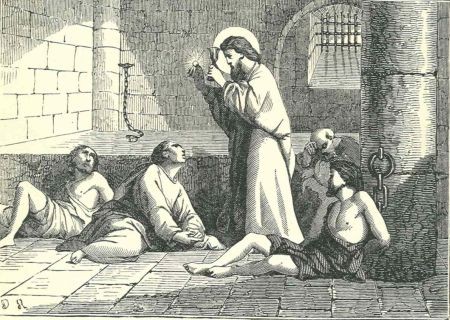 Valentine offering Christian service in prison
While In prison he met and fell in love with a girl who turned out to be the daughter of the prison warden. On the day he was scheduled to be beheaded, February 14 as it turned out, Bishop Valentine passed her a note from his cell which read:
"From your Valentine".
This story is widely regarded as the defining moment and tradition of Valentine's Day.
Most likely we will never know the true story of St. Valentine or even how this celebration of love came to be but this much is certain, February has been the month to celebrate love for a very long time indeed. In fact we can date it back to the Middle Ages.
So who are we to argue with centuries of love and romance, whatever the specifics of who, where and when it all began?
Thank you for reading and...
Enjoy your Valentines Day!
Valentine Day gift ideas...
You can't go wrong with jewelry
Valentine Day gift ideas...
Romantic posters for your Valentine...
---
Disclosure: This page generates income for authors based on affiliate relationships with our partners, including Amazon, Google and others.