Ten Ways to NOT Make Money on Zazzle
by Deb
Ten top hints on what you may be doing to hurt your sales on Zazzle and what you can do make money on Zazzle. Improve your products, your stores and your sales!
Zazzle Tutorial of the Week
Zazzle seller newsletter featured this tutorial!
Congratulations! You have a Zazzle store!
Oh dear, you may have to re-think your idea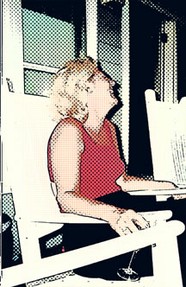 Are you an artist? a designer? or really clever with phrases? You could decide to make money on Zazzle by opening your own store where there are hundreds of different items like these
t-shirts, aprons, tote bags, hats
invitations, letterhead, postage stamps, binders
mugs, Doodle speakers, iPhone and iPad cases
skateboards, coasters, ornaments and posters!
All these cards and gifts are blank products, just waiting for someone to demand a cool design be printed on them and then shipped out to that someone's location almost anywhere in the world. That's print-on-demand --  or POD for those in the industry.
You may be just the person to open a Zazzle store or two, put up a couple pieces of your awesome work or a few smart words and sit back, waiting for customers to flock to your store and fill your bank account.
Well, if that's your plan, then hopefully you have a comfortable chair out on the porch and a nice supply of cold drinks and maybe some good music in the background and interesting people-watching. Because you're going to be sitting and waiting for a long time. And there won't be much ka-ching at the cash register, either!
How to NOT Make Money on Zazzle
the first places where you could screw up
1. Choose a dumb name. Oh, there are legions of us who didn't know you are forever stuck with whatever old name you picked the first day! This is not insurmountable, but it can make your Zazzle life more difficult. How do you say - with a straight face - "Check out my store dname456!"? It's not a lot of consolation that the matching Twitter name is likely available.
2. Go status quo on your store front. Those pretty brown and tan snowflake stars with no store name in the default header? Not cutting it. Sorry. You at least need to create a header (banner). Even if it has your dname456 in black on white!
Would you choose the same Zazzle store name again?
More Tips on How to NOT Make Money on Zazzle
OK, you've got your new store up. Now what?
3. Upload images straight out of that new camera. Not to discourage any budding photographers, but dark or highlight blown, out-of-focus, unimaginative photographs aren't even going to catch your mother's attention. Well, maybe if you were doing something naughty in them, but we're not talking about that, now, are we? Just erase that memory card and keep learning.
4. Upload images that don't belong to you. Or use phrases that someone else has dibs on. Not cool. Not legal. Photos you find online are not fair game. Clip art may not be fair game. Photos of your kid's Disney toys? Nope. Images from movies? Try again. Pictures you took of Charlie Sheen when he came to your town and made you laugh so hard you peed your pants? I don't think so. You need to have some idea of, and respect for, intellectual property. Otherwise known as copyrights, trademarks and patents, this is really important.
5. Let your designs fall how they may. You aren't picky about how your designs fit on products. You don't know what safe areas and bleeding edges are, although you wonder if there's some dangerous criminal element online you don't know about yet. Learn how to make the most of the product space and your images. Those other things make everyone wince.
Yes, There Are More Ways to NOT Make Money on Zazzle!
Your store has been open more than a week, or a month, or a quarter. . .
6. Tagging is not your bag. Um, no this is not a kid's game or something you do to your pet or a way to sign your name on railroad cars. Tags - keywords - are what get your products found in the marketplace. Your products are competing against more than 40 billion - yes, billion - other products, just on Zazzle. This falls under the SEO umbrella and you must figure this out. Or go sit out on the porch and watch the people go by, I guess.
7. Keep to yourself. If you don't grab your beverage of choice and head for the forums, you will have a hard slog ahead of you. This, I say from experience! I had no idea what a forum was when I started on Zazzle and wasted months trying to figure out stuff on my own. And, you don't know what you don't know. Tips, questions, problems and new products are all discussed in the forums. And you'll make friends there!
8a. Your store is as empty as Kate Moss's refrigerator. Or the family room after the dog farts. If there's nothing to look at, no one will look. Or buy! Generally, you need to figure on having several hundred products in your store before you will be getting traffic and money that will do more than give you another couple hours on a parking meter. There is a guy with only 32 products in his store who makes noticeable money, but he's the only one I ever heard of! OR,
8b. Your store is as full and messy as the family car after a cross-country trip to Grandma's house.  If it's too hard to find anything, no one will find anything. A poorly organized store is like walking around with toilet paper stuck on your shoe. Once you realize it, dude, you must take care of it!
9. Hide your light. And your products. Yes, you must let your light shine. Actually, you must make it shine! In order to have your products seen, admired and purchased, you must draw potential customers' eyes to them! This means promoting though various social media channels, advertising and marketing your products.

Digital Cameras take great photos every time. Right?
ROFL. Great photographers make great photos -- great tools help!
Finally, the Top Way to NOT Make Money on Zazzle
You can fudge some of the others, but this one will bring you down
10. Only sit in your own chair. If you never think from the customer's perspective or stop to determine who your target customer is, you won't have so many. If you don't create your products and build your store in a customer-centric way, you won't sell as much as you could.
Imagine who your customer is and design for her. Or him. Heck, give them a name!
Imagine you are that customer looking for the kinds of designs you create. Make it possible for Margaret-the-bride or Harry-the-political-liberal to find you.
Imagine you are a customer who has found one your designs and likes it. Make it easy for Margaret or Harry to customize it.
When someone sees your product and thinks, "OMG, I have to have that!" you have gotten into the game. Happy Margarets and Harrys are buying customers. And they tell their friends about you. And they return to your store!
Deb's Zazzle Stores
feel free to promote the cards and gifts in my stores and earn 15% referral fees when you do!
Beachwalker
Beach inspired photography and designs - want a sense of serenity? Check out this store!
Woodswalker
From the North Woods of Michigan to the High Country of the American Southwest, photographs and designs inspired by nature. Plus, some garden, food and travel art!
FamilyTreed
Creating a family history? a family recipe book? Or planning a family reunion? Check out the unique and original designs here!
AustinLED
A little bit of Texas, a lot of IPhone & iPad cases. And, now, custom Doodle speakers!
EchoesOfDad
If you're of a certain age, these phrases will echo for you, too! Humorous Dad gifts for Father's Day especially!
The Voice of Experience
I opened my first Zazzle store - Beachwalker - over three years ago and have been a pro-seller for two years. I learned several of these ten tips the hard way, like so many Zazzlers do! I still find products that I designed early in my career and ask myself what idiot put those tags on it? Or didn't put tags on it? All of the learning comes from education and experience. You need to be able to wear many hats to succeed in the print-on-demand world today. One hat I do not have is that of a lawyer, so don't take what I say as legal advice. It's only what I've seen and experienced.
Best of luck to you! If you would like to see another article about Zazzling, just leave a note in the comments. And please visit my Zazzle stores!
---
Disclosure: This page generates income for authors based on affiliate relationships with our partners, including Amazon, Google and others.