The Big Green Chalkboard
by carolee
How a chalkboard shaped who I am today.
The Big Green Chakboard
A passion for learning and teaching- all inspired by a chalkboard!
"Ok, class. Does anyone know the answer to this question? Susie?"

"Two times two is four," answers Susie.

"Very good Susie. How about two times three? Anyone?"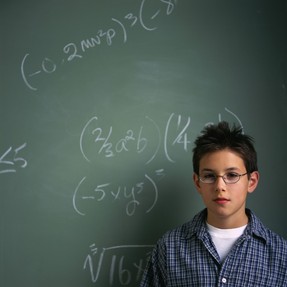 No that wasn't the local elementary teacher speaking. It was an elementary me!

I had recently acquired a big green chalkboard. While most kids were outside soaking up the hot summer sun, my friends and I were holed up in my bedroom playing school.

My Uncle worked at a Catholic school and they were replacing their old chalkboards with new. Uncle Bernie managed to grab one of them before it hit the dumpster.

Measuring in at a whopping 6 feet long and 3 ft wide, it was every little girls dream come true.

My friends and I spent HOURS at that chalkboard playing school. When it was our turn to be the teacher, we were in seventh heaven!

Finally, we were in charge- The Big Cheese!

We could teach our own way- ways in which we wished that we were taught in school. At times one of us would help a friend understand something that their teacher couldn't.

The best part was, we got to dole out homework to our friends!

Of course we all loved being the teacher, so we quickly learned the fine art of compromise.

Sometimes we would let the younger sibllings play, too. We would teach the ABC's and 1, 2, 3's to my brother and my cousin.

My brother was a child prodigy, reading at just 4 years of age.

I'm sure it was due to my superb teaching skills....

Of course, as we got older the chalkboard was used for different purposes.

As preteens, we spent hours playing tic-tac-toe and hangman.

It became our "Graffitti Board" when we were teens. Colored chalk made the board come alive as we drew hearts, flowers and peace signs.

If you ever wanted to know who loved who, all you had to do was check the board!

When I moved out of the house, the chalkboard made it's way into the hallway, where my parents used it as a huge message board/phone book.

Years later, I had a daughter. One who grew up to love playing school, too.

When she was 7 years old, I surprised her with my old chalkboard. When she came home from school and saw the chalkboard hanging in her room she was so surprised!

I had repainted it. All I could find was black paint.

So now it's a Big, Black Chalkboard .

But it is still dearly loved.

I believe that the chalkboard helped shape who I am today. I have always had careers that involved teaching - daycare, working in an elementary school, and (now) I teach Journal Writing and Blogging to adults.

My daughter is following in the same path.

She loves playing school with her cousin and the neighbors grandchildren when they come to visit.

And if you can't find her at church, check the nursery.

Like her mother, she has passion for learning and teaching, all inspired by a chalkboard!

Chalk one up to the old chalkboard!
You might also like
My Son and ADHD
Living with a Child with ADHD is a challenge but its ok. Your not alone in i...
---
Disclosure: This page generates income for authors based on affiliate relationships with our partners, including Amazon, Google and others.