The Mooncup Menstrual Cup - My Review
by Cass
A personal review of the Mooncup menstrual cup.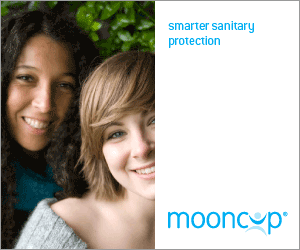 I'd never even thought about whether there was an eco-friendly alternative to the disposable sanitary products I was so used to using when I saw an ad for the Mooncup in a public toilet. I was immediatey intrigued. A quick search led me to a very friendly and informative website and I ended up ordering one on the spot.  
I've quite honestly never looked back - it's been one of the best purchases I have ever made and I don't hesitate to recommned it. But I remember how many reviews I had to read before I was convinced, and how many questions I had so I'm hoping that this article will help anyone else who is undecided.  
A friendly warning - there will be reference to menstruation, blood and the anatomy of girl parts in this review so, boys, you might want to click away now! Girls, if you've made up your mind to buy then click on the picture to check out the Mooncup website, or read on for all the gory details!
Choosing Your Mooncup - Size A or Size B?
The menstrual cup (pictured below) is pretty much what the name suggests - a cup which sits just inside you and collects the menstrual fluid. It's made of flexible silicone which forms a seal around the edges of the vagina, which keeps it securely in place and makes sure there are no leaks at all. I wore a back-up pad at first but there really is no need - if the cup is inserted and positioned correctly then swimming, cycling, sleeping nude and rollerblading in white leggings are all fine.
This does all rely on the Mooncup being fitted correctly - I chose the wrong size to begin with and had some problems with discomfort and a small leak now and then but other reviews led me to try again with the smaller size and there were no more problems.
For anyone who is unsure about which cup to choose (there are two sizes - one for younger women who have never given birth and one for older women or those who have given birth) I ordered the larger cup because I am, ahem, over 30 (only just!) but found that the smaller one ended up being the better choice for me as I had never given birth. From other reviews I've read it seems that the information on the Mooncup website are pretty good guide.
Using the Mooncup
Insertion and removal
When faced with a Mooncup for the first time might seem a little daunting. It's bigger than you might expect, but it really is very flexible and I've never been able to feel it once it's inside.
There is a neat little instruction manuel in the box which shows you how to insert it (with diagrams). The second method is easiest - poking the edge on the cup in and down so that the top edge forms a 'point' and sliding it in before releasing it. I did find that there was a rather odd sensation as the cup 'popped' out into place the first few times I tried inserting it but once you get the knack of it then this shouldn't happen. Once it's inside and positioned correctly it's worth running a finger around the outside to check the seal around the edges and you're good to go!
The long stem on the bottom of the cup can be trimmed with scissors (before you put it in!). I doesn't help with removal anyway so you might as well remove it once you feel confident enough.
Removing the Mooncup is a little bit tricky as first but really easy once you get the hang of it. The easiest way I've found is to grab the end then insert a finger along the side on the cup the break the seal - once that's done it will just slide out. Make sure you keep it upright to avoid spills.
A common problem faced by first time users is the feeling that the cup is stuck. This is due to the seal that keeps it so neatly in place and stops it from leaking so it's nothing to worry about. The inportant thing is not to panic (remember how tricky using a tampon was the first time?) and just try to relax. Again, there are a lot of tips on the Mooncup website to help with this, and the cup can be left in for a lot longer than a tampon (the website recommends up to eight hours and I've worn mine right through the night). The menstrual blood can then be tipped away and the cup rinsed or wiped out before re-inserting it. I sanitise mine between months by boiling it for 10 mins or so but during your period there is no need to do this every time.
So that's it. Personally, I find that the Mooncup has made the monthly 'misery' a whole lot easier and less inconvinient and I love the feeling of freedom you get when wearing it (as opposed to bulky pads). It also great to be doing a little bit for the environment by avoiding disposables - a win-win-win situation!
Where to Buy a Mooncup
You can buy Mooncups direct from the Mooncup website (click here) where there is also a wealth of information about using them and a detailed FAQ section. Alternatively, there are a renage of other menstrual cup available - The Diva Cup, the Lunette, the LunaCup and the Keeper to name a few - they can be found on Amazon (see below).   
Updated: 12/14/2011, Cass
---
Disclosure: This page generates income for authors based on affiliate relationships with our partners, including Amazon, Google and others.