Theresa Kennedy in a nutshell
A short bio of Theresa Kennedy on Wizzley.com
The hats I have worn
I am a mother of two teens, and have worn many hats--Realtor, manager, healer, driver, activist, writer/editor, teacher, and homemaker--to name a few. I also live with chronic pain (myofascial pain syndrome/fibromyalgia) and depression. How I deal with these and all the roles in my life have provided opportunities for evermore choices. Everything in life is a choice.
It's in my nature
Born in Minnesota during the 60's, I'm somewhat of a bohemian-hippie type. I blame the ye

ar I was born for that. I can't help but love long hair, bell-bottom jeans, long flowing skirts and bohemian-style shirts. My ancestors were Cherokee originally from Georgia, but my bloodlines also come from Norway, Sweden, Ireland and England. When you put it all together, the result is someone like me. Someone who is open-minded, balanced, fair, and stands for social and environmental justice with a leaning toward contemporary American Indian issues.
Cherokee Heritage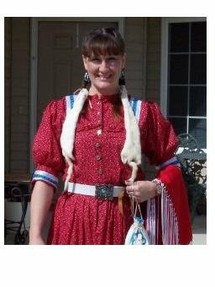 Moccasins are great for feeling the earth while walking in stealth through the many wooded areas in Minnesota, but they're great for powwows too.  I attend powwows whenever I can, and occasionally wear the Cherokee Tear dress that I made (mine is typically the only Tear dress in a crowd of mostly Ojibwe and Dakota/Lakota tribal members). Other times, I just wear regular clothes and dance intertribal songs with a shawl.
Life-Learner
Writing what I know
I enjoy writing about controversial American Indian topics, but not so much the cultural and spiritual aspects since those topics are too personal and sacred to share on the internet. I've been writing since I could walk, and luckily my mother saved most of my childhood stories, songs and poetry.  Forty-some years later, I'm still at it and always learning! As a life-learner in many disciplines, other favorite topics include medicinal herbs and natural healing, relationships, communication, research into chronic pain and fibromyalgia, and many areas of mental health. I believe in aliens, astrology, prophesies, conspiracy theories, along with many paranormal and extraordinary ideas.
Languages
In college, I took a linguistics class but it wasn't exactly what I thought it would be. Transcribing phonetics was like learning an entirely new language. Other languages that I have learned along the way (although I can only count to ten in a few of them) are American Sign Language, German, Ojibwe, Cherokee, Norwegian, Spanish and Japanese. It's an odd mix, isn't it?

Hobbies
My favorite hobbies include fishing, and exploring nature.  I also enjoy exploring new places, such as Hilton Head Island in South Carolina and Savannah, Georgia. Oh, and I will never forget the Riverwalk in San Antonio and the Cave of the Winds in Colorado. So many places to go and see- maybe I need to add travel to my list of favorite topics!
---
Disclosure: This page generates income for authors based on affiliate relationships with our partners, including Amazon, Google and others.