Tips to Avoid Work at Home Scams Found in Free Classified Ads
by JoyLynskey
There are so many work at home scams to be found around the internet. Free classified ad sites are no different. Be careful when looking for work at home jobs by being aware.
One of the unfortunate aspects of free classified ads is running the risk of stumbling upon an ad that isn't legitimate. Shady companies and individuals utilize this free service to run unethical employment ads in an attempt to lure in unssuspecting candidates. As the scams have become more abundant however, so have the telltale signs of what to look out for. There are a variety of things you should look out for when applying to a job ad which can save you time, money and piece of mind.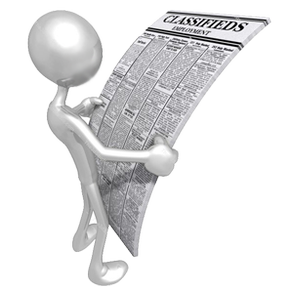 Scam Free Classified Ads
Credit Reports
Although a relatively new scam, watchful eyes and helpful individuals have uncovered a scam in which prospective employers require a screening of your credit. This isn't necessarily a new thing for companies in which you will be working with sensitive information such as credit card details or money transactions. However, most legitimate companies will not charge you for your credit report, and will certainly not ask you to immediately submit one to their website. Never agree to submit a credit report, and never pay for a credit report.
Short and Hidden URLS
Many times companies and business owners will use short URLS in order to lead viewers back to their classified ad. However, short URLS within the actual ad is a red flag. Unscrupulous companies have been known to place these short URLS into their ads in an attempt to hide the actual link, as it has nothing to do with a legitimate work-at-home opportunity. If you happen to click on the URL and see something such as "Make a Thousand Dollars in a Day," you can rest assured that this is a scam. Working at home entails the same effort as working in a brick-and-mortar setting. There are no get-rich-quick schemes that work just because you are in the comfort of your own home. If something seems to good to be true, it usually is.
Spam Posting
Legitimate companies will already have an ample amount of candidates applying. There is no need to repeatedly create a free classified several times per day. Shady companies however, will continuously post the same ad over and over in an attempt to lure in as many "suckers" as they can. Like fishing, these unethical companies will keep throwing the line in over and over trying to catch as many uninformed individuals as they can. If you see an ad that is repeatedly posted over and over, do not click on any links, as it has the potential to take you directly to a site that will bombard your computer with pop-up ads, spy-ware and annoying banners trying to convince you to sign-up and purchase something.
Mailing and Stuffing Envelopes
This particular scam has been around for over 15 years now, yet still seems to entrap those who've yet to learn about it. You may run across an ad that claims you make a ton of money just by sitting at home , stuffing envelopes and mailing them off. Unfortunately, what these ads don't reveal is that there is almost always a fee involved in order to ship you your supplies. For 49.95 usually, these companies claim you can get started. What ends up happening however, is that you will receive directions on how to recruit others into this shady business by mailing out brochures on how to get started in the mail stuffing business, yet you will only get paid "10%" (sometimes less) if and only if you recruit others to pay the fee and get set up. It's not only impractical, but illegal. Never pay to work for someone else.
---
Disclosure: This page generates income for authors based on affiliate relationships with our partners, including Amazon, Google and others.