Top Animated Children's Movies for 2011
by Kids_Fun
What are the top animated children's movies for 2011? There are some great kid's movies premiering this year from some of the top studios including Disney Pixar, and Dreamworks.
What are the top animated children's movies for 2011?
There are some great kid's movies premiering this year from some of the top animation studios including Disney Pixar, and Dreamworks Animation, just to name  a few. Who will reign supreme at the box office? It promises to be an interesting race.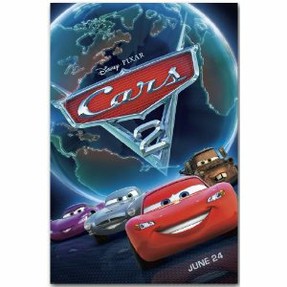 Here are just a few of my favorite animated movies premiering in 2011:
Cars 2
Kung Fu Panda 2 Kaboom of Doom
The Smurfs Movie 3D
Winnie The Pooh
Gnomeo and Juliet
Rango
Rio
Mars Needs Moms
Happy Feet 2
Puss in Boots
Adventures of Tin Tin
Which one is your favorite so far? Check them out in more detail as they premiere below!
Cars 2 Image find as a poster on Amazon here: Cars 2 Poster - Promo Flyer 2011 Movie
Cars 2 Promises To Be A Summer Blockbuster
With the backing of the Disney Pixar powerhouse, Cars 2 promises to be one of the smash hits of the summer.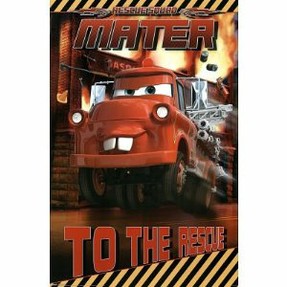 Cars 2 will hit theaters everywhere on June 24th 2011. Lightning McQueen, and his pit team along with the new pit boss, Mater, head out for an around the world Race of Champions. The race takes place in five different countries and includes the champions of several different racing types, like Formula One and rally driving.
Mater gets involved in a case of mistaken identity, and along the way he manages to save the life of British secret Finn McMissile, as only Tow Mater can. He gets involved in a huge spy mess, but no one believes him, until it all comes to a head at Buckingham Palace. This is one animated movie I can't wait to check out!
Directed by Brad Lewis
Image source: Cars 2 Mater To The Rescue poster
Kung Fu Panda 2 Kaboom of Doom
Po is back! Kung Fu Panda 2 Kaboom of Doom hit theaters on May 27th, just in time to be a summer blockbuster! Created by Dreamworks Animation, and starring the voice of Jack Black this Kung Fu Panda sequel promises to entertain.
Po is now the Dragon Warrior, in this movie you'll get to see his first great quest in his job to protect Peaceful Valley along with the Furious Five, when a force threatens to destroy kung fu.
Dreamworks Kung Fu Panda 2 Kaboom of Doom Trailer
Kung Fu Panda 2 Kaboom of Doom Fun Links
The Smurfs Movie 3D
I think this movie's going to be a Smurfin' good time! The Smurfs are back, and they're taking on New York City in an all new full length feature film hitting theaters August 3rd 2011.
When Gargamel (you remember him, the evil wizard) chases the Smurfs from their enchanted village, they land in our world, in of all places, New York City.
They have to find a way to get back home before Gargamel finds them!
I remember the Smurfs from my childhood, and I can't wait to check out the movie!
The Smurfs 3D Movie Trailer
RIO Movie
RIO premiered Easter weekend, April 8th 2011 in theaters everywhere
in digital 3D from 20th Century Fox. RIO is the story of Blu is a domesticated macaw, who thinks he's happy until he meets Jewel (a femaile macaw), and finds himself in Rio DeJaneiro. The two have to work together to escape from being smuggled by a cockatoo named Nigel.
The movie chronicles Blu and Jewel's adventrues as she teaches him how to survive in the wild.
So far the film has grossed over $450 million in theaters, and is available for pre-order at Amazon here: Rio Movie
Winnie The Pooh Movie
This is another summer movie from Disney I can't wait to check out! The entire Hundred Acre Woods cast is back for a feature film hitting theaters on July 15th 2011.Including:
Winnie The Pooh
Christopher Robin
Eeyore
Tigger
Rabbit
Piglet
Owl
Kanga and Roo
Pooh is enjoying a typical day, searching for honey when he misinterprets a letter from Christopher Robin. He believes Christopher has been kidnapped by a "Backson" and enlists all his friends to help him save him.
Gnomeo and Juliet
Gnomeo and Juliet premeiered in theaters from Starz Animation on February 11th 2011, just in time for Valentine's Day.
In classic Romeo and Juliet form, two star crossed garden gnomes are caught up in a feud between neighbors and have several obstacles to overcome if they want to get together, including lawn mower races and pink flamingos.
Will the couple find happiness? Or rare they destined to be star crossed like the the original Romeo and Juliet?
Gnomeo and Juliet Trailer
Rango
A chameleon named Rango finds himself stranded in the desert after his terrarium falls from a car.  He meets an iguana farmer's daughter who takes him to the wild west town of Dirt. But Dirt is no ordinary town, it's populated by desert animals.
After Rango presents himself as a tough drifter, and accidently runsan outlaw out of town, and kills a hawk the mayor appoints him the new sheriff. The movie features the voice of Johnny Depp as Rango.
Mars Needs Moms
Milo learns how to appreciate his moms after he sees Martians come and take her away. He decides to stow away on a spaceship to get her back.
Mars Needs Moms, based on a children's novel by cartoonist Berkeley Breathed, was created by Zemickis' ImageMovers Digital and, Walt Disney Pictures. It premiered in theaters March 11th 2011.
---
Disclosure: This page generates income for authors based on affiliate relationships with our partners, including Amazon, Google and others.