Top five cheeses for Christmas
by SeanSPaul
Cheeseboards are the perfect way to finish a dinner party! Whether it's a festive celebration or a gathering of good friends, a board full of high-quality cheese is a must.
Hot, cold, hard or soft – everyone has their favourite. Here are the top five cheeses we love at Christmas.
Cheeseboards have become an incredibly popular finale to a festive feast. With so many varieties of cheese to choose from, it can be tough to know where to start. Putting together a cheeseboard may be an afterthought while amid basting the turkey and flaming the pudding! However, many give or receive cheese hampers for Christmas – the perfect gift for hosts who are cheese lovers.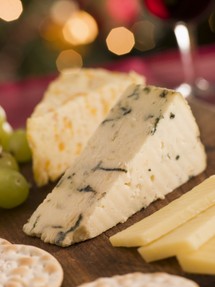 Hard cheese – West Country Farmhouse Cheddar
Cheddar offers a range of maturity, making it a great choice that everybody will love at Christmas. As Cheddar ages, the taste develops from a creamy taste and texture, to a more mature, complex and nutty flavour. For authenticity, choose Cheddar from one of the 14 licensed places to have the West Country Farmhouse Cheddar stamp of approval. Located in the four counties of origin; Devon, Cornwall, Dorset and Somerset, they all use traditional Cheddar making techniques.
Soft cheese – Camembert
Camembert is perfect for social and festive occasions. The soft, creamy texture is perfect with green salad, deep fried in breadcrumbs or baked for a cheese dip. When fully ripe, Camembert has a strong flavour with a runny interior. You'll find a range of British and French Camembert, both pasteurised and unpasteurised types. Traditional unpasteurised Camembert will be labelled Camembert de Normandie Appellation d'Orgine Controlee au Lait Cru, made in Northern France. 
Blue cheese – Stilton
You either love it or you hate it. But blue cheese certainly has its place on the British cheeseboard and is found in many gourmet cheese hampers. Famed for its blue veins, it has a smooth and creamy cheese texture with a strong aroma and flavour. Young blue cheese is complex and has a slight acidic taste, whereas more mature varieties are soft and mellow. Originating from Nottinghamshire, Leicestershire and Derbyshire, producers use a specified recipe and technique to make this blue cheese. 
Crumbly cheese – Wensleydale
Crumbly cheeses are a sweet contrast to intense flavours of other cheeses. Much of the moisture is removed due to the young age of the cheese, giving the cheese a crumbly and fresh flavour. You will find a young Wensleydale cheese has a hint of lemon – great with sweet and savoury accompaniments such as apples or crusty bread.
Flavoured cheese – Lancashire with garlic
The range of flavoured or blended cheese has become popular, especially over the Christmas period. Deriving from Roman practice, these 'modern' cheeses are blended with small pieces of fruit, herbs and spices. These flavoured treats are great to try during the festivities – you may even find a few new favourites. 
Three cheese rules
Try before you buy
If you're unsure of the taste, texture or smell, ask for a small sample before you buy. It's best to choose a great cheese that you will enjoy over Christmas.
Portions of cheese
It's recommended to purchase about 100g of cheese per person.
Serving cheese
Take the cheese out the fridge 1-2 hours before serving to bring to room temperature. This allows the flavours of the cheese develop. Keep the rinds on the cheese to preserve the shape and look. 
Accompaniments to cheese
Choose a range of crackers, fresh and dried fruit, chutney and vegetables to accompany your cheeseboard. Cut each accompaniment in to small bite size pieces and serve with cocktail sticks. Ensure there is a sharp cheese knife for each cheese. 
What is your favourite type of cheese?
---
Disclosure: This page generates income for authors based on affiliate relationships with our partners, including Amazon, Google and others.