V H Folland
by CatInASuit
V H Folland is an excellent British author writing Action Adventure and Crime Novels in paperback and e-book format.
VH Folland
About the Author
VH Folland is a British Author who has released a couple of novels that are well worth reading if you enjoy a classic style story with well-realised characters, gripping plot, and a sense that you always want to turn to the next page to find out what happen's next.
I first read Fire Season as I was looking for a classic style adventure novel and thoroughly enjoyed reading it. This is no thriller with larger than life characters, but filled with real people you can understand and care about as they try to face the oncoming fire.
Having enjoyed the first novel, I picked up The Docks, not sure what to expect and was overjoyed to find another cracking tale written in the same inimitable style. The character may not be as likable, but you can understand them and the it is difficult to resist the urge to find out what happens to them.
All in all, I enjoyed reading them, so through I would pass it on to anyone looking for a excellent read.
Fire Season
Fire Season is the debut novel by British author VH Folland.
This is the story of Brooks Vale, a small community which decides to lend a hand in combating the fires that have sprung up across the heaths and woodland in the area. Brookes Vale has never been troubled by the fires and is used to helping out with refugees. 
Then the wind changes and as the fires rage, drawing closer to the village, the locals have to decide what to do next.
 It's an excellent debut novel, well paced from an intriguing start to the gripping finale as the heroes race to prevent tragedy coming to Brooks Vale. The characters are well fleshed out and you feel for them as they struggle against the outcoming blazer.
The Docks
On the hook for murder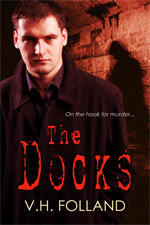 The Docks is the opening story of Harry, an ex-bank robber who finds himself in over his head, when the spot of arson finishes with a dead body and an explosion.
Having to cover his tracks and uncover the truth before the police find out what happened, Harry finds the one person who knew, was the one person he killed.
Although it is only a short story, The Docks feels like a full length novel as you follow Harry from the initial event through the police investigation to trying to find out what really happened and not just what he thought would happen.
VH Folland on Amazon
Fire Season

For Matt and his flying club, there weren't any options left. Trapped residents, threatened towns and one small airstrip safely upwind of the fire line.It's not a promising ...

Only $3.99
The Docks

Harry's in more trouble than he knows, and he knows he's in a lot.Murder, manslaughter or self-defence? When Harry agreed to a light spot of arson, he didn't know what was ...

Only $0.99
Coming Soon

Coming soon should be the next story about Harry from VH Folland, where hopefully we will find out what happens next to our not-so lovable hero and his friends.
I'm looking forward to Conflict of Interest to find out what Harry has found himself involved in this time, who the mate is that crosses Harry's path and just how much trouble he can get into this time around.
I'm hoping it stands up to the quality of the other books and we find out more about him and the other rogues he associates with.
---
Disclosure: This page generates income for authors based on affiliate relationships with our partners, including Amazon, Google and others.