Are You Stealing Money From Artists By Pinning to Pinterest?
by wrylilt
Without knowing it, you might be stealing money from photographers & graphic designers by pinning to Pinterest.
Where Did You Get That Photo?
Just because a photo is on the internet, does not mean you are legally allowed to use it. 
Legally, you are only allowed to use photos labelled for reuse, in the public domain or that are marked as creative commons.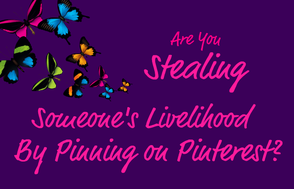 Are you Stealing?
How Can Pinning a Photo Cost a Person Money?
Although the simple act of pinning a photo to your pinboard may seem unimportant, it can easily hurt the original creator's chances of earning money from it. There are three main ways this can happen (although there are probably many more):
Once the photo you pinned on your board is indexed by Google, the image will display in Google image search. Since Pinterest is a larger site than the average blog or personal site, it will rank higher in the image search than the original picture, meaning that the original picture will often get far less traffic.
Images can be imbedded into other sites. If those sites earn money from the pages where those photos are displayed, they are making money from them without any of that revenue returning in any form to the original image creator.
If you visit a site where the author has taken a photo from elsewhere, with correct attribution, you are still not correctly attributing. You are providing a link to the author of the article, not to the original artist. The only way to avoid this is to go to the original artist's work.
5 Reasons to Check Before You Pin
If the photo is from a personal blog, the blog writer may prefer that their family photos stay private or at least where they can be aware of their context or re-use.
If the photo is usually sold on some type of payment scheme (such as paid stock photos), you may be setting yourself up for legal trouble.
You could be breaking the Terms of Use which you agreed to when joining Pinterest. 
You may have a DMCA (Digital Millenium Copyright Act) filed against you for illegal use of photos.
How would you feel if someone linked to images or writing that you owned, without asking your permission?
But Doesn't Pinterest Link Back to the Original Photo?
Yes, Pinterest provides a link back to the original photo (unless you download it and upload it yourself.)
However, legally (and also according to the Pinterest Terms of Use), you are not allowed to re-use photos unless they are designated for resharing or re-use, EVEN if you link back to the original photo. So by pinning a photo, you are legally agreeing that you have permission or rights to do so.
How often do you check copyright before pinning a photo?
What Pinterest Has to Say
When you signed up for Pinterest, did you read the Terms & Conditions (Terms of Use)? Yes, that huge and annoying page of legal jargon, which most people just click Agree on. Well maybe you should have. 
According to the Pinterest Terms of Use (Some parts removed for convenience):
You acknowledge and agree that you are solely responsible for all Member Content that you make available through the Site, Application and Services........ you either are the sole and exclusive owner of all Member Content that you make available through the Site, Application and Services or you have all rights, licenses, consents and releases that are necessary........... neither the Member Content nor your posting, uploading, publication, submission or transmittal of the Member Content or Cold Brew Labs' use of the Member Content (or any portion thereof) on, through or by means of the Site, Application and the Services will infringe, misappropriate or violate a third party's patent, copyright, trademark, trade secret, moral rights or other proprietary or intellectual property rights, or rights of publicity or privacy, or result in the violation of any applicable law or regulation.
With the exception of "Made for Pinterest" photos, how often do you visit the site linked to a pinned photo?
How do People Make Money with Photos on the Internet?
Many people make a living by using their own photos and created images on the internet. Some of the most common ways include:
Using their images as a way to promote their website through image search results.
Selling items featuring their images through sites such as Zazzle.
Selling their images through stock photo companies.
Displaying images on their website to gain traffic and earn from advert clicks.
So What Photos Can You Pin?
There are plenty of photos that you can legally pin. Just make sure they fall under the following categories:
Labelled for reuse, creative commons or in the public domain.
Images you have asked the creator for permission to pin.
Images specifically made for Pinterest.
Images you have created yourself.
Further Reading
The Pinterest Terms of Use.
A photographer's view on repinning photos to Pinterest.
Comments by another photographer.
And more in depth information on the topic here and here.
Feel free to pin any images on this page.

Please Check Copyright Before You Pin!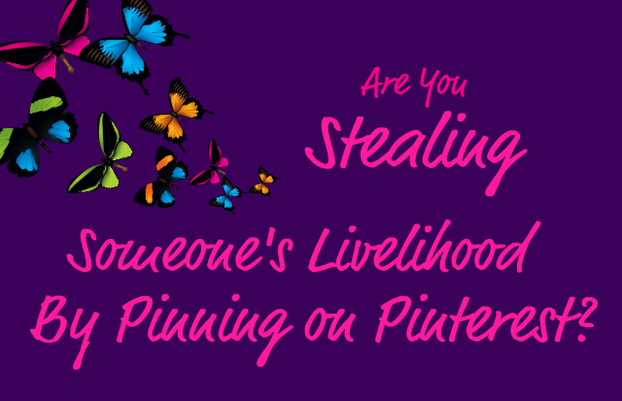 Are you Stealing?
---
Disclosure: This page generates income for authors based on affiliate relationships with our partners, including Amazon, Google and others.