Artificial Rock Ideas
by caniwi
Using artificial rock garden accents to dramatically enhance the look of your garden
Great Idea for a Dramatic Gate Sign
Custom made artificial rock sign that are one of a kind.
A really attractive and unique way to make your property stand out in the neighborhood is with the use of an artificial rock sign that is distinctly "yours" and custom made just for you.

These can be purchased in a couple of ways, and the difference is pretty obvious. Each has it;s own merits, but one clearly stands out as the superior style.
Mass Produced
Molded Fiberglass and Cement
T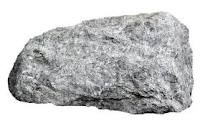 hese are the type you'd typically find in a Big Box store, and are mass produced, usually very lightweight, and easy on the pocket book. They're sometimes fairly attractive to the eye from a distance, and quite realistic, but on closer inspection it's pretty easy to figure out these were off an assembly line and are far from unique.

Most will be fairly basic in design, and of a fairly similar shape. Being mass produced, it's difficult for them to be "personalized", such as with an owner's name or a house number. 
Custom Built
Hand Carved and One of a Kind
Not so easy on the wallet, but a classic case of "you get what you paid for", custom built and hand carved artificial rock entrance signs are becoming very popular with those that want their place to stand out in the crowd.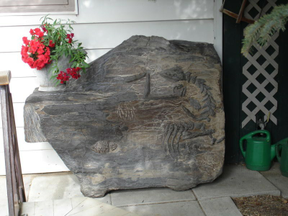 No matter if you're living on a rural property, or residing in the suburbs, these gate signs can be built exactly to your specifications, and literally transform your yard's appearance.
Imagine a large artificial rock sentinel at the beginning of your driveway, complete with your name engraved and maybe your house number.
Being hand carved, all manner of engravings are possible, just like these "fossil bones" on this rock pictured here. It's only limited by your imagination. 
Hand Carved and Beautiful
Personalize as you wish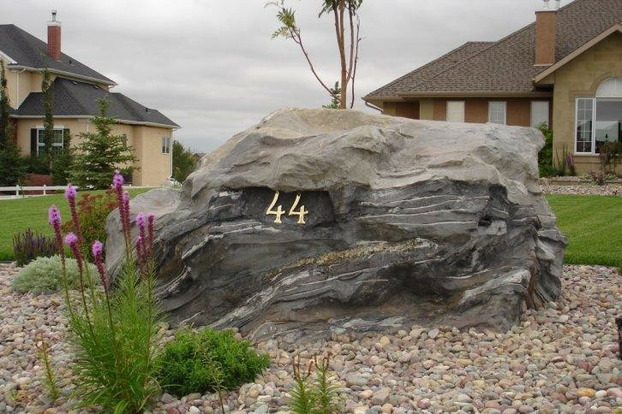 Hand Carved and Beautiful
Hand Carved Driftwood
The Possibilities are Endless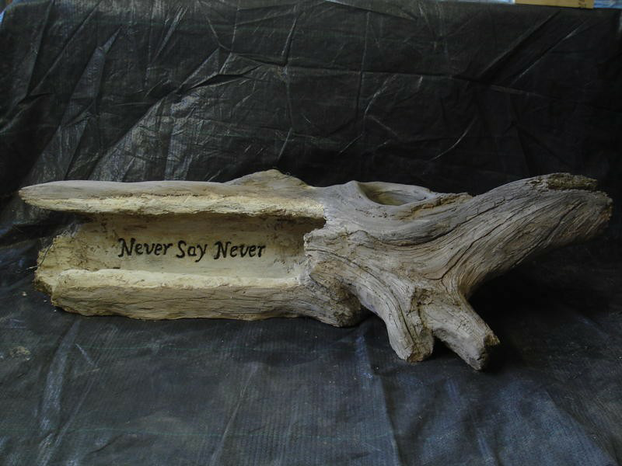 Hand Carved Driftwood
Drive Way Lights
Complement your rocks!
Built to Last
Solid & Lasting
Hand carved artificial rock garden accents are usually created by a craftsman who takes obvious pride in their work.

Beginning with a rebar & wire mesh frame, shaped to the basic size of the desired rock, these frames are plastered with layers of a concrete substance, then coloured with different pigments to bring out the desired colour. A good craftsman can emulate all types of rock, from marble to sandstone.
As the layers dry, they're hand carved to achieve just the desired look. At this time including names or a house number is done as well.
Being hollow, but with a solid rebar & metal frame, these rocks are certainly heavier than the mass produced models, and will withstand whatever wind and rain mother nature can throw at them.
Solar Panels and Timers
For attractive night lighting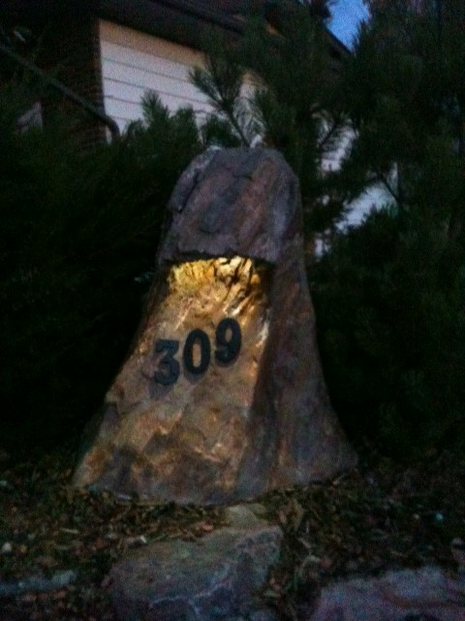 Solar Lit Driveway Rock
A Great Gift Idea
For that special person in your life
What better gift could you give a garden lover than something as unique and distinctive as one of these hand crafted artificial rock driveway signs, so much better than the mass produced rocks from the garden center.
---
Disclosure: This page generates income for authors based on affiliate relationships with our partners, including Amazon, Google and others.