My Snoring Cure
by caniwi
How I eliminated snoring, completely and permanently with this unique and inexpensive anti snoring device. You can too!
My Fishing Buddies insisted
My snoring was that bad....
I'm a fisherman!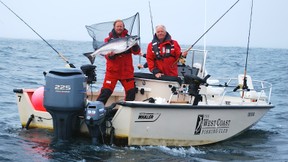 There's nothing I love better than a few days on the West Coast with a bunch of buddies, fishing for that great Canadian sport fish, wild Chinnook Salmon. This has been an annual event for the last 4-5 years, with the same core group of guys, and each year there's a couple of newcomers in the group, replacing the inevitable drop outs.

This is very much a guys trip. A quick flight out to the coast, a couple of rental pick up trucks, then a 2 hour trip along the windiest beggar of a road imaginable, until we arrive at this tiny little logging and fishing town, right on the West Coast of the island. 
A couple of charter boats await and our abode for the next few days, a residental house that the charter outfit owns, and that has been converted into a "bunkhouse", 3 bedrooms each sleeping 4 in bunks, so all 12 of us can fit in reasonable comfort.
Bunks are fine, but they do pose a problem if you're a snorer......
You know you're snoring when....
You wake and your buddies are all on the couches!
Talk about embarrassing!

That's exactly what happened a couple of years ago. I knew I snored, but didn't realize just how much until I woke the first day and I was alone in the bunk room, all three of the boys were sprawled out on the couches in the living room. I guess they'd had quite a night!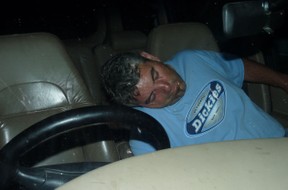 This was a boys fishing trip, remember? Of course along with the groceries there had been a stop at the liquor store, and the good time, lies and fishing stories flowed freely around the inveitable poker game that night, and I do recall kinda stumbling a bit as I crawled into the bunk.
Now I guess when I've had a snoot full, then I snore! Like, snore really badly! Even though my buds were equally "lubricated" they couldn't stand it, nor could they wake me!
Needless to say I took a fair ribbing the next morning, plus was told that I got to sleep in the truck the next few nights!
Looking for a snoring cure
and listening to a good friend
One of the guys had a brother in law that had a snoring problem it seems, and Jack told me how his wife had found online, a simple anti snoring device that promised to be a real snoring cure for people with problem snoring.
Apparantly it had almost been the saviour of their marriage, as this couple had been in separate rooms for years, his snoring was that bad.

Once his wife purchased this little "snoring chin strap", his snoring diminished to such a degree that they were "a couple" again.

Jack kindly pointed to the website that sold this snoring cure, called My Snoring Solution and I succumbed, and made the online purchase. The results were simply darn amazing!
Fast forward a year
to this summer's fishing trip
As I'd been using my snoring mask for quite a few months, I knew from my wife that this thing worked. In fact I had no idea she had suffered through my snoring for so many years, I really didn't think I was that bad.
I have to admit I took a bit of ribbing when I donned the chin strap on retiring the first night of this years fishing trip, and of course I was bunked with the "rookies", as none of the old timers would even think of rooming with me.
However.... 
The last laugh was on them this time, as everyone woke the next morning, bright and early and totally refreshed, even me! The old timers, who'd experienced my snoring in years past were a little disbelieving, one even thought I must have had an operation, the results were that dramatic.
I'm no longer relegated to sleeping in the truck, all of the guys are just fine with bunking in with me, and some have even gone online and bought one of little snoring cure devices.

Fish on...... 
---
Disclosure: This page generates income for authors based on affiliate relationships with our partners, including Amazon, Google and others.