Bacon and Chocolate Gourmet Candy Stocking Stuffers
by Digby_Adams
Both chocolate and bacon lovers will savor this unique blend of salty and sweet. From stocking stuffers to Valentines Day unique chocolate gifts for those you love
If you've never heard of chocolate bacon or bacon and chocolate candy, you're not alone. Minnesota State Fair attendees were suprised as well by this combination. A local television station asked a well-known chef to whip up a batch so he and they could do a taste test. What did they think? Well watch the video to the right and listen to their verdict!

It turns out that bacon in chocolate is a trending gourmet candy. You'll find it combined with shortbread and caramel, topping chocolate cupcakes and cakes, and just about anywhere you'd put a piece of chocolate.

You probably won't find chocolate bacon candy at the local mall. The best place I've found to buy it is an online bacon shop called Bacon Freak.
Minnesota chef whips up some Chocolate Bacon
Boss Hog Chocolate Covered Bacon Strips
Boss Hog's Milk Chocolate Covered Bacon Strips
If you want to try chocolate covered bacon strips and don't feel like whipping yourself up a batch, then you can buy it from Bacon Freak. It's available in both milk chocolate and dark chocolate. Of course this is a wonderful gourmet chocolate gift for the carnivore in your life. Watch their surprised eyes as it dawns on them just what you've given them. Then they'll take a nibble just to get the gist of the flavor, and then they'll woof down the first piece. A love of the bacon and chocolate combo does sneak up on you. Then just one box of chocolate bacon won't be enough. It's like that when you taste genius.
Chocolate Bacon Cupcakes
These novelty cupcakes will fly off the table at your next bake sale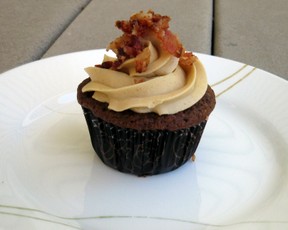 What to do with your chocolate covered bacon? You can make chocolate bacon cupcakes for your family. I guarantee if you put these on sale at  your next bake sale, they'll fly off the table. You can take some delicious bacon, crumble it and add it your your batter and bake. I wouldn't be too heavy handed with it. It would be just regular bacon, not chocolate coated. But for the topping, I'd either coat my own bacon or use some of Boss Hog's goumet chocolate covered bacon. The name alone will sell it. Novelty items - but not too strange sell really well at bake sales. That's why you see these kinds of food items at state fairs.
Boss Hog Bacon Twixters
Boss Hog Bacon Twixters
What you see to the left are known as Boss Hog Bacon Twixters a scrumptuous combination of premium milk chocolate, shortbread, caramel and of course bacon. Just like the candy with a similar name, but with a special twist. You get six savory pieces to enjoy or give as a gift. If you're looking for a unique Valentine gift, stocking stuffer for your Xmas stockings or even host gift, this is the gourmet candy gift for the gourmand who's tried everything. It's packaged attractively. Bacon in chocolate is different enought to be interesting, but it's not scary different (like chocolate covered insects).
Boss Hog's Maple Bacon Mallomore's
Bacon tribute the the classic S'mores bar
Boss Hog's Maple Bacon Mallomore's
That's right maple bacon encased in graham crackers and homemade gooey marshmallow and covered in rich dark chocolate. Just to show you that you can love bacon and eat bacon and be health conscious, it's organic graham crackers and the marshmallow has no high-fructose syrup. But really it's all about the taste! This is one of those treats that you'll just love getting. Put them in a bowl while the guys watch football and watch them disappear. You can buy them individually or in a 4-pack.


---
Disclosure: This page generates income for authors based on affiliate relationships with our partners, including Amazon, Google and others.