Bose PC Speakers
by Boblee
If you are looking for those perfect speakers for your PC, Bose PC speakers are the ones.
Why Choose Bose PC Speakers?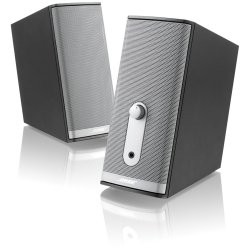 If you are looking for those perfect speakers for your PC, Bose PC speakers are the ones. They deliver the best sound quality and have a classic appearance which attracts people's eye. Get all those groovy sounds you want to hear while playing games and watching movies. There are various models available in the market, choose the one which suits your need and budget. The most popular among Bose computer speakers are Companion® 2 multimedia speaker system.
Bose Speakers For Your PC Or Computer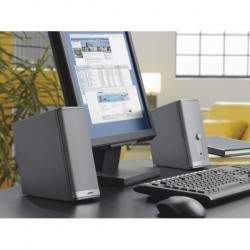 Desktop PC's or Computers can't be thought off without a pair of exceptionally high sound quality external speakers. External speakers are being chosen by majority of the consumers to enhance their surround sound experience. And one of the best selling external speakers are Bose PC speakers. You can choose from a varied range of Bose speakers. You can also opt in for wireless Bose speakers for great portability and obviously sound. People do choose USB speakers depending upon the need.
It's always advisable to do a good research before you buy and speakers. Ask few questions to yourself like:

- Why do you need these speakers?
- What is the purpose - gaming, music, movies, etc
- What size you need?
- What color should it be?
- What basic features you looking for in those speakers?
- Control options
- High end or Low end power speakers

These are few questions you should try to work on before you actually go and buy you favorite speakers. Once you get the answers, you start searching for the models. As we talking about the various models, here are few Bose PC speaker models available for you.

- Computer Music Monitor®

- Companion® 20 multimedia speaker system

- Companion® 2 multimedia speaker system

- Companion® 5 multimedia speaker system
Computer Music Monitor®: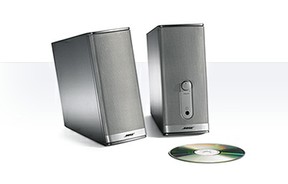 These speakers are ideal for people looking for compact performance. They deliver amazing sound through small speakers. Perfect for PC, laptops and portable audio speakers. They can work wonders for those who have a problem of space. These small speakers work surprisingly great than their size. Comes with a handy remote and even has controls on the speakers. They are extremely well designed, easy to use and give a lifelike performance. They are eye catching as are made up of elegant brushed aluminum.
Companion® 20 multimedia speaker system: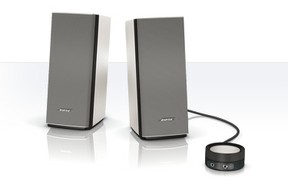 They are new in the league of Bose computer speakers and strive to give the best performance sound. Designed with TrueSpace technology and advanced port, gives you an excellent sound with low notes. They come with control pod which includes volume control, one-touch mute, auxiliary input and headphone jack. Its sleek design compliments any computer.
Companion® 2 multimedia speaker system: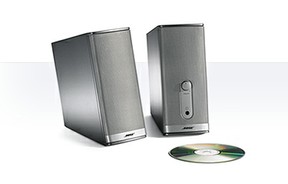 As mentioned above they are among the most popular range of Bose computer speakers. They top the list by making them the most affordable PC speakers. Affordable doesn't mean compromising on the quality, Bose Companion 2 multimedia speaker system manages to give you the most amazing sound with elegant and contemporary looks. Its ported cabinet design enables you to have great movie and gaming effect with powerful sound. They come with dual inputs which help in connecting easy with the computers. Now, we know why they are the most popular ones.
Companion® 5 multimedia speaker system: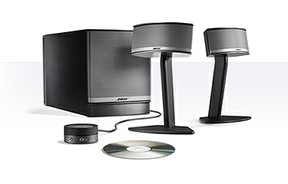 Undoubtedly the best Bose computer speakersfor the ultimate movie and gaming experience. Delivers unmatched sound quality with its 5.1 speaker system. They come with Acoustimass® module and a control pod. The eye candy of this speaker system are the specially engineered speaker arrays which gives optimum sound performance. Best for people looking for a much lifelike surround sound experience.

With all these models and their features I'm sure you are all geared up to buy your Bose PC speakers today. All the best for your research and great sound system.
---
Disclosure: This page generates income for authors based on affiliate relationships with our partners, including Amazon, Google and others.