Buffer - a Great Twitter Tool
by dmcgaw
What is Buffer for Twitter?
Buffer is a Twitter management application that makes it so easy for you to manager your Twitter account.  Many people say that the reason they don't use Twitter is that they just don't have time to use it effectively but Buffer saves you time.
One of the main reasons to use Twitter is to share information.  You can share information from your own sites, from the sites of your friends, or from sites where you find useful information.  In order to do this though, it means that you need to keep you Twitter open in a window and copy and paste the url every time you find something you want to share.  With Buffer, you don't need to do that.
With Buffer you can add a button into the toolbar of your browser.  When you come across a site with information that you want to share you just click the Buffer button on your browser.  A little window will pop up and it will use the meta information on the site as a description.  You can change the information or you can leave it as is.  Choose "Tweet now" or "Add to Buffer" and you are done.
Advantages of Buffer
There are a lot of advantages to using Buffer in your Twitter markeing campaign.  
Some of the advantages that I have experienced:
Save time.
Tweets are spread out - not a whole bunch of tweets at once.
You can set the times that you want to send out tweets.
You can tweet urls or non-urls.
You can tweet from your browser or from your Twitter account.
You can fill your Buffer up for three days at a time.
You can use the Buffer Analytics to see how many people are seeing your tweets, how many people retweet a tweet, and how many people click on a tweet.
It is a great tool to use on its own or with other  social media management tools (like Hootsuite)
Buffer Plans
Choose the plan that works best for you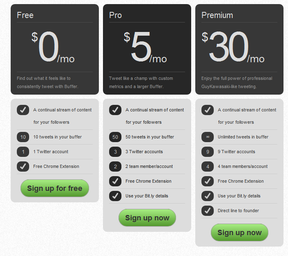 There a three Buffer plans to choose from. The free versio will do the trick for most people. You get one Twitter account and you can pre-load your Twitter stream wth 10 tweets.
For those who are more activee on Twitter ther is a Pro account and a Premium account.  I use the Pro account to manage three Twitter accounts and fill each Twitter stream with up to 50 tweets.  You can also use your bit.ly details to help track your resuls.  With the Premium account you can 9 Twitter accounts attached an an unlimited number of tweets.  This one is for serious Twitter-folk!
---
Disclosure: This page generates income for authors based on affiliate relationships with our partners, including Amazon, Google and others.