Buy Fingerless Gloves This Winter
If you are the kind of person that uses their hands a lot, then fingerless gloves are the best kind of gloves for the winter.
Why Fingerless Gloves?
If you are the kind of person that uses their hands a lot, then fingerless gloves are the best kind of gloves for the winter.  I am an artist, and when I wear regular gloves, my hands are clumsy and awkward, however fingerless gloves keep my hands warm without the restrictions that regular gloves place on using my hands.
Fingerless gloves can be worn for style, but I wear them for usefulness in my line of work.  I can run an outdoor booth, sell items at my booth, and handle money and my products without my hands being cold.  I love fingerless gloves and I have several pair.
Fingerless gloves are also very useful for driving gloves, and for motorcycle riders.  You can grip the steering wheel or handlebars better while keep your hands warm.  And if you are doing a lot of work outdoors in the winter, you can buy convertible gloves, that have a mitten top to cover your fingertips when you do not need to use them.
Fingerless Gloves Color and Style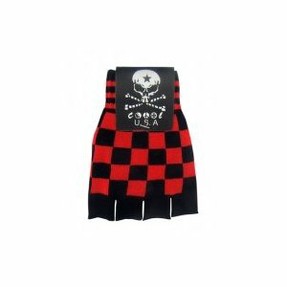 You do not need to sacrifice style when buying fingerless gloves. Fingerless gloves can be made of many different fabrics or leather, but for outdoor purposes, the best bet is either knitted gloves or leather gloves.
Both leather and knit fingerless gloves can come in several colors and styles, and I have put several types for you to browse here, or you can go straight to Amazon and search yourself.
Some of the knit gloves are very cute and fun to wear including these gloves by Outer Rebel. Outer Rebel makes gloves that will keep the goth inside you happy, or your goth teenager. They also have several plain styles for the rest of us who are not goth. Outer Rebel has long fingerless gloves as well as the short gloves I have shown here. If you follow the link above, you can see them on Amazon.
Fingerless Raggwool Gloves
Deciding How Warm You Need Your Fingerless Gloves
Depending on your usage for fingerless gloves, you may need a warmer or more porous fabric.  If your hands tend to sweat a lot in gloves, you would probably prefer a knit or thinsulate glove. Thinsulate is fleece material that is man made, lightweight, and very warm but it allows for the body to breathe.  It is used in a lot of winter gear for sports use, including many Land's End jackets.
Thinsulate is a great material for gloves if you are outside a lot, for sport, or work, or if you don't like heavy gloves that weigh you down.  Great for hunting, cross country skiing, or working with tools in outdoor situations.  Thinsulate is easy to wash, and won't pill easily.
Outer Rebel Fingerless Knit Gloves
Convertible Fingerless Gloves
For people who want the usage of their fingers, but whose hands get cold, convertible fingerless gloves are the best choice. These gloves have a mitten top that can be folded back but is always attached. This way you can cover your fingers for a few minutes or the entire day and never lose the top of your mitten.
Most of the convertible fingerless gloves are knitted, although you can find some thinsulate and leather versions. Convertible fingerless gloves are great for preteens and teenagers too. They will like the style of the fingerless gloves, but can cover their hands when they get cold (even if they don't want to admit that they are cold). The best convertible gloves change seamlessly into mittens without losing style or pattern on the outside of the mitten.
Convertible Fingerless Glove Knit
Convertible Fingerless Glove Thinsulate
Fingerless Driving and Cycling Gloves
For driving a car, or riding a motorcycle, there is no question that the best gloves are leather.  Leather holds a grip of the steering wheel of a car and handlebars of a bike better than any other material. 
Leather gloves are worth the price of the leather, and there are some very good price deals on Amazon on several styles of leather fingerless gloves.  Most leather gloves are black, but you can find some in tan as well.
Leather should fit like a second skin over the hand,and mold and bend easily with your hand.  New leather gloves should not be stiff, but be comfortable.  Stiff leather gloves will not soften with time, and may end up chafing your skin.  While they should be snug, your leather gloves should not be tight because they could cut off your circulation.  So make sure you try them on before you throw the package away.
Men's Genuine Leather Fingerless Glove
Ad
Harley Davidson Fingerless Gloves
---
Disclosure: This page generates income for authors based on affiliate relationships with our partners, including Amazon, Google and others.