Charity Golf Events
by Thom
Charity golf events are a lot of fun, serve a good cause, and can raise a lot of money for the local charity or non profit.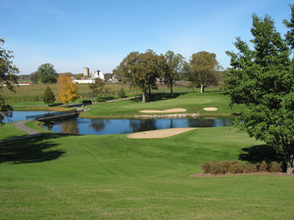 charity golf event
What is a Charity Golf Event?
A charity golf event is a fundraiser for typically a not for profit organization.  The event is typically a golf tournament or four man golf scramble.  In a tournament, the golfers are typically pros who are playing some type of PGA event, and around the event, the tournament is raising money for a national charity. 
A local charity golf event is typically for a local organization and most include a scramble or best ball event, a lunch or dinner after the golf, and during the after event, a raffle or silent auction.  During the scramble some different golf games take place on the golf course to test your skills as a golfer.
Local Charity Golf Events
I love playing in local charity golf events, in fact, I've only played in charity events with my dad, so it has become a tradition year after year to find an event.
While my dad lived in Maryland, we would play the For the Kids Charity Golf Tournament which was typically an all day event.  For the kids raises money for families of one local child each year that has been hospitalized or with large medical bills.
How to participate in a local charity tournament
There are many ways to participate in a local charity event.  The first way is to actually play in the golf event.  However, that is not the only way to participate in these events.  A charity event is always looking for donations, sponsors, and volunteers. 
Donations are used for different purposes
Goodie Bag - Given to every golfer as they sign in.  A goodie bag usually includes tees, golf balls, local coupons, and any other chatchkee that a company would like to donate to the entire field of golfers.
Prizes - Donations of prizes for the golf tournament are given during dinner to the lowest golf score, the longest drive, the closest to the pin, and sometimes to the highest score.
Raffle or Silent Auction - For those events that also have a raffle or silent auction, the items are typically donated by the surrounding community.
Sponsors provide additional profit for the charity event in exchange for some type of advertising.  Sponsors can include the following but be creative as almost anything can be a sponsored:
Tournament Sponsor - the tournament sponsor provides the biggest donation and is mentioned in the title of the tournament.
Hole Sponsor - a hole sponsor provides a sign that is placed at the tee box of a single hole the day of the tournament for a donation.  You can have as many hole sponsors as you can find as it doesn't need to be limited to one sponsor per hole.
Hole in One Sponsor - a hole in one sponsor will typically sponsor the hole in one contest and cover the insurance premium for the contest.
Breakfast Sponsor - A sponsor that will provide breakfast for the golfers.
Frozen Drink Sponsor - In the For the Kids charity, they always have a frozen drink machine that was typically in the ruff on one of the fairways.  Great for those hot summers.
Beverage Cart Sponsor - a beverage cart sponsor typically will donate the beverages.  Beverages can either be given away for tips or sold so that all proceeds can go directly to the charity.
Other ideas include sponsors for golf balls, golf tees, golf towels, koozies, hats, and ball markers
Volunteers are needed throughout the day to make the event run smoothly.
Check in volunteer - someone to check in people as they arrive at the course
Beverage Cart volunteer - someone to drvie the beverage cart throughout the day
Dinner Setup volunteer - someone to help with setting up the banquet room and receive the food as it arrives.
Raffle volunteer - someone who will run a raffle for prizes and a 50/50 raffle.
Beat the Pro volunteer - a local golf pro who will be the beat the pro volunteer at one of the par 3's. 
Hole in One Volunteer - someone to run the hole in one
Ideas for Golf Prizes
Golf gifts for MLB Fans
Golf gifts for NFL Fans
Golf Gifts for NHL Fans
Golf Gifts for NBA Fans
Golf Gifts for NCAA fans
And Remember...
You are there to support the charity, not to win prizes.  So go out and have fun as it's about the support you are bringing and the good your are doing for a local family or not for profit.
Updated: 06/05/2011, Thom
---
Disclosure: This page generates income for authors based on affiliate relationships with our partners, including Amazon, Google and others.