We Can Be Heroes -- DC Comic's Campaign to Help the Horn of Africa
by KillyTron
Since July 2011, East Africa has been in the grip of one of the worst famines in over sixty years. In response to the crisis, DC Comics has created the We Can Be Heroes campaign.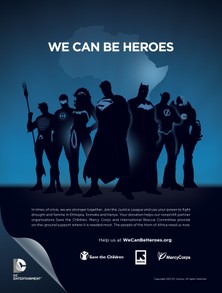 We Can Be Heroes
Since July of 2011, the Horn of Africa has been suffering through the worst famine in over sixty years. Hundreds of thousands of people in Somalia and the surrounding area have been displaced, forced into refugee camps. It has been the sole concern of many charities and organisations in the months since the outbreak to get aid to where it is most needed, providing the people with vital water and food provisions.
The famine in Africa has also provoked reactions from many high profile companies and one of the latest to add their support is DC Comics. On 23rd January they officially released their 'We Can Be Heroes' scheme, which will be a two-year, multimillion dollar campaign to help many of the charities involved in the cause.
Iconic
The supporting poster includes some of DC's most iconic figures – Superman, Wonder Woman, Batman, Green Lantern, The Flash, Aquaman and Cyborg – silhouetted and with their individual symbols shining brightly. Fans of comics will note these characters make up the famous Justice League – which supports the campaign's message that as individuals we may feel weak, but together we can make a difference.
Their iconic images are also central to the campaign, as they appeal to a broad range of fans, men and women, young and old, who can all recognise this characters from the various forms in which they have appeared over the years. Considering the impact such heroes can have on people who follow their stories they make for excellent role models for inspiring people to help their fellow human beings when they are in need.
As the official press release from DC Comics said: "Their [The Justice League] dedication to social justice and commitment to band together to defend the helpless brilliantly supports the ideals of the We Can Be Heroes campaign. The hunger crisis in the Horn of Africa is something we can reverse if we all work together".
100 per cent
As part of this campaign, DC has released a special We Can Be Heroes website where people can add their donations – which DC pledges to match one hundred per cent. They will also be producing branded merchandise for the occasion, with fifty per cent of the purchase price also going towards the fight against the famine.
They were specially chosen by DC as spokespeople for the campaign because of their global recognition, demonstration of strength in unity and numbers and commitment to justice and equality. It is hoped that the Justice League will inspire people around the world and prove that together we can overcome crises and extend a helping hand to any who need it.
---
Disclosure: This page generates income for authors based on affiliate relationships with our partners, including Amazon, Google and others.