Clarisonic Skin Cleansing
by Digby_Adams
Honest reviews for the Clarisonic skin cleansing system from an actual user.
What is Clarisonic?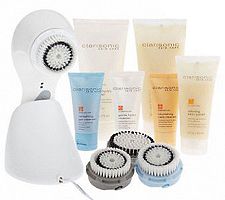 The Clarisonic skinscare system is a sonic facial brush for your skin. If you already use a sonic toothbrush for your teeth you know the difference. Remember how you couldn't believe someone would send $100 on a TOOTHBRUSH and then you tried it and couldn't believe how much better your teeth and mouth felt? Well it's the same thing with your skin.

I'm someone who's more at home working on the garden compost pile than I am going to the mall to buy makeup or fancy and expensive skincare regimens. But I do like the feel of really clean skin. So I made the decision to invest in clean and healthy skin and ignore the part about makeup whenever I can. Given that I'm now so happy with the way my skin looks and feels, I don't wear make up - except for very special events. So my annual costs are probably less after buying the Clarisonic Plus.
There are a couple of versions of the Clarisonic. Basically you have to decide if you want to use the Clarisonic only on your face or on your face and body. I would say go for both. Because if you use it on your face, you'll want to use it on your hands, elbows and feet. Really.

I admit that I only shop on QVC. Why? Well I find that their prices are competitive. I also like that you can watch the company president demonstrate them and learn how best to use them. When you go to their website to shop, you can watch the on-air demonstrations. And they have a 30-day, no questions asked return policy. That's why I chose the Clarisonic Plus for the Face and Body. I figured if I liked it, I would love it and want to use it everywhere. If I didn't like it, well I'd be returning it anyways.
Clarisonic Plus and Philosophy Purity Made Simple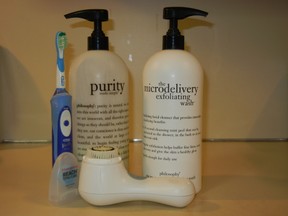 My Clarisonic skin cleansing system came with Philosophy Purity Made Simple and I fell in love with it. So when QVC had these giant supersized special values of Purity Made Simple and the Microdelivery Exfoliating Wash I took advantage of it. For $89, I get a six-month supply of both. I'm on auto-delivery, so there's no shipping charges either. Yes, it does seem like a lot of money, until you realize how much you were spending on experiments and stuff from the grocery store and mall. The Purity Made Simiple and Microdelivery Exfoliating Wash were voted a 2011 Customer Choice Award winner and are very popular. I am one of their biggest fans.

Take a look tabove and you'll see my daily beauty routine. Brush and floss my teeth, my Clarisonic Plus, and my two Philosophy products.

At night when my face is its dirtiest I use the Clarisonic Plus with my Purity made simple to get rid of dirt on my face, hands and feet. I do a lot of gardening and I love the way it gets my hands and nails clean again. If you use the Clarisonic body brush on your feet, you never have to worry about ugly dry skin on your ankles.

In the morning I just use the Philosophy Microdelivery Exfoliating Wash on my face and hands. I don't use the Clarisoic with the Microdelivery Wash. The fine granules in the wash to a great job with just my hands.

Yes, the picture could have showed a bar of Ivory soap and part of my beauty routine. I find that the exfoliating wash is plenty to clean my already pretty clean skin. I don't spend a lot of money on body or hand moisturizers. Whatever is on sale for 18 ounces for $2 is usually what I pick up. Neither my husband or I seem to need anything fancier. Yes I've tried expensive body moisturizers and I don't see any difference.
Replacing Clarisonic Brushes
You will need to replace the Clarisonic brushes. Since I only use the Clarisonic once a day, I don't seem to need to replace them as often as suggested. Once a year does it for me. Usually when my Philosphy autodelivery of the Purity Made Simple and Microdelivery Wash arrives it reminds me to check my brushes.

If you want an effective skincare regimen that doesn't take a lot of time and makes your skin clean and fresh - Oh I should say the cleaner my skin, the smaller my pores look - and I really like that! Then you'll love the Clarisonic Pro combined with Philosophy.

You can click on any of the products to the right to go to the right page on QVC. Prices aren't given because you'll find lots of optons for both the Clarisonic and the Philosophy products.
---
Disclosure: This page generates income for authors based on affiliate relationships with our partners, including Amazon, Google and others.