Coffee or Tea - What is Better
by Sannel
Tea and coffee are the most popular hot drinks in the world, and there's a big rivalry between the two. But there is no rule that says we cannot enjoy the health benefits of both.
Moderation is the Key
I always say, anything in moderation is fine! So, if you are a person who can't help taking a sip of coffee to wake you up in the morning, it doesn't seem like it will hurt you.
Coffee and its Benefits
Actually, a few cups of quality coffee a day may do you some good, since coffee also has its share of benefits. Coffee is a great stimulant that helps you stay awake. Black coffee can lower your risk of having diabetes, help to prevent Parkinson's disease, and preventing of getting different cancers. However, even if coffee is good for you in many ways, bear in mind; too much of a good thing may actually be bad for you.
Make a Switch
But if you are you looking for a healthier lifestyle, then you definitively should start thinking to decrease the amount of coffee intake and switch some of those cups of java a day to quality loose leaf tea or loose herbal tea. Due to the fact that most serious health risks of coffee are related to its caffeine content, tea is a great alternative to coffee anytime of the day.
A cup of black tea has half the amount of caffeine than a cup of coffee. Green, white and oolong tea has even less caffeine.
Olive Leaf Tea

Our cut/sifted certified organic olive leaf is milled to the perfect loose cut size for brewing, steeping or pressing to your preference. Easily blend this tea with other herbs ...

Only $12.99
25 Olive Leaf Herbal Tea Bags

25 Olive Leaf Natural Herbal Tea Bags
China Tea Loose Leaf Sampler Gift Pack - 6 Tins (Pu Erh, Oolong, Jasmine, Dragonwell Green Tea, T...

Total 6x1.0 Oz. Random Selection of wonderful Chinese Teas. Fresh arrival! Selected from following : China Black Tea, Tiekuanyin (iron Goddess of Mercy), Oolong, Lung Ching Drag...

Only $13.99
Heavenly Tea Leaves Organic Green Tea Sampler - 4 Bestselling Cans - Approximately 25 servings of...

ORGANIC SENCHA, ORGANIC CHUN MEE, ORGANIC GREEN PARADISE & ORGANIC CHINA GREEN. Heavenly Tea's Green Tea Sampler is a inexpensive way to get to know you own palate. Green teas h...

Only $20.25
Tea Forte Single Steeps Loose Tea Sampler

The perfect measure for the perfect cup. Single Steeps easy to use, pre-portioned pouches are a convenient and simple way to prepare the perfect cup of premium loose-leaf tea. N...

Only $17.0
Davidson's Tea Bulk, Organic South African Rooibos, 16-Ounce Bag

Rich and full-bodied "red tea", caffeine free, full of vitamins and antioxidants.

Only $15.0
Loose Leaf Tea and all the Health Benefits
Not only has tea less caffeine but the leaves are crammed to the fullest with vitamins, trace minerals and antioxidants, which help improve your immune system and can lower your cholesterol levels. Actually, olive leaf herbal tea has the highest levels of antioxidants than any other tea or herbal teas.
Drinking tea prevents cavities.Tea helps speed up your metabolism, which helps you burn fat quicker and helps you to lose weight a lot faster. Furthermore, tea keep your bones strong to help fight against osteoporosis and tea may prevent even Alzheimer's.
Tea has so many health benefits, that its difficult to mention all of them. However, if you really want to enjoy your tea to its fullest, you should consider drinking loose leaf tea. Tea bags usually contain the cheapest tea possible, and sometimes include both twigs and dust. And once you start drinking tea made from loose leaf tea you will not drink it any other way.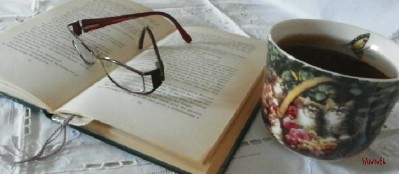 No Rules
Tea and coffee are the most popular hot drinks in the world, and there's a big rivalry between the two. However, there is no rule that says we cannot enjoy the health benefits of both. So while drinking coffee isn't such a bad thing, you should still take into account to drink in moderation.
Tea is great addition to your health. Try to change your drinking habit by replacing a few cups of your daily coffee with a few cups of whole leaf tea or herbal leaf tea. Give it a try! Your body and your health will love you for it.
©Copyright 2012 By Sannel Larson.
Thank you for reading,
Sannel
---
Disclosure: This page generates income for authors based on affiliate relationships with our partners, including Amazon, Google and others.