Creative Groomsmen Gifts Are the Best
by Pinkchic18
When you need to thank your groomsmen for being part of your big day, here are a few great gift ideas that they will love!
Finding Gifts for Men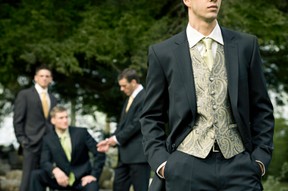 Finding fun and creative groomsmen gifts for every man in your wedding party may seem like a difficult task right now. It might seem like it is not as easy to find a token gift or keepsake item for men as it is for women.
However, if you take some time to get creative, you can come up with some exciting ideas that every one of your groomsmen will enjoy.
What do you think is the perfect groomsman gift?
Personalization is Key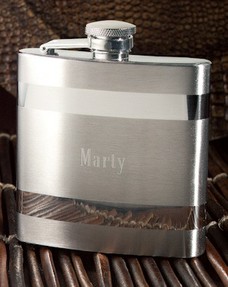 One of the best ways to show your appreciation is to create a personalized favor or keepsake item. Make sure that you purchase something that your groomsmen will actually be able to use. You don't want to pay top price for an item if they are only going to dump the gift in the closet and never use it again. Here is where creativity comes into play. Think of gift ideas that all of your groomsmen will be able to use.
For example, a sterling silver flask seems like a pretty simplistic groomsmen gift. But if you personalize it with each of your groomsmen's initials, it becomes a keepsake item that they will be able to use and cherish for years to come. Getting personalized money clips, made out of gold or sterling silver, is another creative gift idea that can also be used on a regular basis. Other creative groomsmen gift ideas include a personalized tie, a pair of elegant cufflinks or a personalized pair of sneakers.
Men, Choose Your Own Groomsmen Gifts
Or else this is what's going to happen...
Don't Forget to Stay on Budget!
Most people end up spending a lot of money on their wedding. This is because the wedding industry has grown and evolved over the years. But you don't have go broke while planning your special day. Groomsmen gifts can be expensive. And when you have to buy gifts for everyone in your bridal party, the cost can add up relatively quickly. In addition to finding creative gifts for your groomsmen, try to find them on sale. Often there are great sales on fantastic items that occur on a regular basis. Free shipping offers are great too.
Make Them Feel Special
Keep in mind that you are going to have to buy more than one groomsman gift, depending on how many of your friends and family will be in your wedding party. You won't be able to just buy one bridal party gift. If you have five men standing up on your side, then you are going to need to purchase five separate gifts for each of them. It's important not to cut corners when it comes to purchasing presents for your groomsmen. While you do want to save money, you don't want to buy something that is cheap or that won't last either. There is a happy medium between the two. After all, you want all of your groomsmen to know how much you appreciate them being a part of your wedding. You don't want them to walk away with a keepsake item that they won't be able to use, or that they won't find special at all.
When it comes to groomsmen gifts, don't be afraid to get a little creative even if it does cost a little more.
Want Something Unique?
Suit Your Gift To Their Hobbies
---
Disclosure: This page generates income for authors based on affiliate relationships with our partners, including Amazon, Google and others.