Crockpot Beef Barley Vegetable Soup
Nothing feels better than a homemade soup when you are not feeling well. Try this crockpot beef barley vegetable soup.
First Comes The Roasts
Cooking The Roast In The Crockpot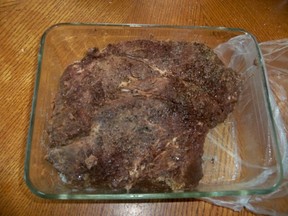 On Monday, my husband put 2 chuck roasts in our new 7 Qt Crockpot while we ran to the hospital to visit his mother, who had just been admitted.  We got home and found out that it was not ready for us because instead of putting the roasts on high for 4 hours, he put it on warm that didn't even start to cook them.  We decided to put them on low for the night and eat them the next day.  Needless to say, we had sandwiches for supper that night.  LOL
Tuesday afternoon, we had some wonderful tender roast with homemade garlic potatoes and peppered corn.  Oh, yes, can't forget the homemade biscuits that my hubby made for us.  I am lucky to be married to a wonderful man that can cook better than I can. 
When we got done, there was a good portion of one of the chuck roasts sitting there asking me what I was going to do with it.  I thought maybe some pulled beef barbecue sandwiches.  Then  I thought of some wonderful Beef Vegetable Soup made in the crockpot just in case I had to spend the day in the hospital the next day with my mother-in-law.
The Beef Barley Vegetable soup won out.  I used about 1/4 of a roast like the one pictured.  It was the other roast that was in the crockpot.
All pictures in this article were taken by me today as I created this wonderful soup.
Do You Like Beef Barley Vegetable Soup?
Soup Ingredients
Just A Suggestion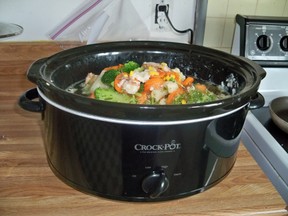 left over beef cubed (I used a some roast)
1/4 to 1 Cup Barley (I used 1/2 C Medium Barley)
2 lbs California Blend Vegetables, frozen (garden  broccoli, sweet young carrots and cauliflower);  fresh vegetables of choice; or leftover vegetables
Beef broth from previously slowcooked beef or bouilloin
basil, minced garlic, & salt (optional), to taste 
Items You might need
To Get the Ingredients Ready
Cooking Instructions
For Beef Barley Vegetable Soup Made in Crockpot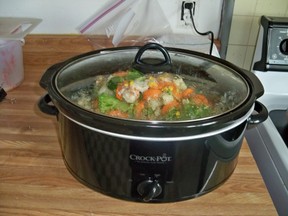 I already had the broth from the roasts in my crockpot but you can wait until you have the other ingredients in your crockpot before you add your broth (canned or fresh) or boullion.
Add your beef, vegetables and barley.  I used frozen California Vegetables but you could use fresh vegetables just as well.  Have a garden?  Fresh vegetables from your garden would make a wonderful soup.  You can also add vegetables that you have left from other meals.  Of course, if you add leftover vegetables, you will probably not need to cook as long as you would from the fresh or frozen vegetables.
Add more broth or water to make the fluid level up to the top or over the top of your meat and vegetables.
Put on the lid and set your crockpot for either 4-5 hours on high (if you don't have very long) or 6-8 hours on low (if you have all day or all night to cook it).  We cooked ours on high for 5 hours.
About an hour before your soup will be ready, put in whatever herbs and spices you want.  My husband used basil, minced garlic (packed in oil), and salt.  You can use whatever type of herbs and spices that you want to make this recipe yours.
Cooking Utensils
For Serving Up Soup
Beef Barley Vegetable Soup Ready
Yum!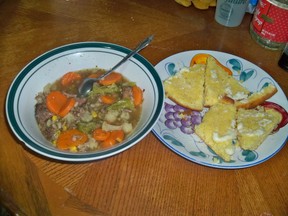 Finally, our food is ready to eat.  I have been smelling the wonderful fragrance for a long time and am really hungry.  Hubby made cornbread to go along with the soup.  I only finished 2 halves of the cornbread because I ate most of the soup first.
Soup Bowls
To Serve Your Beef Barley Vegetable Soup In
Should Beef Barley Vegetable Soup
Be Made In A CrockPot or SlowCooker?
Only logged-in users are allowed to comment.
Login
Mugs To Eat Your Soup Out Of
About The Author
Grandma Marilyn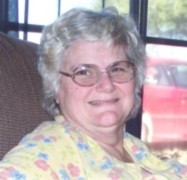 I love to cook but hate to clean up afterwards.  I really, really love to cook in the crockpot as it leaves me time for my internet and crafts.  You will be finding more crockpot recipes, as well as, other recipes coming in the future.
---
Disclosure: This page generates income for authors based on affiliate relationships with our partners, including Amazon, Google and others.