Cute Photo Christmas Cards
Delight your friends and family with these oh so cute photo Christmas cards that you can personalize to your heart's content.
Personalize Photo Christmas Cards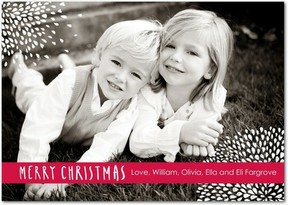 One of the best things about the Christmas holiday season is that it gives you an excuse to catch up with what your relatives and friends have been doing all year.  We all get caught up in our daily lives, work, and children, and often weeks and months go by when we suddenly realize that we have not heard from nor talked to a good friend.  Christmas time gives us a very good reason to remedy that by sending out and receiving Christmas cards.
My personal favorite Christmas cards to receive each year are the photo Christmas cards, especially when there are kids as part of the family.  Kids grow up so fast that we need to make sure to record those moments before they are gone.  Christmas cards that have an up to date photo of your family and your kids give all of your relatives and friends a chance to see visually how you are doing, and we all know that cute pictures of kids make us all smile.
There are many makers of photo cards for Christmas, but I personally recommend this line by Tiny Prints, because their designs are just so darn cute!  Tiny Prints has a huge selection of wonderful cute photo Christmas cards that start at just $.69 each.  You can personalize the cards in several ways, and many of them have room for more than one photo.  I am going to highlight some of their designs on this page, but to really see them all, you will need to click through the links.
Cute Photo Christmas Cards Jazzy Christmas
One of the things that is great about the cute photo Christmas cards on Tiny Prints is that they can be fully customized.  You can change colors, pictures, font types, and several other features to make them totally your own.  Another option is the ability to make your card a flat card or folded card.  This cute card is called Jazzy Christmas.
There are literally hundreds of choices of cute photo Christmas cards available on Tiny Prints, but don't be daunted by the choices.  You can search in several ways by color, theme, price, number of photos and even by designer.
Cute Photo Christmas Cards Noel Stripes : Scarlet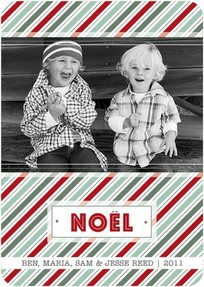 This Noel Stripes Christmas card comes in three different color schemes.  As you can see, you can add your own photo, and also personalize the Christmas card with names and dates (or whatever text you choose.)
There are so many different fonts to choose from that you can let your creativity go wild.
Studio Basics: Cute Photo Christmas Cards Candy Cane Snowman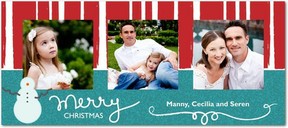 This Candy Cane Snowman Christmas Card is part of the Studio Basics Christmas card line.  This cute photo Christmas card has all the basics.  It is a flat card with room for photos and personalization.  The card starts at $.69, and fits into a standard sized envelope.  Very easy, yet still quite beautiful and individual.  There are a wide range of Studio Basics Christmas cards on Tiny Prints.
Cute Photo Christmas Cards Be Merry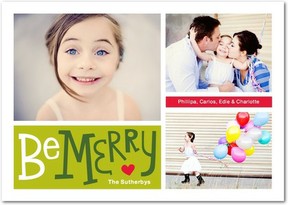 This Be Merry Photo Christmas Card is one of my personal favorites. It is red and green which makes it traditional but the layout and print is modern.  You can change the color schemes, add your own photos, and it also has several matching options.
This card just makes me smile.
Tri-Fold Cute Photo Holiday Cards International Color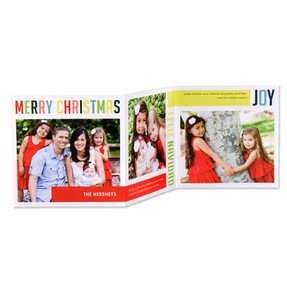 Tri fold Christmas cards are nice because you can fit them in a smaller envelope, and they can stand up so that someone can see the card all the time.  They make great cards to send to grandparents, and parents.
This card, Tri Fold International Color Christmas Card, has a very colorful modern style, but you can find many styles of tri fold cards on Tiny Prints.  As you can see, there is plenty of room for photos, and unique personalization.
Cute Photo Christmas Cards Merry Modest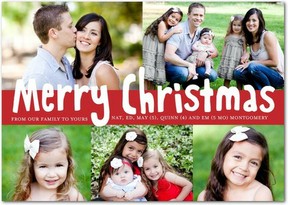 This card, Merry Modest, is typical of the high quality and options available for these lovely Tiny Prints Christmas cards.  It comes in three color schemes, four styles, and has matching address labels.  You can put as many as five photos, and it still manages to be bright and cheerful and full of the Christmas spirit.
You can choose a matte or semi-gloss finish, and color of envelopes.  The ordering page also tells you all of the sizes for photos that you need to know, and if you have any other questions, Tiny Prints customer service will be delighted to help.
Large or Small Quantity of Photo Christmas Cards
Tiny Prints is a company that is well versed in custom orders for invitations and cards.  Besides producing greeting cards like Christmas cards, they also make wedding invitations which are completely custom ordered for each person.  They are very accustomed to personalizing cards for the customer, and filling both large and small orders.
Therefore, you can feel quite confident in their ability to meet your needs for just one single Christmas card to send to a special someone or hundreds of them to send out to clients or customers.
Preparing for Christmas (Related Pages)
---
Disclosure: This page generates income for authors based on affiliate relationships with our partners, including Amazon, Google and others.