Dahlia Vintage Jewelry Collection: Gorgeous Natural Seed Pearl Necklaces, Rings, Earrings, and Brace
Dahlia Vintage Jewelry Collection offers intricate vintage styling using delicate seed pearls embedded in Victorian style designs. Lovely gifts for bridesmaids and brides.
Dahlia Pearls
Dahlia is a company that specializes in pearls.
If you are looking for simply gorgeous, high quality, and long lasting pearl jewelry that would make a good gift for a special occasion, then Dahlia Vintage Jewelry Collection is an excellent choice.  Dahlia is a company that specializes in producing the highest quality pearls, then using their pearls in their own unique designs.  Dahlia has three main jewelry lines: Style, Classic, and Vintage.
Pearls have always meant classy, and good taste, and these Dahlia designs are a display of both of these qualities.  The Vintage Jewelry Collection pieces are made in a Victorian style, with classic Victorian shapes.
Many of the piece are very suitable for both very dressy events, as well as more casual, and they are a perfect choice to accompany wedding dress or bridesmaid dress.
The Elegance of Seed Pearls
Seed pearls can be embeded, strung or hung on a jewelry design.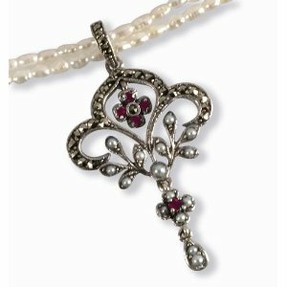 Seed pearls are named for their tiny size, they are actually about the size of small seeds, like the seeds inside of an apple core.
The Dahlia Vintage Jewelry Collection is made with many tiny seed pearls embedded, strung, or hanging from Victorian style designs, many with marcasite.  The design to the right is a fleur de lis, which is a heraldic symbol, often tied to France.
This is a pendant on one of the Dahlia Vintage necklaces, and you can see the seed pearls along with other gemstones, that are embeded in the fleur de lis, which is hanging from a pearl necklace.
Dahlia Vintage Jewelry: Fleur de Lis
Dahlia Vintage Jewelry: Choker Necklace
Dahlia Vintage Jewelry: Stud Earrings
Dahlia Vintage Jewelry: Gemini Earrings
Victorian Jewelry
Victorians liked fussy, intricate jewelry designs
This Dahlia jewelry collection is reminiscent of Victorian jewelry styles.  Victorians liked to use a lot of detail in their extremely intricately pattered jewelry designs.  Pearls have been one of the enduring gemstones in jewelry throughout time, but Victorians enjoyed a lot of pearls in jewelry, and many of their classic pearl jewelry designs are what is still used today.
As in their decor, and clothing, ornate and fussy was the main trend in Victorian jewelry.  Victorian men and women wore jewelry, including necklaces, brooches, pocket watches, rings, earrings, and bracelets.
Victorians did not have the technology that we do today, so every single piece of jewelry was made by hand, although they were able to cast metal into molds to replicate designs.
Dahlia Vintage Jewelry: Tear Drop Earrings
Pearl Farming is an Ancient and Time Honored Tradition
Quality pearls are farmed and processed by hand
Dahlia buys the pearls they use in their designs directly from the pearl farmers who cultivate, grow, and harvest them.  The pearls that are used in the Dahlia designs are pure nacre, which is the calcium carbonate-based crystalline substance that the mollusk uses to make the cultured pearl.
Once the pearls are harvested, they must be sorted and processed by hand, because each pearl is unique, and no one pearl is an exact match to another.  They are sorted by color, size, shape, and luster.  Then the pearls are drilled carefully to be matched and strung, ready for shipment to Dahlia.
Dahlia Vintage Jewelry: Bracelets
Unique Qualities of Pearl Jewelry
Pearls literally go with everything
One of the unique differences about pearl jewelry is that pearls literally can go with any other gemstone, or precious metal.  Therefore, you can find pearls in many styles of jewelry, from costume jewelry to gold or platinum wedding bands.
Cultured pearls come in many shapes, colors, or sizes, but the common shapes are round, oval, or rice shaped.  Most seed pearls are one of those shapes.
Pearls blend extremely well with richly colored gemstones like sapphires, emeralds, and rubies, and their semi-precious counterparts.  Many of the Dahlia Vintage designs include sapphires, and garnets.
Vintage and Antique Jewelry
Vintage and antique jewelry is very much in style, and many of the designs are classic which means that they will be in style for some time to come.  You can choose to collect authentic vintage or vintage style jewelry, or mix and match the two.
If You Like Vintage Jewelry
Take a look at these sites
Buying Jewelry in Sets
Should you buy earrings and a necklace to match?
It is often difficult to decide whether to buy jewelry in sets, or by individual item.  If you are buy jewelry as a gift, then I would suggest buying jewelry in sets.  This is because the recipient can always choose to only wear one part of the set, but many people like to wear matching earrings and necklace, or matching earrings, necklace and bracelet together.
If you cannot afford to buy the entire set, then the best choice is to buy earrings only, or if your recipient doesn't wear earrings, then the necklace only.  Many women will wear only earrings by themselves.
The Dahlia Vintage Jewelry Collection has several sets that can be bought together or separately.  These make wonderful bridemaids gifts, or gifts to the mother of the bride as well.  They would match almost any bridal or bridesmaid gown.
---
Disclosure: This page generates income for authors based on affiliate relationships with our partners, including Amazon, Google and others.