Dealing with Laziness: A procrastinator's guide.
by wrylilt
Sometimes you just don't feel like getting off your chair (or out of bed.) Here are some tips to cope with procrastination.
I'm a procrastinator. I'm terrible. I'm one of those people who'll do assignments the day they're due or put off paying a bill and then forget about it completely - meaning I pay it a day late.
I've been meaning to write this article for awhile - only problem was that I kept procrastinating and writing other things. But here goes!
I'll do it tomorrow
This is a classic and often repeated line heard from many procrastinators. Haven't you heard the saying "Tomorrow never comes?" Well in the procrastinator's case, that's sadly very true. When tomorrow finally arrives, tomorrow will be today which means you've still got a day to go... and the cycle continues.
Doing (insert activity) is more important
Often doing something more important is an excuse - even if the more important thing is made up. Just think - if you hadn't waited till today to finish it then you wouldn't even have that excuse!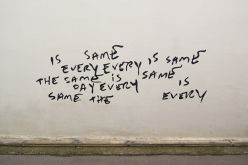 If each day feels the same, maybe you...
I work better under pressure
For some people this is true. For procrastinators it is not. Sure, some people may shine when forced to do an instantaneous speech or do an exam - but not you, the procrastinator.
There's more chance you'll get to the last few hours before something is due or needs to be done and do one or all of the following:
♫ Stress out.
♫ Convince someone who shouldn't have to, to help you.
♫ Ask for an extension.
♫ Do a shoddy job.
♫ Give up.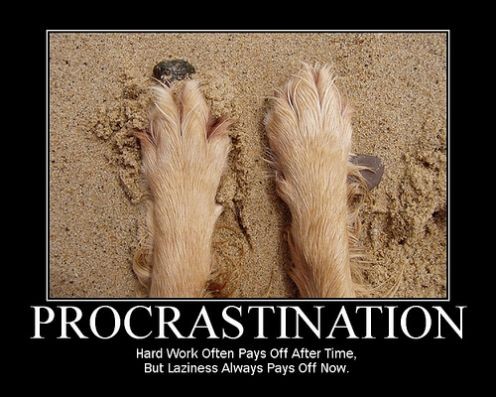 Laziness
I'm too tired, sick, busy.
This is another classic excuse for procrastination. You're just about to get into doing that important thing - whether it's writing an article or cleaning the bathroom top to bottom - yes you really are, you were just getting out all your suplies.
Suddenly you realize something - you're just too exhausted. You worked hard all day on things that didn't need doing and now you're just too tired to do it. Or you caught a cold yesterday, because you went out to dinner with friends when you should have been doing it.
♫ I should be doing my assignment. 
♫ I'm telling myself that it's more important to write a new blog post on my site, because I keep meaning to.
♫ I'm sitting here writing an article because I have been procrastinating for so long and I keep meaning to do it. 
♫ I'm using my article to avoid my blog post and my blog post to avoid my assignment. 
Can you see the vicious cycle? If I'd written this article ages ago, instead of procrastinating, I wouldn't have it as an excuse. If I'd written my blog post ages ago I wouldn't have that as an excuse either - I'd be sitting here doing my assignment instead.
Ways to avoid procrastination
♫ Write a List - If you break the task down into separate components chances are it won't look so daunting and difficult. For instance, for cleaning the bathroom. Clean bath, clean vanity, vacuum floor, mop floor.
♫ Do bits at a time - Take your list and decide that each day or hour you will do one part of it. That way you still get a break in between and it still gets done.
♫ Offer a Reward - Decide on something you know you want to do and promise yourself that when the task is done, you'll do it. If the task is really difficult set yourself a couple of rewards - one for when you are halfway and a bigger one for when you are done.
♫ Set a Time Limit or Goal - This one is important. Set yourself a realistic goal to finish the task in - and don't give yourself extra time because then you'll feel the need to procrastinate. If the due date in your diary is a Tuesday, change it to a Monday and tell yourself that's the due date!
♫ Do the Easy Stuff First - Sounds silly but it can help. When you look at a gigantic task like an assignment, it can look scary. But if you sit down and do the things you know how to do easily (but just take up lots of time), they'll be out of the way. Then the big hard part of the task will look that little bit less daunting.
♫ Use your laziness to achieve something - If your procrastination drug of choice is TV for instance, do something during the adverts. If it's online computer games, achieve something while you wait to enter a dungeon. 
---
Disclosure: This page generates income for authors based on affiliate relationships with our partners, including Amazon, Google and others.