Decorating the home for Christmas
by DrDarko
It doesn't matter if you are a big fan of Christmas decorations or a Christmas decorating minimalist. Some ideas for decorating the home for Christmas work for everybody.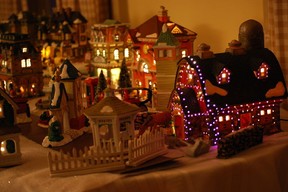 Everybody has their own ideas about Christmas decorations and maybe even some interesting Christmas heirloom, still, some things are almost universal. Here is what we do, set up and make to beautify our home every Christmas.
Christmas tree
I don't know if it is possible to celebrate Christmas without at least one Christmas tree. We put up ours about a week before the holiday. We like to mix standard tree ornaments (snowflakes, crystal, cats, dogs, bears, bells...) with natural decorations, like pinecones and moss. Snow sheets simulating snow under a tree are there too. Strings of light look nice too but more about them a little later.
Illuminated figures
We happen to have several old light-up Santa's and Snowmen that end up lighting our front yard every year. It might be a little tacky and little too much but hey, it's Christmas after all. Our municipality does not sponsor decorations but if you happen to live in one that does, you can go for full-blown light-up sleighs, reindeers and one big Santa.
Strings of lights
We top our picket fence with long strings of rainbow-colored lights that look just perfect light up together with Santa's and Snowmen. Strings of clear white lights go around windows and strings of bright red around our front door. Depending of the mood, some rainbow-colored light strings might also end up on the Christmas tree itself. Let me tell you - we do not need any nightlight during Christmas and we make a power company very happy!
Candles
Having a single big candle lit up in every window looks great but you really need to make sure that they are stable and that there is nothing nearby that could catch fire. Nothing can ruin a Christmas faster than a sudden emergency. However, several great candles lighting up the dinner table both look great and add a touch of class.
Non-lighted decorations
Non-lighted decorations artfully placed throughout the house and even on top of the kitchen cabinets are necessary. Pine green, snow white, and heart red, as well as silver and gold are traditional colors of Christmas and we do our best that our home doesn't lack stars, candy canes, wreaths, and angels displaying those prominent colors. 
Since, one way or another, there are always many flowers, leaves, twigs and other tidbits around, we make our own wreaths. As long as you are able to mold everything to resemble a ring, it will look great. More materials that are natural you can use, more beautiful they will be. Some green garland looks great decorating the stairs.

One thing you need to remember when decorating your home for Christmas. Everything you do, do it with love, together with the people you love. This way you will have everything that makes a perfect Christmas. The results will always be more beautiful than anything anybody else could possibly achieve.
---
Disclosure: This page generates income for authors based on affiliate relationships with our partners, including Amazon, Google and others.